The QuantShares U.S. Market Neutral Momentum Fund (NYSEARCA:MOM) tracks the Dow Jones U.S. Thematic Market Neutral Momentum Index. The index is equal weighted, dollar neutral, sector neutral and is not levered. The index rebalances monthly by identifying the highest momentum stocks as long positions and lowest momentum stocks as short positions, of approximately equal dollar amounts, within each sector.
Basic statistics
Basic statistics of MOM are shown below (Morningstar).
| | |
| --- | --- |
| | MOM |
| Yield | 0.00% |
| Expense ratio | 1.49% |
| Inception | Sep. 2011 |
| AUM | $3.76M |
| Avg. Volume | 5.6K |
| Morningstar rating | **** |
| No. holdings | 200 |
| Annual turnover | 196% |
The low volume of this ETF has landed it on Ron Rowland's ETF Deathwatch.
Methodology
According to the methodology document, the index universe comprises all stocks in the Dow Jones U.S. Index, which covers 95% of the market capitalization of all U.S. traded stocks. Then, it takes a long position in the 200 stocks with the highest momentum* (which is defined as the highest trailing 13-month total return performance, excluding the last month), and pairs this with short positions in the 200 stocks with the lowest momentum. Stocks are equally weighted.
*Sector neutrality (note: this does not mean equal weight) has to be maintained. For example, information technology is currently the largest sector in the U.S. stock market, at about 20% weight. Therefore there will be 40 long positions and 40 short positions in IT out of the 200 long and 200 short positions.
Impressive 2015 performance
The idea behind this market neutral ETF is that an investor can benefit from the spread return or "alpha" of the momentum factor, without being exposed to the ups and downs of the equity market.
For example, 2015 was a great year for momentum stocks. The iShares Edge MSCI USA Momentum Factor ETF (NYSEARCA:MTUM), which invests in high momentum U.S. stocks, gained 9.12%, compared to only 1.34% for the S&P 500 (NYSEARCA:SPY). MOM? It gained an impressive 13.15%.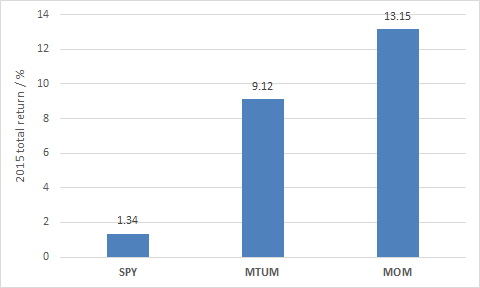 Mediocre in the longer term
Unfortunately, 2015 may prove to be the exception rather than the rule. Since inception (Sep. 2011), MOM has returned a mediocre +0.32%.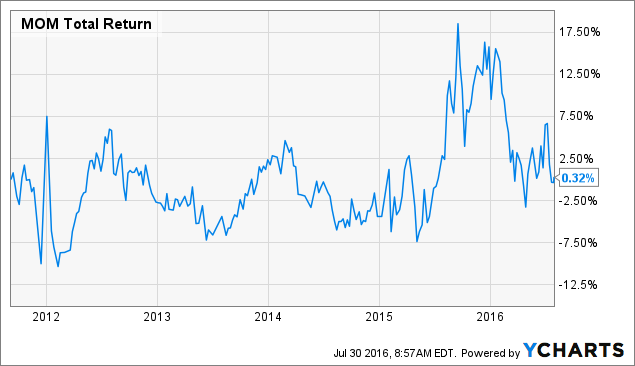 Year-to-date, MOM has fallen by -9.79%. This is especially surprising since MTUM (+7.63%) actually slightly outperformed the broader market (+7.55%). My explanation for this is that 2016 has witnessed a tremendous reversal in the price of many beaten down stocks, particularly in sectors such as energy and commodities. This meant that MOM was actually shorting some of the best performers in 2016, leading to a negative return.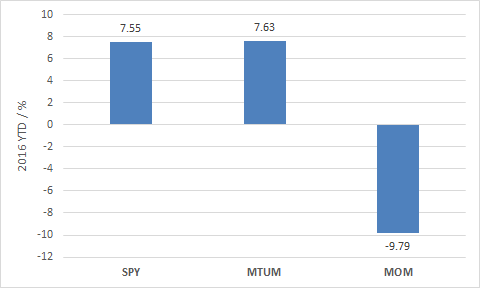 Probably not a good idea even in theory
Is MOM a good idea, even in theory? According to Scientific Beta publications from a high-low (top 20% minus bottom 20%) momentum portfolio for U.S. stocks from 1972-2012 is 5.56%. Alpha Architect, quoting from a Cliff Asness paper, reports a 3.7% annual return with a long/short momentum strategy for U.S. stocks from 1981-2010. Let's take an average of the two values, which is about 4.5%.
However, MOM has a net expense ratio of 1.49% (the gross expense ratio is a whopping 22.47% but thankfully there's a fee waiver in place). So the expense ratio alone eats up about 33% of your expected return.
What it boils down to is an investor in MOM would expect to receive about 3% or slightly higher in annual returns, but with quite high volatility, as can be seen from the chart above. To be honest, I'm not sure why Morningstar gives this ETF a four-star rating.
One of the few positive features of MOM is its low correlation to the U.S. equity market. According to InvestSpy, MOM's correlation to SPY since inception (Sep. 2011) is -0.02%.
Short answer: I would not invest in MOM. There are numerous ways to get a 3% return, and with less volatility to boot.
Author's note
If you have found my articles useful in the past, please consider subscribing to the Cambridge Income Laboratory to receive my best trade ideas in advance, view my personal ETF/CEF income portfolio, request ETF/CEF analysis, and be alerted to possible fund misbehavior.
Disclosure: I/we have no positions in any stocks mentioned, and no plans to initiate any positions within the next 72 hours.
I wrote this article myself, and it expresses my own opinions. I am not receiving compensation for it (other than from Seeking Alpha). I have no business relationship with any company whose stock is mentioned in this article.