This revisit updates my initial look at Seaspan (NYSE:SSW) April 28, 2016 article,"Will Seaspan Weather The Storm?"
Although it is my hope that you will read the entire article, for which I have provided the link above, my bottom line assessment at the time was as follows:
My bottom line decision is to look at charts of the past few years performance of the company's common shares, coupled with whether or not said company is, over time, prospering or losing market value. Ultimately, I have to decide how safe this company is from an existential standpoint rather than how well its share price will perform over the next quarter or the following year. Ultimately I must decide whether or not I believe in the long-term survivability of SSW, which I do.
Because it is very relevant, I have included the prices of SSW's preferreds at the time I wrote the article and my comments concerning which series was the best buy at the time.
| | | | | | |
| --- | --- | --- | --- | --- | --- |
| Symbol | Yearly Dividend | Price | Dividend/Price | Yield | Best |
| SSW-C | 2.375 | 25.10 | 2.375/25.10 | 9.46% | Best* |
| SSW-D | 1.9875 | 24.53 | 1.9875/24.53 | 8.10% | |
| SSW-E | 2.0625 | 24.70 | 2.0625/24.70 | 8.35% | |
*Although the C Series is the best yield-wise, it is callable now, and you would lose .10 were that to happen, which most probably will be when callable because of penalties, which are outlined in a screenshot above, However, in my opinion it's still the best buy.
Now let's take a look at how SSW is performing presently: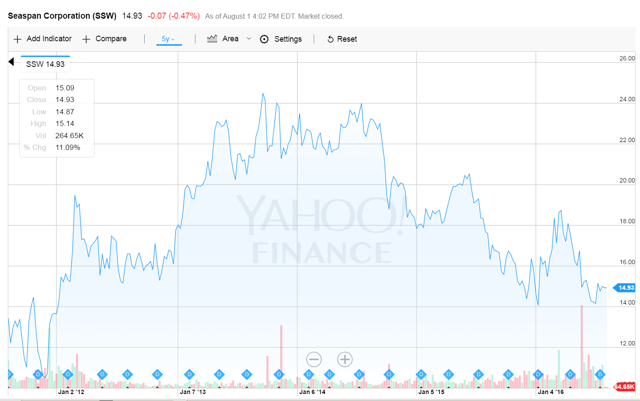 Over the past five years SSW has performed remarkably well considering how hard the container shipping sector has been hit. On 8/8/11 its commons traded at $13.44 and currently it trades at $14.93. A considerably different picture from most of its peer group as shown below.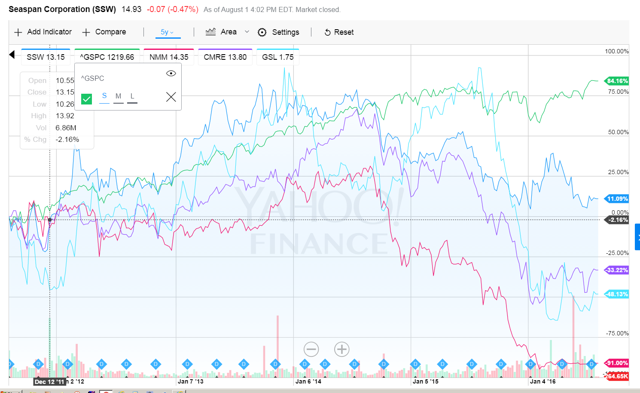 As I suggested, the larger more solid shipping companies will fare better during this rocky patch. Notice that SSW and CMRE, for the past three months, have outperformed their weaker cousins, which is evident in the chart above. And for preferred investors, it's survival that ultimately matters, meaning that SSW and CMRE will still be standing long after the others have fallen, if indeed they are to fall. The peer group as charted above consists of: Global Ship Lease (NYSE:GSL), Costamare (NYSE:CMRE), and Navios Maritime Partners (NYSE:NMM).
Now for a little forward guidance:

According the Finviz summary of SSW's financial highlights, not surprisingly, this company valued at $1.56 billion has, in a terrible environment, actually made a profit of $130.80 million on $846 million in sales. Although its common stock price is down 10.63% for the year, it's up 1.41% YTD. It has a manageable short term 1.97 D/E ratio, which is reduced a bit further to 1.79 long term. Another indication of a company built to last.
I am gratified to report Seaspan has lived up to my expectations and the faith I had in this company at the time I wrote the initial article. Faith I had backed up with a 1000 share purchase of its C Series, which has been called as I had predicted. The money necessary to pay for the C recall was provided by the issuing of a Series F preferred at a coupon rate of 6.95% to an Asian third party, which after five years will increase by 1% per year to a maximum of 10.5% if it is not called. SSW also issued 5.75 million Class A common shares for net proceeds of $81.1 million to accomplish its purpose.
The transcript, which I have provided the link to, is well worth the read. Cutting to the chase, this company has continued to "deliver solid and profitable results" in a sector badly damaged by low container shipping rates. Yet as I predicted, the larger and more stable companies like CMRE and SSW would handle the downturn while their peers might not. Additionally, Seaspan has taken steps to further insure its survival by extending its credit lines through refinancing existing loan facilities. It has also added to its fleet and has successfully extended long term charter agreements with reliable counter-parties that, as far as I'm concerned, bodes well for this company's future.
For those of you patient enough to read through to this point, I have added the bonus of determining which of SSW's preferreds is the best buy at present.
| | | | | | |
| --- | --- | --- | --- | --- | --- |
| Symbol | Yearly Dividend | Price | Dividend/Price | Yield | Best |
| SSW-D | 1.9875 | 26.45 | 1.9875/26.45 | 7.51% | |
| SSW-E | 2.0625 | 25.86 | 2.0625/25.86 | 7.98% | |
| SSW-G | 2.05 | 25.89 | 2.05/25.89 | 7.92% | Best* |
* Although yield-wise The E Series offers the best effective yield at the moment, the G has the latest call date 6/16/21 as compared to the E, which can be called 2/13/19. This is relevant because at the above par prices, the holder will lose 0.86 and 0.89 when and if called.
For those of you inclined to follow up on my past reviews, I list them below and provide the links to each review.
Disclosure: I am/we are long AHT-E, GSL-B, NRF-B, NRF-E, GST-A, CMRE-C, CMRE-D, NM-G, NM-H, PPHMP, SB-D.
I wrote this article myself, and it expresses my own opinions. I am not receiving compensation for it (other than from Seeking Alpha). I have no business relationship with any company whose stock is mentioned in this article.
Editor's Note: This article covers one or more stocks trading at less than $1 per share and/or with less than a $100 million market cap. Please be aware of the risks associated with these stocks.