By Nick Kalivas, Senior Equity Product Strategist
Earnings season is upon us, when companies reflect on the past quarter and fine tune guidance based on their outlook for the rest of the year. So, it seems an appropriate time to take stock of some of the larger economic trends we're seeing, both stateside and abroad.
As we move into late summer, investors face a mixed landscape of opportunity and hard-to-quantify risks. While there are signs of economic revival in the US and emerging world, historically low global interest rates are a reminder of persistent risks - including geopolitical instability, monetary policy, the US elections, "Brexit" and unstable European banks. Nonetheless, strong year-to-date equity performance in many parts of the world could make the case for equity exposure, even in the face of global uncertainty.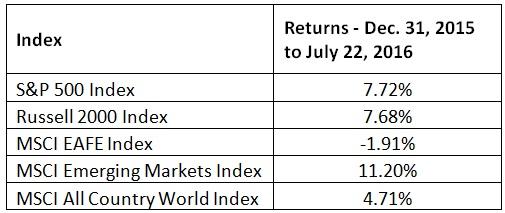 Source: Bloomberg L.P., July 22, 2016
Slow-growth US economy shows signs of firming
In the US, decelerating economic growth is showing signs of abating and a trough may finally be forming. Industrial production growth reached a high of 3.9% on a year-over-year basis in July 2014, before falling to a low of -2.3% in December 2014. This decelerating industrial growth was driven in part by a drop in commodity prices, the strength of the US dollar and inventory imbalances.
These trends are showing signs of reversing, with US industrial production falling by 0.7% on a year-over-year basis in June 2016.1 In addition, commodity prices have been rising since November, the US dollar is moving sideways and the inventory-to-sales ratio may be peaking.1 When overlaid by three straight months of robust retail sales, a steady recovery in the housing market and a strengthening labor market, the chances for improved corporate profits have increased.2 In fact, there is hard evidence of economic firming in the form of the economy-weighted ISM Manufacturing Index, which rose to 56.1 in June - its highest level since October 2015.1 Nonetheless, signs of rising inflation within the core consumer price index (CPI) and its impact on monetary policy generate some risk to the investment landscape and economic revival. The core CPI stood at 2.3% year-over-year in June - up from a recent trough of 1.6% in July of 2015.1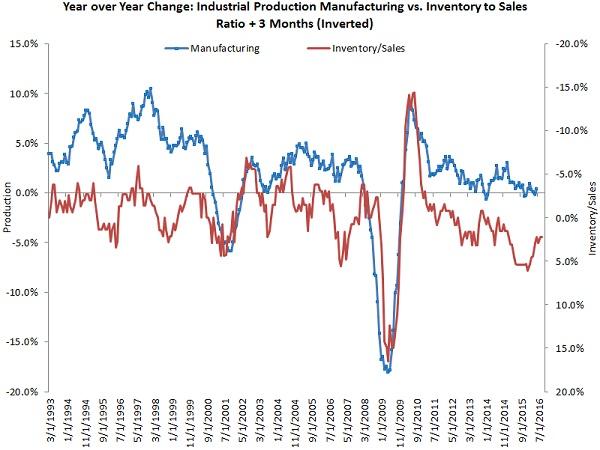 Source: Bloomberg L.P., June 30, 2016
Mixed outlook for the developed world ex-US
Outside the United States, the outlook for economic growth is less constructive. Japan is discussing the issuance of perpetual bonds and fiscal expansion, while desiring a weaker yen to boost export growth. The three-month average of Japan's industrial production has contracted on a year-over-year basis since September 2015.1 Meantime, Europe is working through the impact of "Brexit" - the populist backlash toward EU leadership.
Poorly capitalized European banks compound existing risk and generate headwinds to profit growth, despite ultra-accommodative European Central Bank (ECB) policy. However, negative interest rates in Germany and the ECB's move to buy corporate debt have helped underpin European equities in non-financial sectors. Industrial output in the United Kingdom had showed signs of improving in the late spring, but the Brexit vote and a recent PMI reading of 47.7 argue against expansion, creating more economic uncertainty.1 Moreover, political instability in Turkey is creating a new level of geopolitical risk.
Industrial production in the eurozone has decelerated since the summer of 2015, with the three-month average easing from 2.2% to 1.0% at the last reading in May.1 The bright spot may rest in Canada, where a rally in commodity prices could boost economic growth, although a pick-up has yet to be reflected in vibrant industrial activity.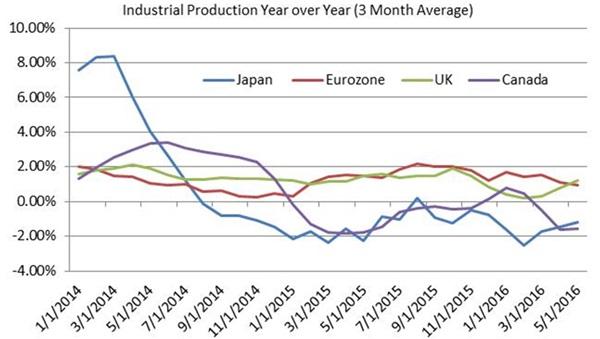 Source: Bloomberg L.P., May 30, 2016
Emerging market prospects brightening
The economic picture has potentially brightened in the emerging world, as rising commodity prices boost the outlook for commodity-producing countries like Russia, Brazil and South Africa. There is also hope for economic reforms in Brazil under a new government, while India is expecting a favorable monsoon season and fiscal changes that could boost economic growth. China is working to mitigate the fallout from excessive debt and the drag of zombie state-owned enterprises. A 9.5% increase in June auto sales, a solid 55.5 reading for the July Westpac MNI China Consumer Sentiment Indicator and a 2.1% jump in electricity output in June suggest economic stability.1 As seen in the chart below, the June Markit Emerging Market Composite PMI rose slowly off its recent low of 48.8 in September 2015 to 50.1.1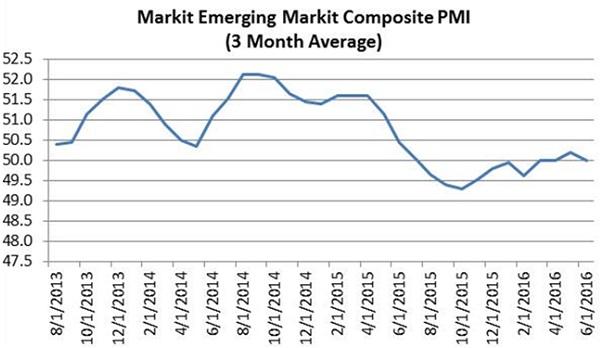 Source: Bloomberg L.P., July 22, 2016. Data as of June 30, 2016
A global, multi-factor investment solution
An option to consider for investors looking for a tactical global equity solution: PowerShares DWA Momentum & Low Volatility Rotation Portfolio (NASDAQ:DWLV).
DWLV's underlying index allocates to both global and US equities markets using the momentum and low volatility factors.
The portfolio's underlying index can also partially or fully convert to cash, depending on the relative strength of equities.
The ability to rotate between momentum, low volatility and cash provides investors the potential for equity exposure and risk mitigation. Dorsey Wright's proven relative strength methodology uses the forces of supply and demand to determine exposure and may help overcome or balance some of the uncertainties found in fundamental analysis.
Sources
Bloomberg L.P., July 25, 2016
Bloomberg L.P., July 25, 2016. Retail sales ex-food, auto dealers and gas stations have risen 1.1%, 0.5%, and 0.5% in April, May and June 2016, respectively. The Commodity Research Bureau BLS Raw Industrials Sub-Index hit a low of 397.31 on November 24, 2015 and has since risen to 459.70 as of July 22, 2016.
Important information
The Russell 2000® Index, a trademark/service mark of the Frank Russell Co.®, is an unmanaged index considered representative of small-cap stocks.
The MSCI EAFE Index is an unmanaged index considered representative of stocks of Europe, Australasia and the Far East.
The MSCI All Country World Index is an unmanaged index considered representative of stocks of developed countries.
The MSCI Emerging Markets Index is an unmanaged index considered representative of stocks of developing countries.
The ISM Manufacturing Index, which is based on Institute of Supply Management surveys of more than 300 manufacturing firms, monitors employment, production inventories, new orders and supplier deliveries.
The consumer price index measures change in consumer prices as determined by the US Bureau of Labor Statistics.
The Commodity Research Bureau BLS Raw Industrials Sub-Index of 13 markets measures daily prices of the 13 raw industrials components of the CRB BLS Spot Index.
The PMI (formerly the Purchasing Managers Index), a commonly cited indictor of the manufacturing sectors' economic health, is calculated by the Institute of Supply Management.
The Westpac MNI China Consumer Sentiment Indicator tracks large consumer consumption patterns in China with more than 100,000 data points, including housing, durable goods and savings and investment. Typically, security classifications used in calculating allocation tables are as of the last trading day of the previous month.
There are risks involved with investing in ETFs, including possible loss of money. Shares are not actively managed and are subject to risks similar to those of stocks, including those regarding short selling and margin maintenance requirements. Ordinary brokerage commissions apply. The fund's return may not match the return of the Underlying Index. The fund is subject to certain other risks. Please see the current prospectus for more information regarding the risk associated with an investment in the fund.
Momentum style of investing is subject to the risk that the securities may be more volatile than the market as a whole or returns on securities that have previously exhibited price momentum are less than returns on other styles of investing.
Investments focused in a particular industry or sector are subject to greater risk, and are more greatly impacted by market volatility, than more diversified investments.
The fund is non-diversified and may experience greater volatility than a more diversified investment.
There is no assurance that the fund will provide low volatility.
The risks of investing in securities of foreign issuers, including emerging market issuers, can include fluctuations in foreign currencies, political and economic instability, and foreign taxation issues.
The fund is subject to the risks of the underlying funds. Market fluctuations may change the target weightings in the underlying funds and certain factors may cause the fund to withdraw its investments therein at a disadvantageous time.
Obligations issued by US Government agencies and instrumentalities may receive varying levels of support from the government, which could affect the fund's ability to recover should they default. Fixed-income investments are subject to credit risk of the issuer and the effects of changing interest rates. Due to anticipated Federal Reserve Board policy changes, there is a risk that interest rates will rise in the near future.
There is no relationship between Dorsey, Wright & Associates, LLC ("Dorsey Wright") and Invesco PowerShares ("PowerShares") other than a license by Dorsey Wright to PowerShares of certain Dorsey Wright trademarks, tradenames, investment models, and indexes (the "DWA IP"). DWA IP has been created and developed by Dorsey Wright without regard to and independently of PowerShares, and/or any prospective investor. The licensing of any DWA IP is not an offer to purchase or sell, or a solicitation of an offer to buy any securities. A determination that any portion of an investor's portfolio should be devoted to any ETF product developed by PowerShares or investment model developed by Dorsey Wright is a determination made solely by the investment advisor serving the investor or the investor himself, not Dorsey Wright.
Beta is a measure of risk representing how a security is expected to respond to general market movements. Smart Beta represents an alternative and selection index based methodology that seeks to outperform a benchmark or reduce portfolio risk, or both. Smart beta funds may underperform cap-weighted benchmarks and increase portfolio risk.
The information provided is for educational purposes only and does not constitute a recommendation of the suitability of any investment strategy for a particular investor. Invesco does not provide tax advice. The tax information contained herein is general and is not exhaustive by nature. Federal and state tax laws are complex and constantly changing. Investors should always consult their own legal or tax professional for information concerning their individual situation. The opinions expressed are those of the authors, are based on current market conditions and are subject to change without notice. These opinions may differ from those of other Invesco investment professionals.
| | | |
| --- | --- | --- |
| NOT FDIC INSURED | MAY LOSE VALUE | NO BANK GUARANTEE |
All data provided by Invesco unless otherwise noted.
Invesco Distributors, Inc. is the US distributor for Invesco Ltd.'s retail products and collective trust funds. Invesco Advisers, Inc. and other affiliated investment advisers mentioned provide investment advisory services and do not sell securities. Invesco Unit Investment Trusts are distributed by the sponsor, Invesco Capital Markets, Inc., and broker-dealers including Invesco Distributors, Inc. Each entity is an indirect, wholly owned subsidiary of Invesco Ltd. PowerShares® is a registered trademark of Invesco PowerShares Capital Management LLC, investment adviser. Invesco PowerShares Capital Management LLC (Invesco PowerShares) and Invesco Distributors, Inc., ETF distributor, are indirect, wholly owned subsidiaries of Invesco Ltd.
©2016 Invesco Ltd. All rights reserved.
Disclosure: I/we have no positions in any stocks mentioned, and no plans to initiate any positions within the next 72 hours.
Business relationship disclosure: This article was posted on the Invesco PowerShares' blog by an Invesco PowerShares' employee on July 29, 2016: https://www.blog.invesco.us.com/equities-post-gains-amid-mixed-economic-backdrop