In the last few months, I wrote a couple of articles on Bank of America (NYSE:BAC), initially noting too much enthusiasm on the rate hike process and then pointing out the intrinsic value when it dipped to around $11. It has been a few months now and a couple of quarterly reports have been issued. I thought I would revisit the story to check if the buy indication of a few months ago is still valid.
Macro picture
First of all, in the case of a US-centric bank, it does make sense to put some focus on the macro picture. GDP growth rates do not paint a very positive picture.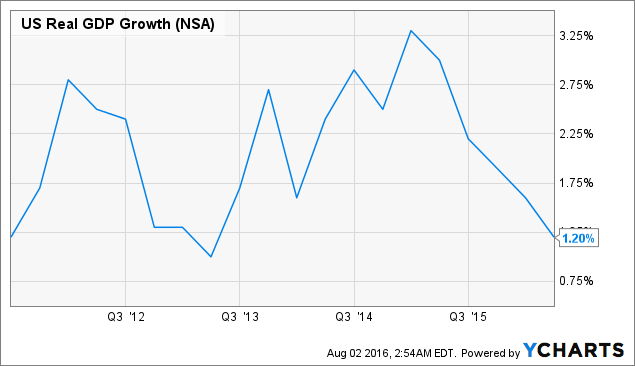 US Real GDP Growth data by YCharts
The growth rate reached a post GFC bottom of 1.2% only touched once in the middle of 2013. At the same time, 10-year Treasury yields are now around 1.48%, lower than the lowest point in 2013 and at similar levels as in the middle of 2012. These are not good signals. Meanwhile, oil prices - after driving equity markets in the first quarter of the year - are now somewhat overlooked even though they are down more than 20% from the peak reached at the beginning of June. This may be a sign of complacency. All in all, the macro picture is full of data that should point investors to maintain a cautious approach to equities at the very least.
Highlights from the most recent report
I'd like now to move over to the details of Bank of America. After a massive correction at the beginning of the year (-37% in two months), the stock rebounded to reach $15, but it has lost the March/April momentum.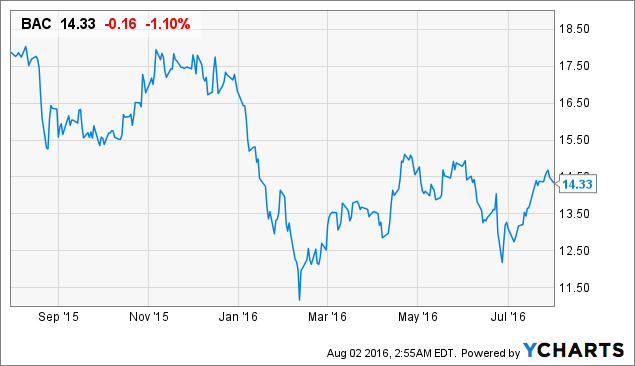 BAC data by YCharts
I reviewed the most recent quarterly results, and I will highlight some charts from the Q2 presentation that I find particularly interesting in updating my picture on the company.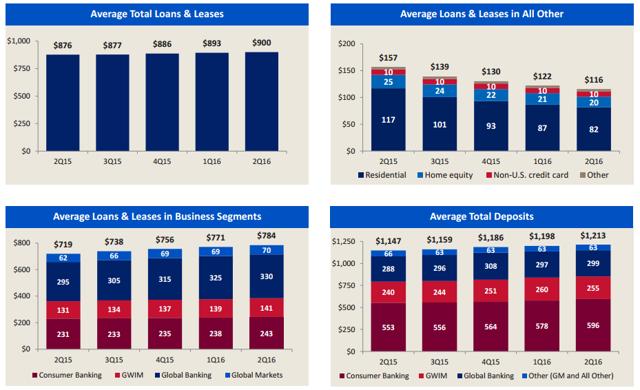 Source: Bank of America Q2 2016 presentation
The loan and lease evolution has been unexciting to say the least: continuous decline in property loans, counterbalanced by some limited growth in the business segment. Average deposits keep growing (which is good for balance sheet strength, but not fantastic from a P&L perspective if you consider they are higher than loans and growing faster). The picture on the asset quality side is somewhat reassuring.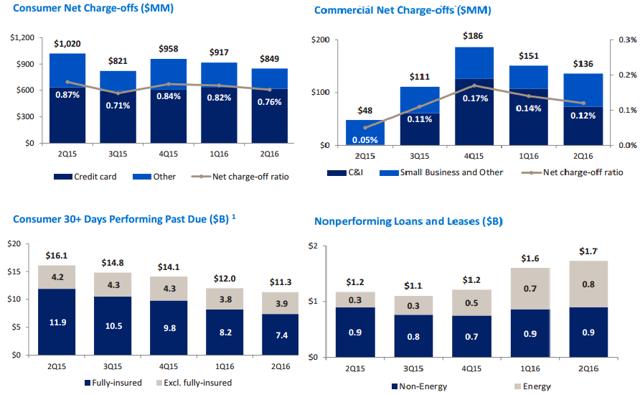 Source: Bank of America Q2 2016 presentation
Net charge-offs are lower on both the commercial and the consumer portfolios while non-performing loans are lower/stable for both consumer and non-energy commercial loans. The accumulation of energy-related non-performing loans is losing pace and certainly the rebound in the energy high-yield debt market experienced since March will help in bringing the situation under control, provided that oil prices do not fall again toward the $35 level.
Another slide of the presentation took my attention as it shows the only charts with a decent level of growth.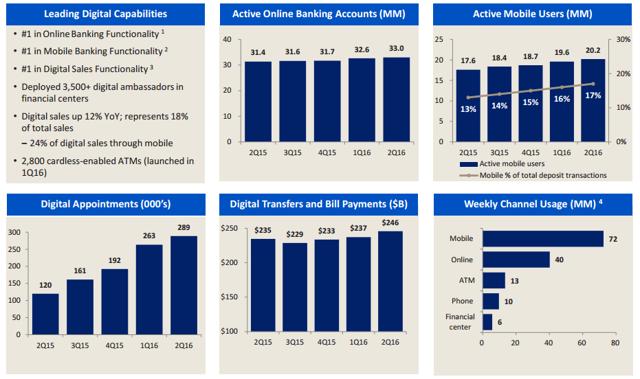 Source: Bank of America Q2 2016 presentation
Online banking has been improving with more online accounts, more mobile users and more activities. Digital sales were up 12% year over year and they now represent 18% of total sales. I would read the charts above on online banking in combination with the expenses highlights.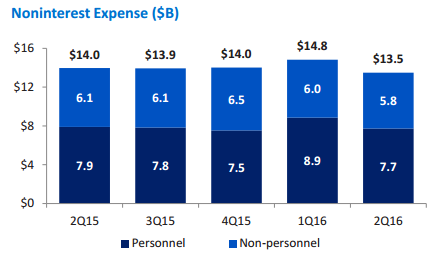 Source: Bank of America Q2 2016 presentation
The bank is clearly tackling expenses in a no-growth environment by making efficiencies and gradually moving to a more automated model: headcount down 3% year over year, personnel costs down 2%, and non-personnel costs down 5%.
Conclusion: It's all going to be about efficiencies
The macro picture and the company-specific results all point to the same conclusion. Going forward, it is going to be very difficult to grow the top line and - with a very modest pace for rate hikes on Yellen's mind - the picture is going to change only moderately in 2017. Therefore, it is all going to be a matter of efficiencies. The bank is demonstrating a good ability in reducing costs and successfully transitioning to a less branch centered model. This is paying a small dividend at the moment, but will be very evident when it will be coupled with a finally growing top line at a later stage. I believe the solid fundamental progress makes the bank a compelling long-term buy opportunity, especially in light of a 2017 P/E that based on my estimates will be around 9.5x. That said, in view of the disappointing macro picture, I would take a cautious and opportunistic approach on BAC, accumulating shares only on the dips at around $13 (the stock was at that level in early July) with no hurry and with the idea to sell once rate hike expectations increase again towards the end of the year.
Disclosure: I/we have no positions in any stocks mentioned, and no plans to initiate any positions within the next 72 hours.
I wrote this article myself, and it expresses my own opinions. I am not receiving compensation for it (other than from Seeking Alpha). I have no business relationship with any company whose stock is mentioned in this article.