Audi AG is in the Automobile Manufacturers sub-industry of the Consumer Discretionary sector. Its stock price is €636.55 as of August 1, 2016, with a market capitalization of €27.4bn. Audi AG is traded on the Frankfurt Stock Exchange (FWB:OTCPK:AUDVF), with headquarters in Ingolstadt, Germany.
To better analyze the company's performance and valuation, we used the Valens-Research.com database, as it is difficult to make investment decisions without using performance and valuation metrics that have been adjusted for distortions and inconsistencies in financial statement reporting under both GAAP and IFRS. (For more detail, please follow this link.)
After careful analysis of both historical trends, as well as current valuations and analyst estimates, we believe the embedded expectations of Audi make it a very interesting deep value idea.
At €636.55 per share, Audi AG has embedded expectations of future performance that are excessively low.
To reach today's stock price of €636.55, Audi's Adjusted ROA (ROA') would have to fall to 1.4% over the next five years, with a 5-year CAGR (compound annual growth rate) of 5.5%.
As indicated in Figure 1, given the firm's current ROA', Audi is trading at a substantial discount compared to its peers, and relative to its current Adjusted Asset (Asset') levels.
FIGURE 1: Adjusted P/B (V/A') to ROA' Scatter Chart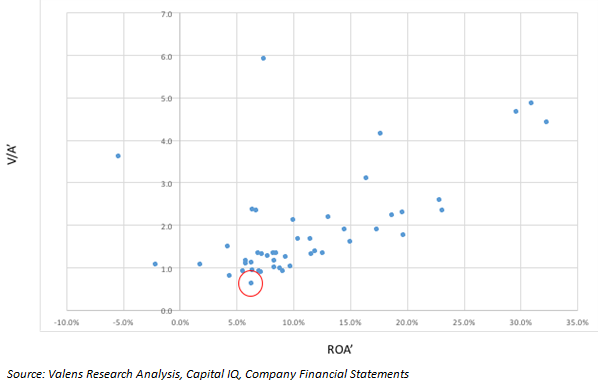 At these valuations, the market forecasts the firm to see ROA' and Asset' growth to substantially slow down going forward.
FIGURE 2: Performance and Valuation Prime™ Chart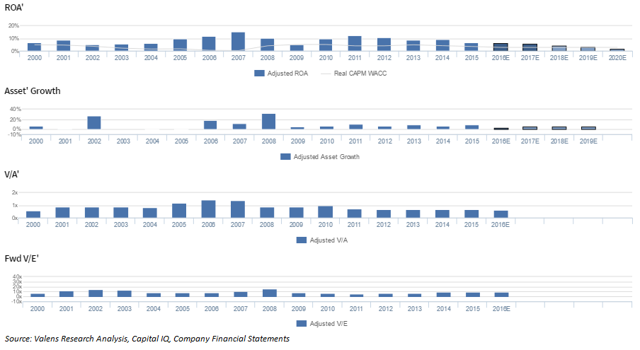 What the market is thinking and why
Due to Volkswagen's (OTCPK:VLKAY) recent emissions scandal, as well as concerns about recalls and potential fines, Audi is currently priced like a firm approaching bankruptcy. In September 2015, it was discovered that certain Volkswagen cars in the U.S. polluted five times more than permitted by law. As a result, many cars, including those under the Audi and Porsche brands, had to be recalled. Now, the companies are facing a lawsuit and potential fines of up to $1bn. Also, Volkswagen controls 99.55% of the share capital of Audi, while the free float amounts to 192,203 Audi shares. These represent a free float of just €144mn, which restricts the ability of large, institutional investors to trade the stock and invest in the company. Given these factors, and despite the fact that Audi has shown great success in the luxury car segment, the firm is trading at just a 0.6x V/A'. The market is pricing in expectations for the firm to have issues servicing fines and various lawsuits, and even considering concerns about liquidity, the current risk/reward balance makes Audi an interesting deep value name.
Why the market is wrong
As a result of the market's emotional reaction to the Volkswagen scandal, valuations imply market expectations for ROA' to fall to just 1.4%, from 6.9% in 2015. However, Audi has consistently driven ROA' above or in line with the cost of capital over the last 15 years, while also maintaining positive Asset' growth each year since 2006. Given the fact that the firm is still growing its business operations globally, while maintaining Earnings' Margins, these expectations appear to be very unreasonable. The firm would need to see historically low profitability or even bankruptcy risk to justify current valuations. In addition, Audi has €19bn in cash. Therefore, even if fines were substantially higher than initially expected, the firm would be able to service this obligation with limited issue.
Target price range suggests 81% equity upside potential
Given our fundamental analysis, our high end estimation would be a target ROA' and growth forecast for the company of 7.0% and 8.9% respectively. This suggests equity upside of 81% from current stock price of €636.55, with a target price of €1,149.
A reasonable low end estimation would be a target ROA' and growth forecast for the company of 5.5% and 3.2% respectively. This would suggest equity upside of 38% from current stock price of €636.55, with a target price of €880.
Catalysts to the market revising its expectations of company performance
Key indicators demonstrate Audi's potential, and explain why the market will revise its performance expectations:
Growth in key markets. Audi has been continuously and tremendously growing in areas with substantial populations and increasing high net worth individuals who can afford to buy a premium car. The U.S. is a success story for Audi; from 2% market share in 2010, it now holds 11.2% in the premium segment. Furthermore, Audi remains the leader in the premium segment in China, with 32% market share, against 25% for BMW and 21% for Daimler. Additionally, from 2007, Audi grew 6-fold in the world's most populous nation, and the premium segment continues to grow at a faster rate than the rest of the market, at 16.3% compared to 8.8%.
Financial stability and growth-focused spending. As a means to strengthen brand position, Audi is investing in future growth. For 2016 alone, it has planned capital expenditures of €3bn, to launch a new line of electric cars by 2018. In addition, it is strengthening its supply chain and network by opening a €1bn manufacturing facility in Mexico. This will serve the growing demand of the U.S. market for Audi. When this opens, Audi will have 17 facilities all over the world. Currently, it has nine in Europe/Middle East/Africa, three in South America, and four in the Asia Pacific.
Investing in premium of the future. Audi is building up on CSR and sustainability with key strategies of electro-mobility and premium solutions. It is also on the verge of understanding customers in urban centers with an eye on leveraging digitalization and individual mobility connected to the city of the future.
Final Summary Statement about the Company, Situation, and Equity Upside
With market expectations for ROA' declining to 1.4%, well below cost-of-capital, Audi represents a fantastic value considering its history of strong fundamentals. Despite being dramatically oversold, following news of parent company Volkswagen's CO2 emissions scandal, business fundamentals at Audi remain robust and global growth potential continues to appear promising. Additionally, considering that the firm has over $19bn in cash, fines of as much as $1bn as penalty for cheating emissions tests would be unlikely to damage the liquidity profile of the company. Moreover, this would certainly not impact future operations. Therefore, with consistent historical growth and profitability, Audi represents a deep value at just 0.6x V/A, with the possibility for multiple expansion and equity upside of as much as 81% as the uncertainty of lawsuits and fines fades away.
Note: This analysis was conducted by Akifumi Iseya, Manchit Malhan, Rey Ferdinand Maribao, and Stefanie Berenguer Juan. It was conducted in a seminar program taught by Valens Research.
Disclosure: I/we have no positions in any stocks mentioned, and no plans to initiate any positions within the next 72 hours.
I wrote this article myself, and it expresses my own opinions. I am not receiving compensation for it (other than from Seeking Alpha). I have no business relationship with any company whose stock is mentioned in this article.
Editor's Note: This article discusses one or more securities that do not trade on a major U.S. exchange. Please be aware of the risks associated with these stocks.