In the past, I've written quite a few articles regarding apparel companies. Apparel related trades have been my favorite trades since 2014 because there are many clear indicators that give excellent insights. In this article, I want to show you the most important indicators and tell you why you should not buy any of these companies.
The first graph is by far the most important graph. The grey bars represent the ISM manufacturing results of the apparel industry. Every month represents a different sentiment number. The black line is the 3 months average of the sentiment number. The blue line represents the year-on-year growth rate of official clothing and accessories retail sales.
What we have here are both the most important leading indicator of the industry and the coincident indicator that either confirms or denies the outlook given by the leading indicator.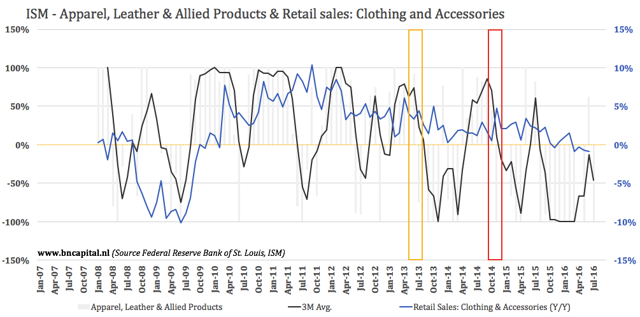 Apparel companies did very well until 2013. In 2013, we saw the first signs of weakness. Official clothing sales were still close to 5% growth at that point. At the end of 2014 things changed. ISM apparel sentiment imploded which resulted in the inevitable decline of retail sales.
The graph below displays clothing & accessory retail sales in millions of dollar. There has been no growth since 2014. Sales hit a rock solid ceiling.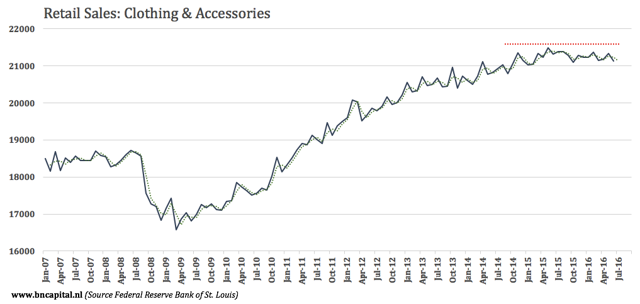 Under these circumstances, it's almost impossible to have a great performance. Especially if you consider that the apparel industry is highly competitive and companies need to compete with razor thin margins.

Source: Finviz
Apparel stocks have been a total nightmare. Especially the ones I just pointed out. Margins are low while it is getting harder to growth revenues and profits.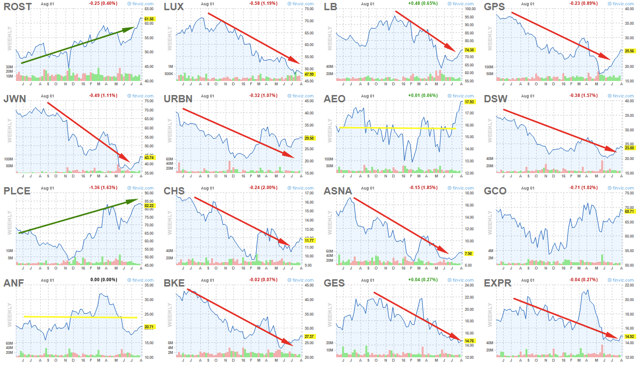 Source: Finviz
Some stocks like Ross Stores (NASDAQ:ROST) and the Children's Place (NASDAQ:PLCE) have done quite well. Terrible fundamentals don't mean that every single stock is going to get crushed. It just means that one needs to be a great stock picker to get the ones that will outperform.
I've always been a fan of the GAP (NYSE:GPS). This mega clothing retailer reflects the industry like no other since it is highly depending on strong macro fundamentals to grow. At this point, quarterly sales are down five consecutive quarters.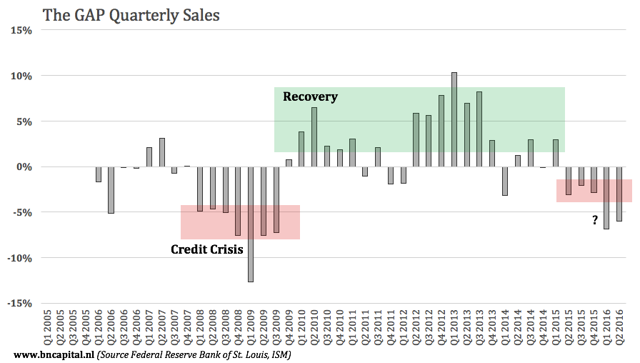 I put The Gap GPS on my watchlist along with:
I have them on my watchlist to trade one or two of them against the SPDR S&P Retail ETF XRT. The main reason is to benefit from the fact that these stocks are poised to underperform.
The graph below displays the trade that consists of a XRT long position and a GPS short position. The trade makes money when XRT outperforms GPS.
The short term crash resulted from a better than expected ISM apparel sentiment print last month and offers a great entry point.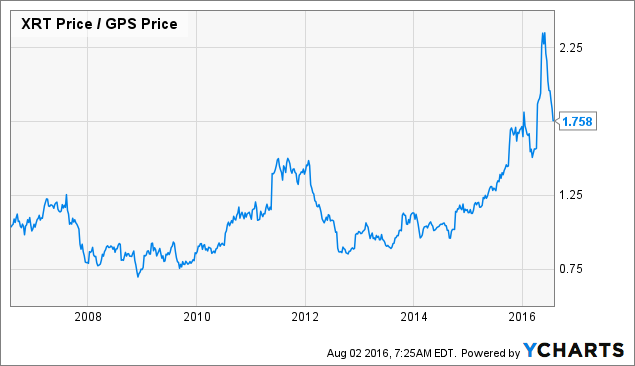 Fundamental Chart data by YCharts
My message to you is that you should avoid apparel stocks for the time being. The odds are simply terrible. If you are a long/short trader you might consider shorting a few low margin apparel retailers against stronger companies or the entire apparel ETF.
Thank you for reading, feel free to leave a comment below if you have questions or remarks.
Disclosure: I/we have no positions in any stocks mentioned, but may initiate a short position in GPS over the next 72 hours.
I wrote this article myself, and it expresses my own opinions. I am not receiving compensation for it (other than from Seeking Alpha). I have no business relationship with any company whose stock is mentioned in this article.