Another exciting month has now passed, which was characterized by ongoing investments and an ambivalent earnings seasons regarding my investments. Despite being a rather quiet month, especially compared to June, I am excited about a 140% increase in dividend income quarter over quarter as new portfolio additions from May and June start contributing to growing my dividend tree.
What's more I started by personal "Tracking Portfolio Income in Google Sheets" series, which sparked attention and motivates me to proceed with that.
Portfolio Buys | 14 purchases
As in June, I easily topped my monthly investment of $1,000 as I added stocks worth $2,000 over the month. In total I recorded 14 purchases of which 10 were additions to existing stocks and the remaining four (SO, CF, MS, RAI) representing new additions to the portfolio.
The biggest three purchases with around $250 each were MS(to diversify portfolio with financials), T (a dividend stalwart I do not want to miss in my portfolio), CF (a small bet here as I believe that the fertilizer sector has been beaten to the grounds and hopefully found a bottom) and GILD (cost-averaging in the wake of disappointing Q2 earnings).
The most controversial buy from my point of view here is GILD. GILD is a cash cow, at least currently, but market saturation, the doom and gloom of Clinton's potential presidency and increasing competition leads to lower sales in GILD's blockbuster drug, Harvoni. Soon after earnings were released the stock plummeted 8% and people were quick in downscaling their valuations and predicting the ultimate demise of that company. While I share the belief that GILD won't be able to maintain its valuation with Harvoni only, I remain confident that the vast amount of cash available to that company, both for R&D and for potential acquisition(s), will create more value in the future. Meanwhile, I am enjoying the juicy dividend for a biotech stock and carefully observe how the market is recalibrating itself.
Regarding new buys for existing stocks I will go into detail for both T and MS.
· MS: a great financial stock with a lot of upside potential, a nice dividend which was massively raised (33%) and still boasts a low 30% payout ratio
· T: a dividend stalwart with a 4.5% yield, a very stable and reliable business model and a great dividend track record. The valuation is probably a bit high right now (as applies to many other stocks) but as I am a long-term investor this remains a SWAN "Sleep Well At Night" stock.
Dividend Income: What happened on the dividend side?
Dividend-wise July (as well as January, April and October) is a rather quiet month as I do not have a big exposure to stocks paying in that rhythm. At the end of the month a healthy amount of $ 41.24 from 11 companies was pocketed which represents an increase of 140% compared to April. This whopping growth is attributable to new purchases (STAG, QTS, CM, DFT, MAIN, PEB, STWD) in the meantime as well as some changed special taxation, the latter not being a permanent effect. Let me briefly explain what I mean with "changed special taxation" (please skip this as this is basically only relevant for investors in Germany):
German tax law applies a combined flat tax rate of roughly 26.5% on every dividend received. The exception is that for the first 801 € a so-called "flat-rate saver's allowance" applies which means that the first 801 € in dividends received are not subject to taxation. To benefit from this a German investor can either retroactively specify this allowance in the annual tax declaration or inform his/her broker/bank proactively meaning that the financial institution automatically prevents taxation on the first 801 € and then starts withholding the 26.5% tax rate for all further income. In the middle of Q2 I decided to go with the proactive approach and thus a notable increase in dividends received in July (compared to April) results from this deliberate decision. This complicates comparisons, but only temporary, as for all subsequent quarters this effect is now factored in.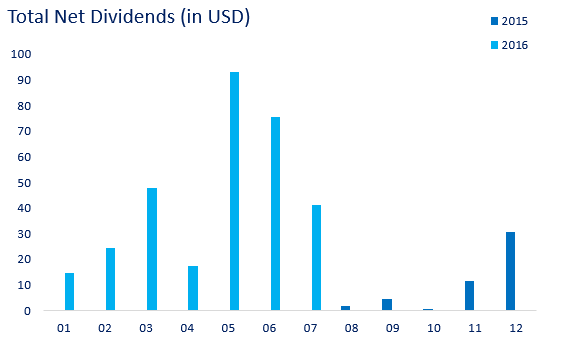 Here is a detailed overview of July Dividends by company: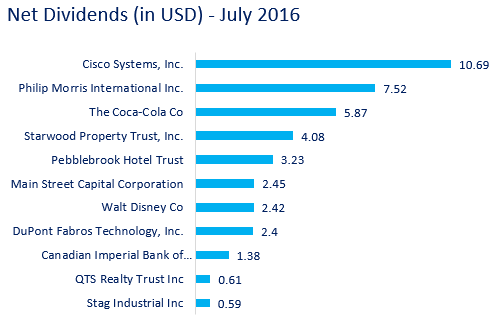 While more than 50% of monthly income comes from three companies (CSCO, PM and KO) which I have already owned in April, one can already see the effect of the more recent portfolio additions to my stream of dividend income. It is really motivating to witness how my actions quickly affect my income as the journey towards financial independence gradually progresses and gains momentum.
With all the purchases in July and the reinvested dividends my 12 month forward income (August 2016 - July 2017) is now projected at around $ 1,180 (before taxes). Due to the high exposure to US stocks this figure is going to fluctuate regardless of any actions as the EUR/USD exchange rate is playing a vital role here.
Portfolio value appreciated to 4.3% at end of month
In terms of capital gain the portfolio is now up $ 1,200 compared to its cost basis. While I do not track monthly movements on a stock basis I know that the biggest losers were RDS.B and GILD while BGS and the German companies FRA:ADS, FRA:BMW3 and FRA:DAI were the best performers.
Anyway, this metric is currently not important to me as my goal is to accumulate dividend income and not portfolio value. I firmly believe that if you invest in stable and/or growing companies with sound and understandable business models then these stocks will appreciate in value over the long-term regardless of economic and political factors.
What's ahead?
I am very satisfied with how July went and hope you all had a great July as well. The amounts reaped in are currently far away from being massive or impressive but seeing the growth and the pace at which this occurs is absolutely fascinating to me. Now is really the time where these growth rates are phenomenal and I am aware that these cannot be maintained, not even in the short-term.
I am already looking forward to August to see how this journey continues and the purchases in the course of the year contribute their share to the rising stream of passive income.
I want to close this update with encouraging you to share your thoughts on how your July unfolded (where did you pull the trigger? what surprised you in July? what disappointed you?).
I hope that you find this update interesting and relevant. The biggest inspiration for me are reading these updates from other authors and following their progress over the years. Compared to them I am still really at the beginning of my journey and I would appreciate if you want to follow my journey as well. I hope to inspire many more readers to also start and share their journey.
If you like the content I am providing please hit the "follow" button.
Disclosure: I am/we are long AAPL, FRA:BAS, BP.L, CSCO, KO, CL, FRA:DRI, XOM, FRA:FME, FRA:FRE, GILD, JNJ, MCD, PM, PG, RDSB, UN, DIS, PEP, VZ, V, WFC, GIS, BGS, SEP, MSFT, CBA.AX, MAIN, IBM, CTL, TNK, HCP, ABBV, FIG, CLDT, RY, EPD, QTS, DFT, GM, FRA:BAYN, CZNC, OHI, CM, T, JPM, STAG, HPT, FDX, FRA:DAI, AINV, SNH, DHT, FRA:BMW3, FRA:CBK, FRA:ADS, FRO, HON, STWD, PEB, MS, CF, SO, RAI.
I wrote this article myself, and it expresses my own opinions. I am not receiving compensation for it (other than from Seeking Alpha). I have no business relationship with any company whose stock is mentioned in this article.
Additional disclosure: I am not a licensed financial professional. This article is for informational/entertainment purposes. Be sure to consult a professional and do due diligence before investing in equities, as losses up to and including all capital invested can be incurred. I may add to any of these positions at any time.