Just last quarter I penned a piece here on Seeking Alpha, which started off with a hope that I could eventually write a positive note on Ocwen's (NYSE:OCN) quarterly results. I'll call this one a half victory, because while Ocwen has rallied on the back of the Q2 earnings release, we're still simply just back to the levels we were back after the Q1 fiasco. Much of the overarching story here remains the same: right-sizing of the company (revenue versus expense), one-time significant item impacts, legal fallout, and low interest rates continue to plague the company and make determining future value more than a little difficult. I still view it as an asymmetric risk/reward play, and maintain that if you're long Ocwen common equity, you've either hit a home run two years from now or you've struck out completely.
Q2 2016 Results
Q2 Results on their face from a GAAP perspective didn't look terribly hot. Pre-tax loss came in at $96.4M, which was still a sequential improvement over Q1. However, there were significant items here:
- $40.1M in legal defense costs, primarily related to settlement of Fisher cases
- $28.1M in legal monitor costs, primarily California monitor costs
- $15.0M reserve for potential future regulatory settlement with California monitors
- $11.4M drop in value on mark-to-market MSRs
- $4.3M in interest expense related to servicer downgrade and New Residential (NYSE:NRZ)
As Ocwen pointed out, if you back out all of those costs, you end up with a $2.5M net profit. Despite having a healthy skepticism for one-time costs that continue to exist, there is some solid basis to believe these charges will not reoccur.
The largest item (Fisher whistleblower lawsuit) relates to the settlement ($30M) and related legal expenses in the quarter ($10.1M). While not officially settled (Justice Department still has to approve), this likely marks the end of what has been an expensive and long-running legal battle that Ocwen has been dealing with for years. The basis of the case relates to allegations that Ocwen provided false information related to its participation in FHA and HAMP programs. This has been a common lawsuit tactic by the government, with other servicers and banks (Wells Fargo (NYSE:WFC), Bank of America (NYSE:BAC)) being hit with similar lawsuits. Ocwen admits no wrongdoing under the settlement, and I see no reason why the settlement will not be approved given the information and precedent from prior cases available to us now. M&T Bank (NYSE:MTB), for instance, settled for roughly double that amount in May 2016, despite being a significantly larger entity with a similar amount of exposure.
The $28.1M in legal monitor costs were expected, and everyone has beaten to death the importance of these charges dropping off in 2017. Hopefully these charges end early on in 2017, and the setup of a $15M reserve for eventual settlement with California points to an end of the tunnel. Under GAAP, reserves are set up when they are both 1) probable and 2) future loss can be reasonably estimated. FASB states that the definition of probable is "likely to occur". In a nutshell, Ocwen has determined that a settlement is likely to occur, and that a reasonable settlement expectation is $15M. With auditors (internal and external) crawling all over the company at this point, investors can likely be assured this step wasn't taken lightly or without significant consideration by many parties. Investors that have been following Ocwen likely remember the back-and-forth last year with Deloitte over going concern language in the 10-K filing; no one on tap for tracking Ocwen is throwing them any soft pitches. Ocwen has been stepping up internal oversight here as well, with hiring in compliance-related roles being a major focus, including the CCO role in mid-2015. This reserve is likely the biggest development to come out of this earnings release, as the end of monitor costs plays heavily into whether or not the company can be profitable come 2017 for the full fiscal year. While investors could view this as a possibility that the monitor is pushed out earlier than expected before year end (and that is possible), it isn't necessary to view the report as bullish.
The $11.4M in mark-to-market losses were obviously coming. Ocwen management has guided to using the ten year treasury as a proxy: ten year goes down, expect fair value adjustments in the same direction. Given the weakness in the global economy, U.S. treasuries continue to see immense demand, putting pressure on yields.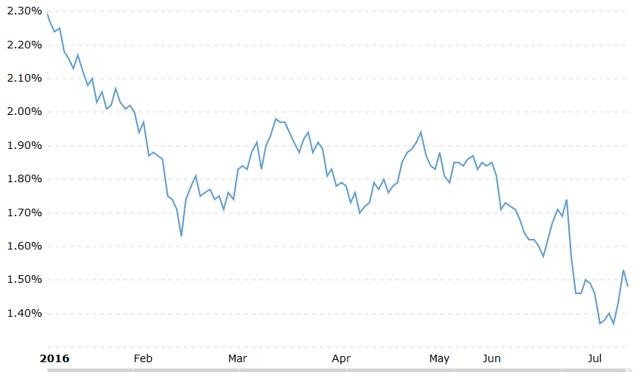 As much as I believe U.S. treasuries need to eventually move upwards from where they are today, I felt the same a couple of months ago. There is a benefit to overall lower rates for Ocwen, namely lower variable interest rate costs and mortgage rates (higher lending activity), which both have a tendency to move along with rates on government bonds. So there is a balance to be struck here.
Other Positive Takeaways
Despite a challenging environment, revenue was up sequentially (perhaps not too surprising into the home-buying quarter). Origination volume was up to $1.3B ($1.1B forward, $200M reverse), up from $1B in Q1. All this has kept total serviced UPB by Ocwen from falling too precipitously, down 3% from Q1 to Q2. This helped offset an acceleration in prepayment speeds to 14.2%, the highest rate in several quarters. Revenues fell nearly the same as adjusted expenses (excluding all of the above one time items), helping keep margins in the core business similar to prior years, despite the expected losses in operational leverage as serviced UPB fell 29% y/y.
Very importantly in my opinion, book value has remained fairly stable. GAAP book value grew from $543M to $554M, though in large part to some scheduled sales (which may have benefited from being carried at higher than book on the balance sheet before being held for sale). Excluding those items, GAAP book value fell 3%, in line with other book value assumptions (fair value adjusted, along with the more aggressive $1.75B value which includes estimated value of the NRZ sub-servicing economic value).
Ocwen trades significantly below even GAAP book value, nevermind Ocwen management's estimate of potential value. Simply, if the company liquidated today, shareholders would likely receive more value per share than what the company's equity trades at. That doesn't make it a buy in and of itself. The risk here is that Ocwen management, in their quest for right-sizing and fixing this business, end up letting it die a slow death. As the asset base shrinks, UPB falls, and if capex spending doesn't yield returns, book value will inevitably begin to collapse. While this book value metric has stabilized in recent quarters, but has been cut in half year/year.
Conclusion? Sunnier Skies Ahead
Overall, there is still much to like here in my opinion. I've held the opinion all along that if the company can make it through 2016 and get out from under all its legal and regulatory burdens, it can find a place as a viable entity. There will likely come a time where shareholders aren't standing in line behind lawyers, regulators, and the government when it comes to the entitlement of the cash flows of the business. Risk-taking investors still have an opportunity here to get in before other less risk-averse wait for sunnier skies.
For more research like this on small/mid cap companies perpetually under-followed by Wall Street and under-owned by retail investors, consider following me (by clicking the "Follow" button at the top of this article next to my name) to receive notification when I publish research. Feel free to ask any questions in the Comments section below.
Disclosure: I am/we are long OCN.
I wrote this article myself, and it expresses my own opinions. I am not receiving compensation for it (other than from Seeking Alpha). I have no business relationship with any company whose stock is mentioned in this article.