Annaly Capital (NYSE:NLY) is set to report Q2 earnings this Wednesday. The company officially closed the Hatteras transaction in July, meaning that we won't be able to see the impact of the transaction on Q2 results, but that shouldn't stop you from looking at other important things.
Leverage
Annaly Capital has been slowly increasing its liabilities to assets ratio for the past couple of quarters.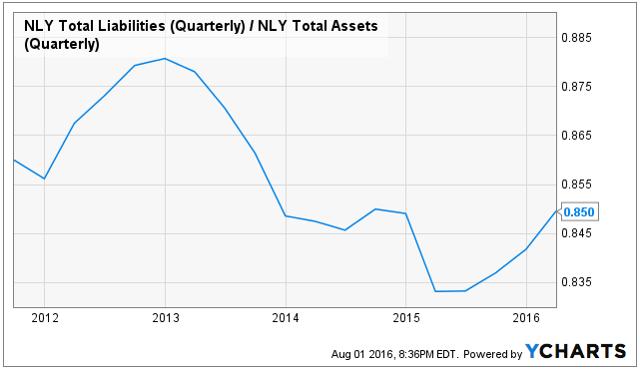 We can see that prior to 2015, the company has been reducing leverage as the macro situation worsened (i.e. flattening yield curve); but the policy seems to have changed and the company is now ramping up leverage once again. This is not a positive development because if we take a long-term view, a higher leverage implies that the negative impact of lower spreads will be amplified on the bottom line. Considering that the Fed is still on track to raise interest rates, this is a very real concern. However, lower long-term yields have also boosted the value of the portfolio, meaning that equity holders have benefited from higher leverage. Nevertheless, since most investors are buying Annaly Capital for the long-term income, I believe that the first approach is much more relevant.
Lower Cost
From a cost perspective, I believe that Annaly Capital should have benefited from a lower cost of funds in Q2, much like its peer American Capital Agency (NASDAQ:AGNC), who saw its cost of funds decline from 1.64% in Q1 to 1.46% in Q2. The market didn't believe that the Fed would raise rates and since American Capital Agency and Annaly Capital are exposed to similar risks, Annaly Capital should have captured this market opportunity as well.
Dividend Guidance
The management doesn't like to talk about dividends during conference calls, but given American Capital Agency's recent cut, I wonder if the management will try to give investors some clarity. If you've read my past articles on Annaly Capital you may know that I believe that the company is paying more than what it could earn over the long term. However, I still believe that the best thing for common shareholders would be a dividend hike so that they can take advantage of the current book value discount. In a sense, the management has been doing that already since it has maintained dividend payouts since 2014, even though net interest spread has decreased from 1.26% in 2014 to 1.23% in 2015, and to 0.36% in Q1 2016; but more the merrier. If there is such intention to increase capital return to shareholders, then the stock will become more attractive. The reason is not because Annaly's earnings power has increased, but because the management will deploy capital more efficiently.
Click the "Follow" button beside my name on the top of the page to be updated with my latest insights. To learn more about the V20 Portfolio, whose goal is to compound capital at 20% over the long term, I encourage you to read the introduction to my investment process. Premium subscribers get full access to the V20 Portfolio.
Disclosure: I/we have no positions in any stocks mentioned, and no plans to initiate any positions within the next 72 hours.
I wrote this article myself, and it expresses my own opinions. I am not receiving compensation for it (other than from Seeking Alpha). I have no business relationship with any company whose stock is mentioned in this article.