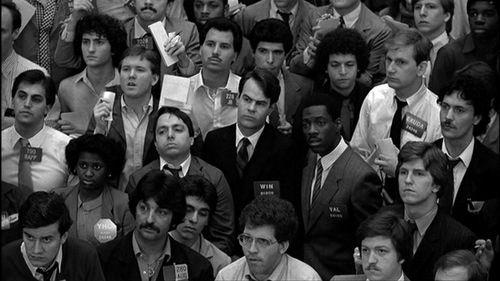 Scene from the movie Trading Places
Weatherford International (NYSE:WFT) released its Q2 earnings Wednesday after-hours, and the stock has been on a wild ride ever since. The company confirmed it raised $2.7 billion in debt, practically removing near-term bankruptcy risk. Shorts had to cover their bets - likely one of the catalysts that drove WFT from $5.73 on Wednesday to as high at $6.29 Thursday. With no more positive catalysts in sight, WFT hit a two-month low of $5.19 Monday.
The Situation
Weatherford's liquidity issues have been resolved for now. The company ended the quarter with $452 million in cash and additional capacity under its revolving credit facility. In Q1, the company completed a $630 million equity raise to shore up its balance sheet and help meet a near-term principal payment. With its recent debt offering, Weatherford practically eliminated the potential cash burn from principal payments due from 2017 to 2019.
On cue, JPMorgan (NYSE:JPM) reaffirmed its buy rating and $9 price target. JPM also happens to be the agent for Weatherford's revolving credit facility and underwriter of its recent equity offering. Guggenheim Securities gave WFT a $10-13 price target based on 11.5 times and 10 times estimated 2018 EBITDA and operating cash flow per share. In this market, "not going bankrupt" appears to be the new buy signal.
Reality Bites
After raising over $3 billion in capital, Weatherford still has $7.2 billion in debt amid declining revenue and paltry EBITDA. Q2 revenue fell 12% Q/Q and 41% Y/Y. Its EBITDA of $108 million equated to a margin of only 8%, and that included the benefit of nearly $50 million in income from the Zubair settlement. The reality is there are no near-term catalysts for WFT. It has engaged in two capital raises this year, the Zubair contracts have been settled and analysts have pumped the stock based on potential events that could happen one to two years away. At $5.23, WFT is still below its March secondary offering price of $5.65/share. In my opinion, Weatherford still faces an uphill battle; the stock has further to fall for the following reasons:
Weatherford Is Hemorrhaging Cash
With its operations in decline, Weatherford should be cash flow positive. It should be monetizing its accounts receivable and inventory, paying down payables and pocketing the difference. Oil services names like Oil States International (NYSE:OIS) and Dril-Quip (NYSE:DRQ), amongst others, are cash flow-generating machines. However, in Q2, Weatherford's net cash used in operating activities was $139 million and its free cash flow used was $160 million.
In March, the company reported working capital (excluding short-term debt) of $3.1 billion. However, the company has not been turning that working capital into cash. Management intimated it was getting squeezed by customers:
Free cash flow in the second quarter was a disappointing negative $160 million, while still improving on the first quarter's free cash flow by $56 million. The shortfall can be explained quite simply. Customers in general, but particularly national oil companies, have begun to manage their cash flows actively, thereby delaying payments to contractors. We missed about $150 million in specific projected collections reflected in the nine-day increase in our DSO this quarter. Obviously, these customers have solid credit and recoverability is not in question. Just the timing is delayed.
That could indeed be the case. However, it doesn't explain why Weatherford's collection of inventory was so paltry. Based on my estimation, cash flow from inventory collections was $46 million in Q1 and $76 million in Q2. This was in spite of an inventory balance over $2.3 billion heading into the quarter. It gives credence to my thesis that inventory is stale, slow-moving, and likely overstated by at least $1 billion.
Weatherford Cannot Support Its Debt Load
Despite the recent capital raises, Weatherford's debt never seems to go away. The company had debt of $7.4 billion at the end of 2015. At Q2 2016, its debt load was $7.2 billion. Over that time frame, revenue and EBITDA have continued to decline. At some point, Weatherford cannot keep kicking the can down the road. It has to repay its obligations. However, the company cannot generate enough cash flow to cover its interest burden. Its Q2 interest expense was $119 million - nearly 1.2x EBITDA of $100 million.
As each quarter passes by, Weatherford digs itself into a deeper hole. In effect, the company has been using new debt to pay principal and interest on old debt - robbing Peter to pay Paul. The company has also engaged in headcount reductions and other cost-cutting initiatives. However, if it cannot generate enough operating income to cover interest expense, it will likely have to seek additional capital in the first half of 2017.
Rebound In Oil & Gas Capex Could Be Delayed
Halliburton (NYSE:HAL) recently suggested that after oil prices approached $50, animal spirits may returned to the oil patch. Schlumberger (NYSE:SLB) and Weatherford intimated the decline in North America E&P had bottomed. However, oil prices have fallen to around $40 over the past week. That is over 20% below were prices were in early June. The decline has put a damper on expectations of a rebound in E&P.
Disappointing earnings results from Chevron (NYSE:CVX), Royal Dutch Shell (NYSE:RDS.A) (NYSE:RDS.B) and Exxon (NYSE:XOM) will not help the matters. They might have to cut capex further just to preserve their dividend pay outs. According to Bloomberg, oil & gas capex is expected to fall to $410 billion in 2016, down from about $500 billion last year. Capex is not expected to get much better in 2017 or 2018.
Takeaway
Near-term catalysts for WFT have materialized. The company is now hemorrhaging cash, it cannot generate enough cash flow to cover its interest expense, and any expected rebound in oil & gas capex could be delayed. Analysts' price targets assume a rebound in capex and a range of possibilities that could happen 12-24 months out.
Why buy WFT based on hope? In my opinion, Weatherford is insolvent; its cash burn appears to support that thesis. The reality is that, as of today, WFT is worth closer to $0 than $9.
Disclosure: I am/we are short SLB, WFT, OIS.
I wrote this article myself, and it expresses my own opinions. I am not receiving compensation for it. I have no business relationship with any company whose stock is mentioned in this article.