REGI Overview
Renewable Energy Group (NASDAQ:REGI) has been steadily growing its production capacity through a series of acquisitions, and now controls over 450 million gallons of U.S. nameplate biodiesel production capacity. The total market for biodiesel is roughly 2 Billion gallons. If we include the biodiesel that REGI markets for others, we calculate that REGI controls nearly 30% of the market. REGI has weathered and even benefited from several rounds of market consolidation, and is now the undisputed heavyweight champion of the U.S. market.
REGI has made many investments over the years to diversify its production technologies, and now has the ability to process multiple feedstocks at many locations. This enables REGI to periodically select the feedstock for which it obtains the highest production margin. Biodiesel feedstock options include soybean oil, used cooking oil, corn oil and other animal and vegetable fats. Some byproduct feedstocks like used cooking oil and distillers corn oil obtain premium carbon credit values which can greatly improve production margins (see graph below).
Two of REGI's recent large scale acquisitions are notable, as both provide unique strategic and operational benefits to the company. In 2014, REGI purchased a 70 million gallon renewable diesel ("RD") facility in Geismar, Louisiana from a joint venture between Syntroleum and Tyson Foods. The process to make RD is different from traditional biodiesel production, and it has processing cost and end-user benefits that are meaningful. Most notably for this article, the variable production margins for RD are superior to the variable margins for biodiesel, in part because RD generates more Renewable Identification Numbers ("RINs") per gallon than biodiesel. REGI has not yet reported a full quarter of production from the Geismar facility, and if REGI was able to run at or near capacity at Geismar during 2016 Q2, then we might see a meaningful contribution to REGI profitability.
In 2015, REGI purchased the largest biodiesel facility in the country, the 100 million gallon per year Imperium Renewables Facility in Washington state. This facility not only has excellent logistics, with a deep water port, rail access and other benefits, it provides improved market access to the burgeoning California and other Low Carbon Fuel Standard ("LCFS") markets on the West Coast.
Beyond biodiesel production, REG has ambitious plans to leverage its expertise in renewable fuel production into higher-margin biotech products like renewable lubricants and new advanced biofuels. REGI has an active R&D team (another strategic acquisition) that is working to develop products and technologies, and has over 500 patents in its Intellectual Property pipeline. While we expect that such R&D activity will eventually bear fruit, we are not currently assigning enterprise value for this activity.
A company presentation from January 2016 which outlines REGI's vision, mission and growth plans can be accessed on the link here.
Finance Notes
REGI has wisely issued company stock whenever possible to enable its rapid growth in nameplate production capacity. As a result, it has been able to grow its nameplate production capacity while conserving cash and keeping its debt obligations as low as possible.
REGI achieved a very important milestone on June 2nd, when it raised $152 million in a private debt placement. It used the proceeds from this financing to repurchase approximately $64 million in notes due in 2019, while concurrently re-purchasing $35 million in company stock at an average price of $8.62/share (the stock is currently trading near $9.50/share). The full price release for REGI's financing announcement can be accessed on the link here.
The timing for this refinancing and stock re-purchase appears to be beneficial to shareholders. Biodiesel and RD production margins are the highest that they have been since 2013, and the REGI share price has not yet recovered to a level that reflects its unique position and scale in the market. In addition, there are important tailwinds for the biodiesel market will support demand beyond 2016. In particular, industry experts have forecast a RIN shortfall that is expected to effectively increase the implied mandate for biodiesel for 2017 and beyond. We covered this item in another article which can be accessed by clicking this link.
Projected Revenues, EBITDA and Earnings
In its last quarterly earnings call on May 3rd, 2016, REGI provided 2016 Q2 guidance for biodiesel sales of 130 to 150 million gallons, along with Q2 guidance for $10-25 million in company adjusted EBITDA. In our experience, we have seen a preference for REGI to under-promise and over-deliver whenever it can. We believe that this will be one of those quarters where they do indeed surprise to the upside.
One reason for our optimism is that biodiesel margins have improved substantially from when REGI gave its guidance. From May 3rd to end of the second quarter on June 30th, 2016, biodiesel prices increased and feedstock prices declined. Biodiesel gross margins increased over this period by anywhere from $0.20 to $0.40 per gallon. If we assume simple margin improvement of $0.20/gal for 100 million gallons of production, that would represent an additional $20 million in EBITDA, for example.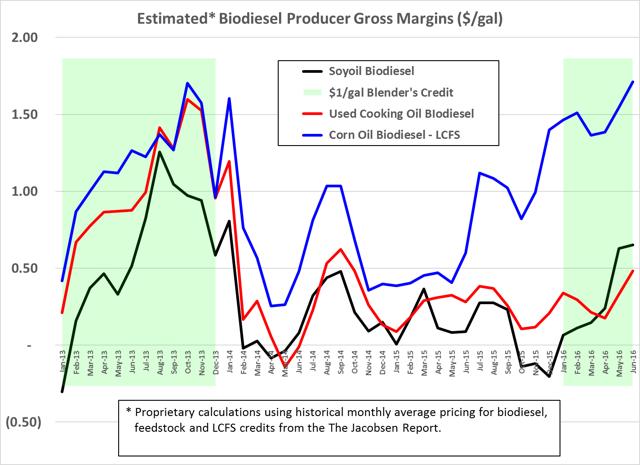 Source: Viking Analytics, with data from the Jacobsen Report
As a result, and based upon our assumption of 140 million gallons sold (and assuming 100 million gallons of production), we project that REGI will beat its Q2 guidance and report adjusted EBITDA in the range of $30 to $40 million on total sales in the range of $500 million. In addition, we forecast that REGI will beat analyst Q2 EPS expectations of $0.28 per share and report EPS in the range of $0.67/share for 2016 Q2.
We also anticipate that REGI will exceed analyst expectations for full year 2016 earnings per share. Based upon the current spot market gross margins for biodiesel production, and considering the current futures market pricing for diesel and soybean oil, we believe that REGI will continue to exceed analyst expectations for the remainder of 2016, and perhaps achieving as much as $2.00 per share for 2016. This is more than double the current analyst expectations of $0.96/share.
Some risks in our Q2 and full year 2016 forecast include: 1) unknown production capacity and performance from the Geismar facility, 2) unknown hedging and forward sale effects, and 3) unknown transportation and basis premiums. In addition, REGI did not include any potential insurance proceeds from Geismar in its Q2 guidance (and neither did we in our forecast).
Technical Trading Notes
Since late 2013, REGI has been trading in a downtrend channel, and the 200 day moving average has provided both resistance and support along this downtrend. At the moment, REGI is trading above its 50 day, 100 day and 200 day moving averages, and appears poised to break above its downtrend resistance in the low $10/share range. The most recent report from Nasdaq (July 15, 2016) shows 9.0 million shares of REGI sold short, approximately 22% of total float. If REGI breaks above the downtrend resistance, it is possible that the stock will benefit from upward momentum on short covering.
It is worth noting that biodiesel production margins are currently the highest that they have been since 2013, corresponding to a time period when REGI stock rose from less than $6/share to nearly $16/share in less than 5 months.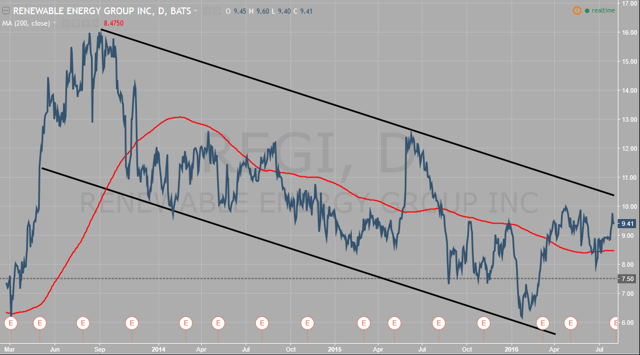 Policy Risk
There are two key policies that affect biodiesel forecast profitability beyond 2016: the Renewable Fuel Standard ("RFS") and the biomass-based diesel blender's credit. It is our expectation that status quo will prevail for the foreseeable future, with both policies in place in support of biodiesel. In fact, due to rising protectionism in both major parties, we might even expect biodiesel policy to be more supportive of domestic producers in the coming years.
The Blender's Credit ("BC") has been an on-again and off-again $1/gal tax credit that the blender of biodiesel obtains from blending ASTM6751 specification biodiesel. This tax credit has traditionally been included as part of an overall "tax extenders" package, which has always eventually obtained strong bi-partisan in passing, albeit sometimes in arrears.
At the moment, foreign producers of biomass-based diesel benefit from both the RINs produced under the RFS (valued near $1.50/gal) and the blender's credit ($1/gal). We don't believe that the intent of the Renewable Fuel Standard or blender's credit policy is to subsidize foreign production of biodiesel, especially when the U.S. has ample production capacity to meet demand. There is growing momentum in congress to change the blender's credit to a U.S. "producer credit," which would eliminate one subsidy available to foreign producers.
The petroleum and food processing industries have spent a lot of time and money to convince the American public that the growth of biofuels creates a "food versus fuel" competition. In our view, the phrase "food versus fuel" oversimplifies the argument and creates a straw man - it is a false choice. We may cover this topic more broadly in another article.
Regardless of the validity of the "food versus fuel" question, most Americans have been convinced that this competition is real, and corn-based ethanol is the typical whipping post in this debate. Unfortunately for the biodiesel industry, the average American does not differentiate between corn-based ethanol and multi-feedstock biodiesel. However, informed citizens that do understand the difference are often solid supporters of biodiesel. Biodiesel is often made from byproducts, not primary food products, and as a result obtains superior life-cycle carbon scores over corn-based ethanol. When it comes to the "food versus fuel" debate, the truth sets the biodiesel industry free. President Obama, when discussing clean energy, often says, "solar, wind and biodiesel," not "solar, wind and biofuels." Senator Chuck Grassley (R-IA) is one of the biodiesel industry's best advocates.
To summarize, there are policy items for the biodiesel industry to navigate, but we believe that the near term impacts for U.S. biodiesel producers will be neutral at worst and favorable at best. Rising protectionism may help the US domestic producer in the short run, and biodiesel - as an advanced biofuel made from byproducts - has solid bipartisan and citizen support.
Summary
REGI is the heavyweight champion of the US biodiesel industry. It has grown its nameplate production capacity steadily over time, often acquiring its competitors at cycle lows with company stock. As an almost pure play on the U.S. biomass-based diesel market, REGI is uniquely positioned to benefit from the current trends of improved biodiesel margins and forecast RIN supply shortfall. While there are policy items for the biodiesel industry to navigate, we consider the overall policy tone to be neutral at worst, and favorable at best.
We see REGI as under-valued based upon our projections for earnings and EBITDA. We have a one-year price target for REGI of $20/share.
Disclosure: I am/we are long REGI.
I wrote this article myself, and it expresses my own opinions. I am not receiving compensation for it (other than from Seeking Alpha). I have no business relationship with any company whose stock is mentioned in this article.