Nevsun Resources (NYSEMKT:NSU)
Featured In: January 2015
Partnership Average Cost per Share: $3.07
Current Market Price (July 29, 2016): $3.32
Nevsun was the Partnership's featured investment in January 2015 and remains my favorite mid-tier base metal play. While the NSU share price has lagged many of its peers, the company has had a sensational 2016 from a business perspective. The market will soon catch on.
There have been multiple positive developments thus far this year, but Nevsun's most significant one was the acquisition of Reservoir Minerals and its world class Timok copper-gold project in Serbia. Close followers of the Nevsun story knew that a big deal was likely on the horizon - I stated myself in January 2016:
While there is no hard deadline for the company, I fully expect one of the following two outcomes in the next 12 months - (ii) an opportunistic acquisition of a low-cost copper operation to complement Bisha or (ii) the distribution of a large special dividend. Either of these events would be a welcome development for shareholders, as it's time for the company to put this outsized cash position to work in one form or another.
Sure enough the company has come through on their promise of an opportunistic acquisition, but I must say that the result exceeded my expectations. After its discovery by Reservoir Minerals in mid-2012, Timok has become one of the most significant undeveloped base metal deposits in the world - due to its high grade, massive size and proximity to existing mining infrastructure.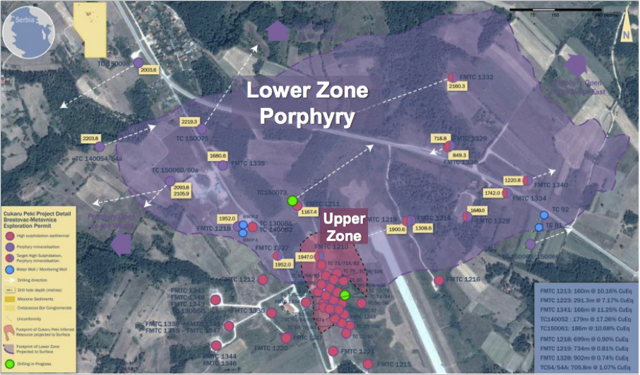 An April 2016 PEA on Timok's Upper Zone outlines the project's exceptional economics:
· Initial capex of $213m
· Post-tax NPV of $1b (at 8% discount rate and spot metal prices)
· Post-tax IRR of 86%
· Payback of less than 1 year
For a project of this size, these economics are virtually unheard of. Additionally they don't take into account Timok's Lower Zone, which may have a potential production life of 15-20 years. We'll learn more about the Lower Zone over the coming year as Nevsun has initiated an aggressive drilling program. In a best case scenario, the Lower Zone could double or triple the overall value of Timok.
Nevsun ultimately bought Reservoir for $512m, with a combination of shares and cash. On face value, Nevsun paid a fair price for Timok's Upper Zone - 50% of NPV is steep for a PEA stage project but not unheard of for world-class deposits. (As a recent example, Goldcorp (NYSE:GG) offered 60% of NPV for Kaminak Gold's (OTCPK:KMKGF) PEA stage Coffee Project in May 2016.)
However, the market has yet to appreciate what Nevsun acquired beyond Timok's Upper Zone:
· Exposure to the Lower Zone as discussed above
· Participation in a massive $75m JV agreement with Rio Tinto (NYSE:RIO) (exploring four prospective properties located in close proximity to Timok)
Both the Lower Zone and the Rio Tinto JV have the potential to add tremendous value over the coming years and should be viewed as free upside for current Nevsun shareholders.
Developments at the Bisha Mine have been overshadowed by the high-profile Timok deal. However, there have been three significant developments this year worth noting:
1. On a July 29th earnings call, management confirmed that the final cost of Bisha's zinc expansion was $77m. This compares to a guidance of $100m. This is the company's third major capital project to be completed on time and under budget within the past 6 years - a tremendous achievement that reflects well on management and bodes well for the development of Timok.
2. In a February 11th new release, the company released the following cost guidance for 2016: "Remaining supergene ore processing in the first half of 2016 is expected to produce 40 to 50 million pounds of copper in copper concentrate at a C1 cash cost of $1.20 to $1.40 per payable pound of copper."
Sure enough, the market was surprised when just last week the company announced Q1/Q2 supergene copper production of 55.8 million pounds at a C1 cash cost of $1.04 per payable. NSU shareholders were rewarded with a 10% move on Friday largely due to this result.
3. The most significant Bisha development occurred just last week, when Nevsun announced that it had increased its total land package of exploration licenses to 814 square kilometers in Eritrea's Bisha VMS District. This represents a 1,891% increase from the 41 square kilometers the company had before the deal. In the news release, CEO Cliff Davis elaborated on the importance of this deal:
"The Bisha VMS District remains vastly under-explored. Expanding our exploration land package has been a high priority that required a negotiation with the Ministry of Energy and Mines for extended and improved license terms. BMSC now has ownership of all of the exploration land in the Bisha district. With greater access to additional high-priority targets and increased time to evaluate results, we have added another key element to our strategy to deliver shareholder value through exploration in this prolific mining district."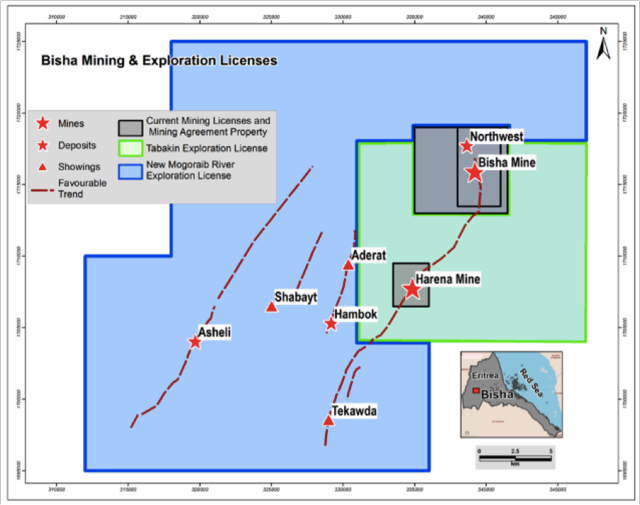 This acquisition solidifies my belief that Nevsun will find enough ore to keep the Bisha mine producing for another three decades. This may be a VMS district on the same scale as Manitoba's Flin Flon district, which has seen 25 producing mines in the past century. I'm thrilled to see what the company can discover elsewhere in the district over the coming years.
To conclude, I've provided below the relevant milestones shareholders should expect from both Bisha and Timok over the next 18 months:
First zinc concentrate sale at Bisha by end Q4 2016
2016 copper production of 80-110m lbs by end 2016
2016 zinc production of 70-100m lbs by end 2016
Maiden resource estimate at Asheli Deposit (located trucking distance from Bisha) by end Q1 2017
Underground exploration ramp completed at Bisha by end 2017
Pre-Feasibility Study released at Timok by end 2017
Disclosure: I am/we are long NSU.
I wrote this article myself, and it expresses my own opinions. I am not receiving compensation for it (other than from Seeking Alpha). I have no business relationship with any company whose stock is mentioned in this article.