So far I have no regrets at all about buying mortgage investment company New Residential Investment Corp. (NYSE:NRZ). I bought a little more than a thousand shares in this mortgage-related income vehicle last year in February, and then again later at the end of the year in order to take advantage of the drop in investor sentiment toward high-yield income vehicles. New Residential Investment largely met my return expectations, and has most recently confirmed its dividend for yet another quarter.
New Residential Investment, which is structured as a real estate investment trust that passes through most of its earnings to shareholders, has seen a nice bump this year as income investors recovered from the early year market shake out. New Residential's shares have risen ~13 percent this year, and have effectively settled in a range of $13-$14 lately.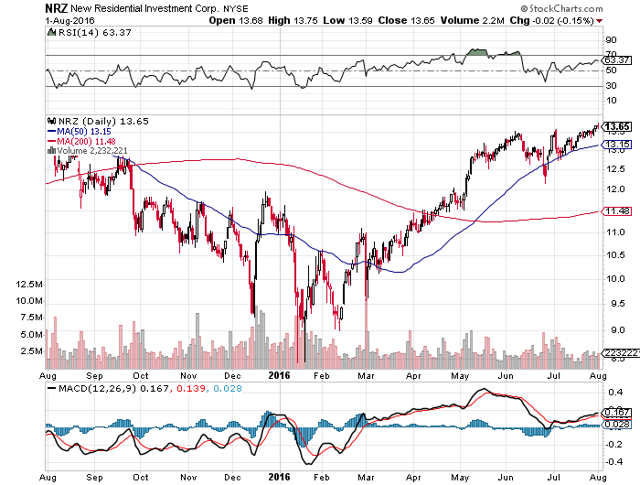 Source: StockCharts.com
You may recall that I singled out New Residential Investment as my top high-yield pick for the next five years for income investors because the company has positive interest rate sensitivity, has a low valuation based on accounting book value, or ABV, and run-rate core earnings, and has a super high dividend yield in excess of 13 percent.
And that is not even all that works in favor of the mortgage investment company: I have pegged New Residential Investment's fair value at $20, which translates into very compelling capital upside of ~47 percent, AND the company does not seem to have any problems at all covering its dividend. A good sign for income investors.
Core Earnings Grow, Still Cheap
New Residential Investment released 2nd quarter results on Tuesday, which essentially confirmed by bullish opinion on the investment company (and, yes, I am going to gobble up a couple more shares if my cash situation allows it... just in case you were wondering).
One of the themes I repeatedly mentioned about New Residential Investment was its low valuation on a core earnings run-rate basis.
And what was true at the beginning of the year is still true today: New Residential Investment pulled in $0.52/share in core earnings in the quarter ending June, after earning $0.49/share in the 1st quarter. Therefore, on a run-rate basis, New Residential Investment's shares are selling for ~6.6x Q2 16 annualized core earnings, and a 12 percent premium to accounting book value of $12.20/share.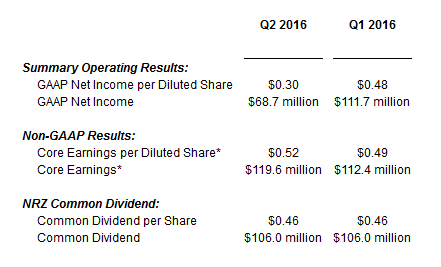 Source: New Residential Investment Earnings Press Release
Since the mortgage REIT again pulled in more than enough money in the last quarter to pay shareholders a $0.46/share dividend, I consider New Residential Investment to be in a good position to grow its dividend in the second half of 2016.
Your Takeaway
New Residential Investment's Q2 16 results nothing but confirmed my favorable opinion on the company. Core earnings continued to grow last quarter, and, most importantly, covered the mortgage investment company's dividend, which will help income investors sleep a hell of a lot better at night. Further, New Residential Investment is just inappropriately cheap, selling for less than seven times Q2 16 run-rate core earnings, and for a very defensible premium to accounting book value. An investment in NRZ yields ~13.5 percent. Buy for income and capital appreciation.
If you like to read more of my articles, and like to be kept up to date with the companies I cover, I kindly ask you that you scroll to the top of this page and click 'follow'. I am largely investing in dividend paying stocks, but also venture out occasionally and cover special situations that offer appealing reward-to-risk ratios and have potential for significant capital appreciation. Above all, my immediate investment goal is to achieve financial independence.
Disclosure: I am/we are long NRZ.
I wrote this article myself, and it expresses my own opinions. I am not receiving compensation for it (other than from Seeking Alpha). I have no business relationship with any company whose stock is mentioned in this article.