"Without winners, there wouldn't even be any civilization." - Woody Hayes
Wealth inequality has been a hotly debated topic over the past few years. This rhetoric is picking up as we approach the November election. To hear some tell it, we have become a nation of "haves" and "have nots" after seven years of being mired in by far the weakest post war recovery of the ten that have taken place since WWII.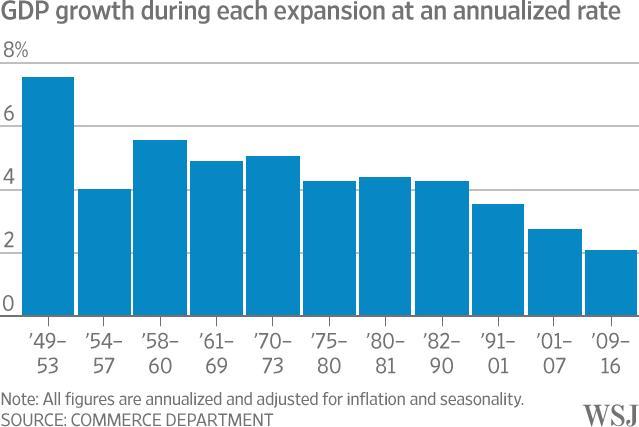 I will not get into the politics of that debate, but will chime in that I see this happening in the tech space to an extent I have not recalled seeing in the past. You have a few big winners in the industry and everyone else in the sector is struggling to generate any sort of revenue and earnings growth in an era of the weakest global demand since 2009 and with the dollar continuing to be strong against major currencies.
The "winners" are those players that being driven by the tremendous growth in web services, AKA the "cloud," as well as online/digital marketing and app development. The "losers" are those firms dealing in commoditized chips and software.
The former obviously includes Alphabet (NASDAQ:GOOG) (NASDAQ:GOOGL) which recently blew through quarterly expectations and continues to dominate search advertising. Revenues from YouTube don't always get the mention they should but are higher than those of Netflix (NASDAQ:NFLX) which is struggling to grow domestically recently. Google also is seeing explosive growth in web services as well.
Speaking of which, after years of ultra-thin margins in online retailing for 15 years, Amazon (NASDAQ:AMZN) has finally found a way to deliver consistent profits via its exploding web services business which grew 58% year over year last quarter.
Mr. Softie commonly known as Microsoft (NASDAQ:MSFT) has managed to transition from an "old tech" player to a "new tech" concern thanks to new leadership which wrote off most of the company's disastrous Nokia handset (hardware) acquisition under its previous CEO and built two big new tech billion-dollar winners with its web services business "Azure" and Office 365, a software as a subscription service "SaaS." It still has a way to go to catch market leader Salesforce (NYSE:CRM), but Microsoft is already the No. 2 SAS provider by revenue.
Meanwhile companies that sell commoditized software or chips continue to struggle to find any revenue opportunities. A good example is IBM Corporation (NYSE:IBM) which has seen overall revenue drop for five straight years and the fact that earnings have not declined in the same regard is testament to its huge stock buyback program not its growth prospects. It continues to be a value trap I avoid.
Even Indian outsourcers like Infosys (NYSE:INFY) are struggling right now as the focus has gone from commoditized Java programming on a grand scale to specialized App development in which the industry does not have core competencies in. Meanwhile small, more nimble players that specialize in app development like EPAM Systems (NYSE:EPAM) have more than tripled over the past four years. I provided a positive profile on this tech company soon after its IPO in 2012 when the stock traded at $16 a share almost exactly four years ago. Unfortunately, I sold way too soon - Bad, Dead Pool!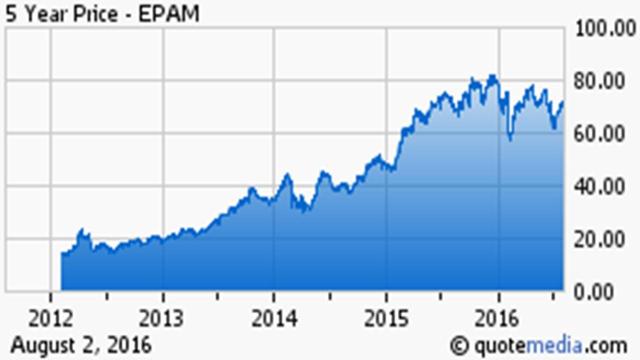 Apple (NASDAQ:AAPL) is the perfect microcosm of the bifurcation in the tech industry right now. In its last reported quarter, revenues from iPhones (hardware) dropped over 20% from a year ago. Meanwhile, sales from its services businesses, mainly the AppStore, were up 19% from the same period a year. The ecosystem that Apple has that other hardware vendors do not is the key reason that its margins are in the high 30s, twice that of Samsung (OTC:SSNLF) while the other smartphone vendors fight for the crumbs.
It is also the reason I still have Apple as a core value holding even as I eschew Old Tech. Being valued at nine times earnings once its massive cash holdings are backed out and paying north of a two percent dividend yield also make it an attractive value play in front of another iPhone upgrade cycle.
I am slightly underweight tech as there is little growth overall in the sector and the global backdrop is quite dismal. I'm also not going bargain shopping here as it appears the "haves" and "have nots" will remain that way for at least the rest of the year and until global growth picks up. Until then, I will stick to the "winners" in the industry.
Note: To get these types of articles as soon as they are published, just click on my profile and hit the big orange "follow" button and choose the real-time alerts option.
Thank You & Happy Hunting
Bret Jensen
Founder, Insiders Forum
Disclosure: I am/we are long AAPL, GOOGL.
I wrote this article myself, and it expresses my own opinions. I am not receiving compensation for it (other than from Seeking Alpha). I have no business relationship with any company whose stock is mentioned in this article.