Inditex (OTCPK:IDEXY) is less renowned by the investing community in comparison to its main flagship retail brand - Zara - the maker of fast-fashion goods/clothing at relatively affordable prices. The Group has delivered consistent earnings and cash flows, which are reflected in the steady ascent of its share price. Currently trading approximately 15% off its all-time highs, Inditex may be a great addition to one's portfolio.
Introduction to Inditex
First off, an introduction to the Group - Inditex is a Spanish fashion retailer with brands including Zara, Pull&Bear, Massimo Dutti, and Bershka. It has a market cap of 95 million Euros, and has more than 7,000 stores worldwide. Europe is its main market, 62% of its FY15 sales derived from that region, followed by Asia (23%) and the Americas (15%), as seen from the chart below.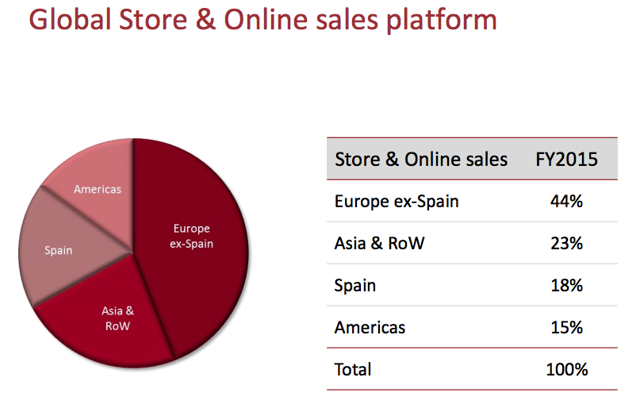 Breaking down its brand concepts, Zara rakes in approximately two-thirds of Inditex's FY15 EBIT, or 2.4 billion Euros out of the Group's 3.6 billion Euros for FY15.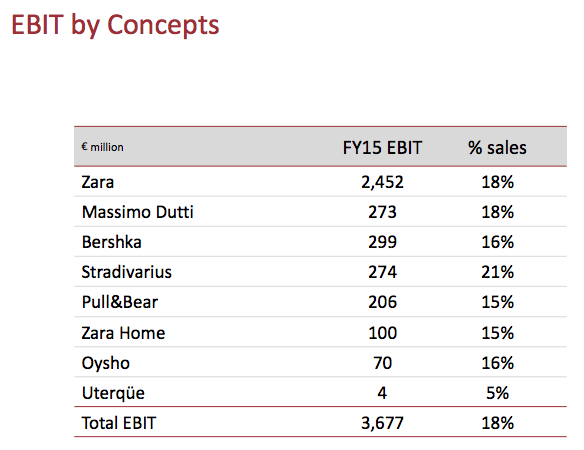 Strong Financials
Next, delving into its financials, we see that Inditex has close to zero debt from the Bloomberg snapshot below, which is a great plus in today's rising rate environment (I consider the US to be in a tightening phase despite the Fed's repeated calls to slow down its rate hike programme).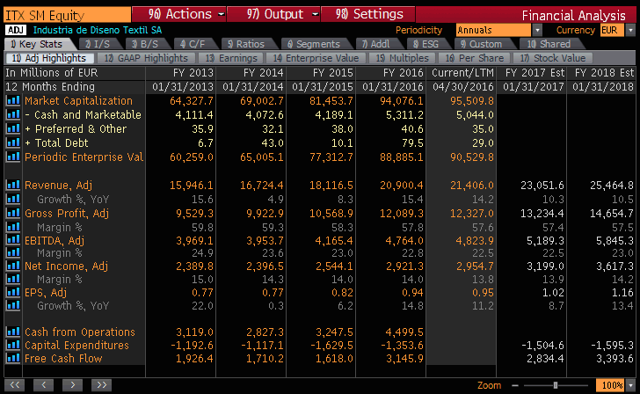 The Group's revenues have been steadily growing since FY13, and analysts are projecting ~10% revenue growth for FY17 and FY18. Coupled with Inditex's steady revenue stream are strong EBITDA and net income margins. Since FY13, the Group has consistently maintained EBITDA margins at above 20% and net income margins at above 13%, a healthy sign that Inditex is able to keep operating costs under control.
A check shows Inditex incurring approximately 1-2 billion Euros in capital expenditures per financial year, which is very manageable considering net income is 2-3 times greater than that level. This is testament to Inditex's ability to keep costs low.
The Group's healthy profit margins and ability to manage its costs are reflected in its stock price, which would have provided investors with a 3x return in 5 years. As seen in the price chart below, Inditex was resilient even in the past year, which has been nothing short of tumultuous for stock investors. Perhaps a dampener would be the Group's 33x P/E valuation - some may see it as a bit hefty, while it could also be argued that investors are willing to pay for quality and the stock's defensiveness.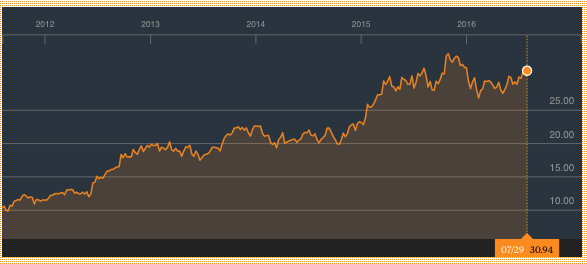 Relative Value Against Competitors
I pulled out the following statistics from Bloomberg (as of 2 Aug 2016):

I chose to compare Inditex with 2 mega-cap retail giants - Hennes & Mauritz (OTCPK:HMRZF), which is behind the H&M brand, and Fast Retailing (OTCPK:FRCOF), which is behind the Uniqlo brand. Both competitors offer fashion pieces at relatively cheap prices, and arguably offer the same range of products. As such, I chose to compare them with Inditex.
Touching on Inditex's expensive valuation of 33x, we see that H&M and Fast Retailing Group are trading at expensive valuations too - 22x for the former and 70x for the latter. However, Inditex stock's defensiveness is evident, outshining the other two in terms of YTD Total Return, 1Y Total Return, and coming in second for 5Y Annualised Total Return. Despite the tumultuous 2016 the stock markets have gone through, Inditex's total return is flat while H&M is down 12% and Fast Retailing is down 19%.
The rest of 2016 could be a continuation of the roller-coaster ride we have observed thus far - with the markets guessing whether the Fed will roil the markets with rate hikes, and with elections coming up in Italy and the United States in October and November respectively. Inditex's defensive properties would come in useful.
Supply Chain System Gives Zara a Competitive Advantage
In addition, the Group's twin focus on speed and efficiency for its Zara brand is well documented. Zara is renowned for its ability to deliver clothes quickly and in small batches to its stores, and its supply chain system remains its competitive advantage in the industry.
According to Harvard Business Review, there is constant exchange of information throughout every part of Zara's supply chain, attributed to its flat bureaucratic structure, investments in the latest information technology, and by locating most of its manufacturers in Spain or in nearby countries.
Zara's quick response time allows the brand to enjoy the following figures: 1) it selects 50% of designs ahead of a season versus 80% for a typical retailer, and 2) Unsold items account for less than 10% of its stock, versus an industry average of 17-20%.
Management Plans for Inditex FY16 (Mar 2016 to Mar 2017)
Further supporting the case for Inditex running a tight ship in terms of costs, management is aiming for c. EUR 1.5 bn in terms of Capital Expenditures, which is relatively in line with their past few financial years.
Secondly, Inditex's management is aiming for a global rollout of their online platform, focusing on the United States, Europe, China, Japan, Russia, Mexico, South Korea and Canada to start off. We will stay tuned for more information on how this initiative pans out, but in my opinion, the management is taking the right steps to compete in both the brick-and-mortar as well as the online spaces.
On top of that, Inditex reiterated their commitment to increasing dividends. Looking at the chart below, between the period 2009-2015, dividends paid out have increased by 150%. Although Inditex's dividend yield of 1.5% is still relatively paltry and the stock will not be considered as a yield play by most, the company's strong earnings and cash flows means it has room to increase dividends going forward.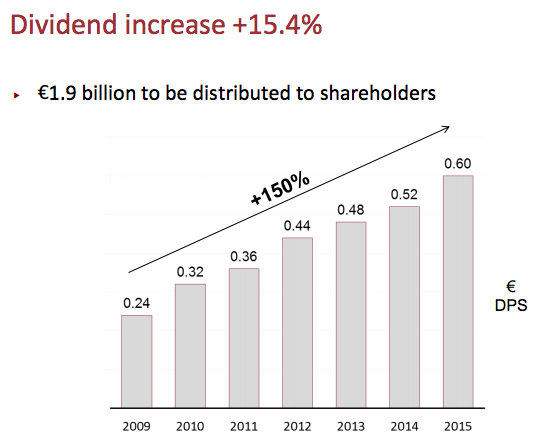 Conclusion
In conclusion, Inditex runs a good business - fantastic cost management coupled with steady revenue growth and solid profit margins. Its renowned expertise in supply chain management and zero debt are testament to its strong ability to manage costs. Inditex currently trades at 33x P/E and at 1.5% dividend yield.
Some may see the high multiple as expensive, but it can also be viewed as a sign that investors are willing to pay a premium for a well run business. A comparison with rivals H&M and Fast Retailing Group (Uniqlo) shows quite clearly the stock's defensive properties, and justifies its P/E multiple.
With the markets trading in a choppy and rocky fashion, a good quality boring stock would be a great addition to your portfolio. Like a classic plain white tee, some stocks never run out of fashion.
Disclosure: I/we have no positions in any stocks mentioned, and no plans to initiate any positions within the next 72 hours.
I wrote this article myself, and it expresses my own opinions. I am not receiving compensation for it (other than from Seeking Alpha). I have no business relationship with any company whose stock is mentioned in this article.
Editor's Note: This article discusses one or more securities that do not trade on a major U.S. exchange. Please be aware of the risks associated with these stocks.