Williams Cos. (NYSE:WMB) is standing behind its Constitution pipeline project, but the risks of a write-off remain high. Longer term, environmental opposition to natural gas pipelines poses a threat to the company's expansion strategy of linking the low-cost Marcellus gas fields with growing markets.
In its quarterly report released Tuesday, Williams said it remained confident of the project's completion and would not write off any of the $389 million thus far invested (boldface added):
In December 2014, we received approval from the Federal Energy Regulatory Commission to construct and operate the Constitution pipeline. However, in April 2016, the New York State Department of Environmental Conservation (NYSDEC) denied a necessary water quality certification for the New York portion of the Constitution pipeline. We remain steadfastly committed to the project, and in May 2016, Constitution appealed the NYSDEC's denial of the certification and filed an action in federal court seeking a declaration that the State of New York's authority to exercise permitting jurisdiction over certain other environmental matters is preempted by federal law. In light of the NYSDEC's denial of the water quality certification and the actions taken to challenge the decision, the project in-service date is targeted as early as the second half of 2018, which assumes that the legal challenge process is satisfactorily and promptly concluded. An unfavorable resolution could result in the impairment of a significant portion of the capitalized project costs, which total $389 million on a consolidated basis at June 30, 2016, and are included within Property, plant, and equipment, at cost in the Consolidated Balance Sheet . Beginning in April 2016, we discontinued capitalization of development costs related to this project. It is also possible that we could incur certain supplier-related costs in the event of a prolonged delay or termination of the project."
Constitution has gotten important legal support from the Natural Gas Supply Association and other groups in this amicus brief.
FERC last week granted Constitution a two-year extension on the 124-mile, 30-inch pipeline from the Marcellus fields of northeast Pennsylvania to a point west of Albany, N.Y., where it would connect with two existing pipeline systems. The project would supply the equivalent of 3 million homes with natural gas.
It is being constructed and will be operated by Williams' consolidated limited partnership Williams Partners (NYSE:WPZ), which owns 41 percent, with Cabot Oil & Gas (NYSE:COG) owning 25%, Piedmont Natural Gas (NYSE:PNY) 24%, and WGL Holdings (NYSE:WGL) 10%. Williams is in charge of construction and is "the primary beneficiary because it has the power to direct the activities that most significantly impact Constitution's economic performance."
Cabot, meanwhile, wants Constitution to expand the New York and New England markets for its high-margin Marcellus gas, which has astounding well-level internal rates of return above 100%. Similar to Williams, Cabot said in its conference call last week, "we are still extremely confident that the project is ultimately constructed", and took no write-off.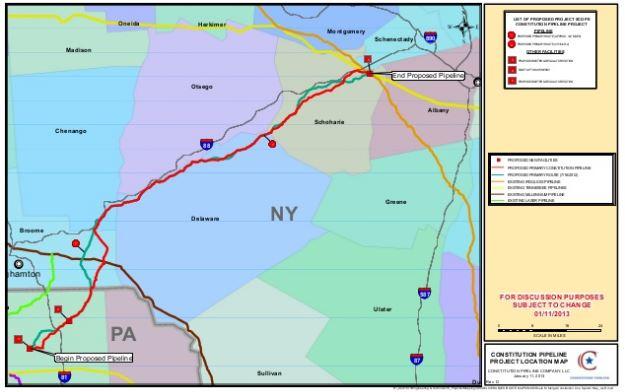 In April, the New York Department of Environmental Conservation ruled against the project, ostensibly because Constitution did not sufficiently consider ways to minimize the environmental effects of burying pipes under the streams it would cross.
Although the Department repeatedly asked Constitution to analyze alternative routes that could have avoided or minimized impacts to an extensive group of water resources, as well as to address other potential impacts to these resources, Constitution failed to substantively address these concerns. Constitution's failure to adequately address these concerns limited the Department's ability to assess the impacts and conclude that the Project will comply with water quality standards. Project construction would impact a total of 251 streams, 87 of which support trout or trout spawning."
The decision by Governor Andrew Cuomo's administration, announced on Earth Day, was hailed by environmental groups opposed to fracking and fossil fuels in general. Drilling supporters said the reasoning was a sham and the decision was entirely political. Constitution put out a strong statement detailing how it had worked closely with DEC staff to resolve environmental concerns.
The companies appealed in May, saying New York could not unilaterally overturn FERC's decision the pipeline was in the national interest.
Upon its review of the evidence, we believe the court will agree that this permit denial was arbitrary and unjustified and improperly relies on the same failed arguments that the [DEC] made during the FERC certificate proceeding regarding the pipeline route and stream crossings," the project sponsors said in a statement. "We are ultimately seeking to have the court overturn this veiled attempt by the state to usurp the federal government's authority and essentially 'veto' a FERC-certified energy infrastructure project."
Despite the corporate optimism, it's not clear that Constitution will ultimately be completed. Opponents note that Connecticut was able to block the FERC-approved Islander East pipeline to New York's Long Island based on its possible effect on the Connecticut coast. That case also involved the Clean Water Act.
Another possibility is the court sends the matter back to New York with instructions for the two sides to work out a settlement. This could delay the project's completion date and increase costs.
Beyond Constitution, environmental challenges jeopardize other parts of Williams' strategy, which is geared to transporting cheap Marcellus gas through the Transco pipeline system, taking advantage of increasing demand for gas-fired electricity generation as coal plants are retired.
One key project is Atlantic Sunrise, an expansion of the Transco system that includes a new connection to the Marcellus fields. In its statement, Williams said the project has been approved by FERC, but some regulatory approvals are still needed. The Delaware Riverkeeper Network has filed suit in federal court seeking to invalidate Pennsylvania's approval.
Despite the opposition of environmentalists to gas, it is an important part of the Clean Air Plan. Gas plants emit only half as much carbon dioxide as coal to provide the same amount of electricity, and gas, not renewable sources, will be the most common short-term replacement. Longer term, renewables are expected to replace gas as the leading electricity generation source by 2031.
Conclusion: Even if Constitution has to be written off, Williams' current investment won't cause serious damage to the stock - $389 million is less than one-fourth of the most recent quarter's operating cash flow. Still, environmental opposition to gas along with other fossil fuels poses a long-term threat to the company's strategy.
The case is Constitution Pipeline Co. LLC v. DEC et al [No. 16-1568]
Disclosure: I am/we are long WMB, COG.
I wrote this article myself, and it expresses my own opinions. I am not receiving compensation for it (other than from Seeking Alpha). I have no business relationship with any company whose stock is mentioned in this article.