Chevron (NYSE:CVX), the second-largest US based oil company and the world's third-largest oil producer by market cap, has been under pressure ever since it released its second-quarter results on Friday, with the stock declining roughly 6% over the last five days.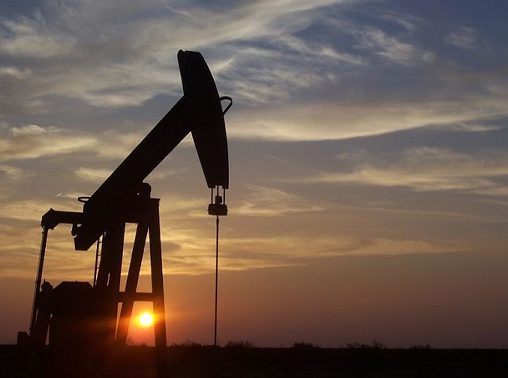 In the second quarter, San Ramon, California-based Chevron swung to a loss of $1.47 billion or $0.78 per share from a profit of $571 million or $0.30 per share in the corresponding period last year, thanks to $2.8 billion in write-downs. That missed analysts' consensus by a wide margin who were expecting a profit of between $0.19 and $0.41 per share, according to data from Bloomberg. This was the company's third quarterly loss in a row, marking its longest losing streak in more than 26 years. Its production clocked in at 2.528 million barrels of oil equivalents per day, down 2.6% from a year earlier and below analysts' average estimate of 2.618 million boe per day.
In the second quarter, Chevron was hit not only by weak oil and gas prices, but also the poor performance of the downstream or refining business. The company's upstream or exploration and production losses, expanded by 11% from last year, thanks to 37.8% decline in the realized price of oil and 28% decline in the price of liquids. The natural gas price was also weak on a year-over-year basis in the US and international markets. Meanwhile, the downstream business, which usually provides crucial support to the company's bottom line in the downturn, also reported 56.8% decline in earnings in the second quarter. The drop was driven by lower margin from the sale of refined products and the impact of sale of Chevron's interest in Caltex Australia, which lifted last year's earnings by $1.6 billion.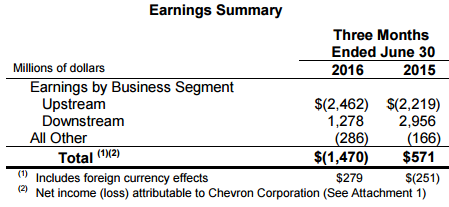 In short, in the second quarter, Chevron took a beating from all sides - crude oil, natural gas and refining. The company, however, wasn't alone. Its US peer Exxon Mobil (NYSE:XOM) did not slip into the red, but its profits plunged to its lowest level since the 1999 merger between Exxon and Mobil, due to similar reasons - upstream division was under pressure due to persistent weakness in oil and gas prices while downstream profits tumbled on the back of weak refining margins.
To exacerbate the oil majors' woes, oil prices have also come under renewed pressure. The price of the US benchmark WTI and European Brent crude is at $40.40 and $42.47 a barrel, respectively, a sharp drop from more than $50 a barrel seen a few weeks ago. With growing pressure from the supply side, now there is a real chance of oil falling back to $30s in the near future. This would be bad news for Exxon Mobil and Chevron, but with declining crude prices, the latter's outlook is looking more challenging.
The recent drop in crude oil prices has come as some US shale oil drillers, buoyed by improvement in oil prices from 13-year lows of less than $27 a barrel seen in February, have increased drilling activity. The latest report from Baker Hughes (BHI) shows fifth consecutive weekly increase in the US oil rig count. Meanwhile, some major OPEC producers, such as Libya, Iraq and Iran, are expected to increase output. We'll hear more from the cartel when it releases its monthly report next week, on August 10.
Meanwhile, refiners such as Valero (NYSE:VLO), the main buyers of crude oil, are gearing up to begin the seasonal maintenance work. They won't be buying as much crude oil as they did in the previous quarter, and this may push crude stockpiles higher which are already sitting at near record highs. This could also drag oil prices.
The average spot price for WTI and Brent was a little more than $45 a barrel in the second quarter. The start of the third quarter hasn't been great, with the two benchmarks declining by more than 14% to low-$40s over the last four weeks. Over the next few weeks, if oil prices continue to hover at the current level, or worse, if they drop to $30s, then that is going to hit Exxon Mobil's and Chevron's realized prices for the third quarter. As a result, the earnings of the two companies, which fell to their historic lows in the second quarter, could decline further in the third quarter.
But Chevron is going to be hit harder. That's because firstly, its total production is more oil-linked than that of its bigger peer who is also the leading natural gas producer in the US, ahead of Chesapeake Energy (NYSE:CHK). In the second quarter, for instance, Exxon Mobil pumped 3.96 million boe per day, which was more than 40% natural gas. By comparison, a little more than 33% of Chevron's total output in the same period was natural gas while the rest was liquids, mostly crude oil.
On top of this, Exxon Mobil also has significantly bigger refining and chemical operations which further reduce its direct exposure to oil production. In fact, in terms of capacity, Exxon Mobil is one of the largest refiners in the world. Its Baytown refinery in Texas can process more than half a million barrels of oil per day, making it the second largest refinery in the US, behind Saudi Aramco's Port Arthur plant in Texas. Meanwhile, its large chemical business has been generating more than $1 billion in quarterly profits. On the other hand, the scale of Chevron's non-E&P businesses and its impact on the company's bottom line are significantly smaller.
For these reasons, I believe Chevron's stock could come under renewed pressure in the near future and will likely underperform Exxon Mobil. The weakness could turn into a buying opportunity for those investors who believe that oil prices are unsustainable at low-$40s a barrel and will eventually rise in the long term. But short-term oriented investors should stay on the sidelines for now.
Note from author: Thank you for reading. If you like this article, then please follow me by clicking the " Follow" link at the top of this page.
Disclosure: I/we have no positions in any stocks mentioned, and no plans to initiate any positions within the next 72 hours.
I wrote this article myself, and it expresses my own opinions. I am not receiving compensation for it (other than from Seeking Alpha). I have no business relationship with any company whose stock is mentioned in this article.
Additional disclosure: I own shares of fund that may hold a long position in XOM, CVX.