In several previous articles, I've been fairly critical of Chevron (NYSE:CVX) because of how it has gone forward with both its capital plans and its dividend despite a crash in oil and gas prices. Long story short, while it appears that Chevron can trudge through this bear market with its dividend, I didn't believe that doing so was the right thing for the balance sheet, especially since we don't know how long this downturn will go on for.
Fast forward another year, crude oil is back below $40 again, and Chevron has been burning through its balance sheet and looks to continue to do so for at least another two quarters, possibly more. In the second quarter, Chevron posted a loss of $1.5 billion, including another non-cash $2.8 billion impairment on assets. This figure came from continued losses in the upstream, and narrower margins in downstream. This article looks at the company's progress in finishing projects to reduce capex going forward. As always, this article also looks at Chevron's dividend and the continued sustainability of that dividend.
Second quarter results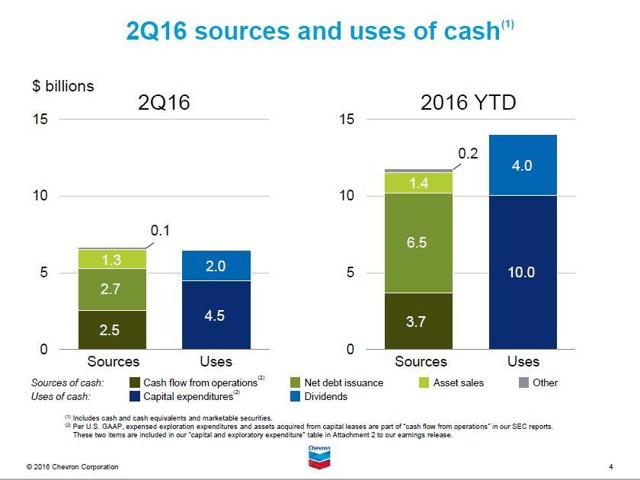 Courtesy of Chevron Investor Relations.
So far this year, Chevron has continued to burn right through cash, as you can clearly see. So far, Chevron has generated only $3.7 billion in OCF, but has spent $10 billion on capex and another $4 billion on dividends. That means Chevron had to issue $6.5 billion in net debt and had to sell another $1.4 billion in assets.
Not surprisingly, upstream margins were obliterated by Brent Crude dropping by $16 per barrel. Even in downstream, lower refining margins took another $620 million out of earnings. While earnings and cash flow are two different things, the impact on cash flow can been seen and felt.
The big question is whether Chevron will be able to reach cash flow neutrality by 2017, as the company says it can. With Brent Crude at $40, that's a tall order in my opinion. Even with capex slated to fall and cash flow rising through completed projects, I suspect it will be difficult for Chevron to break even this at this oil price, even with its projects finished.
The lowest 2017 capex estimate from management is $17 billion. With Brent Crude where it is today, I am doubtful that Chevron would be able to generate $17 billion in operating cash flow in a full year, and would have to continue relying on asset sales an additional debt.
Chevron may be able to cover that dividend with $5-$10 billion in asset sales over the next two years. Chevron is looking to sell several non-strategic assets: It's Hawaiian, South African, and Canadian downstream assets, as well as a few other small items. Is selling those things to pay dividends the right thing to do? I don't believe so. I'd rather see the company use those proceeds to delever, or at least take out less debt to pay for capex needs.
Meanwhile, major projects are nearing completion. Gorgon, Chevron's biggest LNG project in Australia, is now up and running. Its second train will be online in the fourth quarter. The third train will be up in Q2 2017. Wheatstone, the other Australian LNG project, will see the first train's completion in mid-2017, and train 2 will be ready 8 months after that. In addition, Angola LNG is finally back up and running at 75%, all three trains of Chuan Dong Bei are online in China, and Alder platform in the North Sea will be up in the second half of this year. These should all be positives for cash flow, even down at these oil prices.

Courtesy of Google Finance.
Is Chevron a buy here? I would argue that it is not. We just don't know how long crude is going to be cheap for, and despite all the marked improvements in capital intensity and costs of operations, Chevron is still not built for $40 oil. Furthermore, there have been a couple price recoveries since the 2014 crash, but both times prices retreated, and we are once again back to square one. I continue to believe that investors should look to upstream companies with fewer commitments, if they are looking for any upstream exposure at all.
Chevron says it can be cash flow neutral and pay the dividend by 2017, but that, of course, depends on where crude prices wind up. I estimate Chevron probably needs crude to be somewhere in the mid $50s by next year to start breaking even again. There remains no immediate danger to the dividend, because Moody's has a stable credit rating for Chevron, and Chevron can continue to tap credit markets without much fuss. I suspect that Chevron may alter its course if Moody's outlook changes to negative, or if the ratings agencies put Chevron on watch for a downgrade. There is no sign of that yet, but investors should keep on the lookout, especially if prices stay down here.
If you're interested in Chevron, feel free to follow me here on Seeking Alpha. I have written about this company several times and will continue to do so when update articles are material and relevant.
Disclosure: I/we have no positions in any stocks mentioned, and no plans to initiate any positions within the next 72 hours.
I wrote this article myself, and it expresses my own opinions. I am not receiving compensation for it (other than from Seeking Alpha). I have no business relationship with any company whose stock is mentioned in this article.