Following release of Reynolds' (NYSE:RAI) second quarter results, the headlines screamed "RAI Misses" and the stock fell below $50 before settling at $50.06. Also widely reported was a decline of 3.9% in industry cigarette volume in the second quarter which is significantly more than the downward trend in cigarette consumption that was reported in recent reporting periods. Some analysts reported steep year-over-year declines in RAI revenue, earnings, and margins without mentioning the effect of the $7.1 billion one time gain in Q2 2015 that resulted from divestiture of brands Winston, Kool and Salem to Imperial Tobacco Group in the complex Lorillard transaction. A deeper look at the Q2 2016 results reveals a different story.
Revenue and Income
The Lorillard acquisition and transition has had an impressive positive impact on financial performance of RAI. Q2 2016 net sales were $3,195 (millions) vs. $2,403, an increase of 33.0% over Q2 2015.
2015 Q2 income included a large onetime gain from the divestiture of the Winston, Kool and Salem brands. On an adjusted basis to exclude the effect of the divestiture and settlement of the Engle progeny cases, Q2 2016 operating income was $1,466 versus $1,011 a gain of 45.0%. Adjusted net income was $828 v. $579, up 43.0%, and EPS was $0.58 versus $0.51, up 13.7%.
For the first half of 2016, adjusted operating income was $2,745 versus $1,775, up 54.6%, and diluted EPS was $1.08 versus $0.94, up 14.9%. Adjusted net income was $1,549 v. $1,036, up 49.9%, and EPS was $1.08 v. $0.94, up 14.9%.
RAI affirmed and slightly narrowed its 2016 adjusted EPS guidance to a range of $2.26 to $2.34 (from $2.25 - $2.35), which represents a full year increase of 14.1% to 18.2%.
Shipment Volume
During the second quarter of 2015 wholesalers significantly increased inventory levels at the time of the Lorillard acquisition. The rundown of inventories to normal levels during the second quarter of this year led to an unfavorable year over year comparison that was not representative of consumer demand. When adjusted for the wholesale inventory changes, industry volume was down about 1.7% for the quarter, and about 1% for the first half. (source: Reynolds American Susan M. Cameron on Q2 2016 Results).
Market Share
A goal of the Lorillard acquisition was for Reynolds to transition its product line to improve market share. Newport is the #1 menthol and the #2 overall cigarette brand in the United States. Reynolds expects the addition of Newport to compliment its strong market share and provide opportunities to leverage its strength in one brand (Camel) to increase market share in the other (Newport). Q2 2016 domestic cigarette volumes increased 24.6 percent from the prior-year quarter and 29.0 percent for the first half of 2016, largely driven by the addition of the Newport brand in June 2015. In the second quarter of 2016, total RAI retail cigarette market share increased 0.4 percentage points from the prior-year quarter, to 34.5 percent, and also increased 0.4 percentage points for the first half of 2016 versus the prior-year period. The Newport brand gained one-half point of market share during the quarter. (source: RAI Q2 Press Release RAI 2016-22).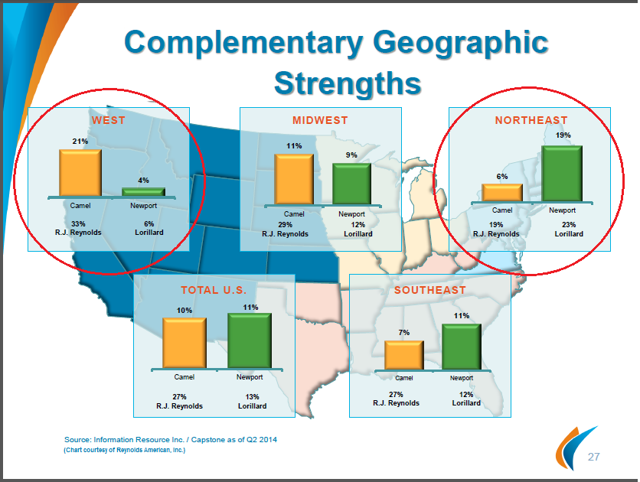 Margins
Reynolds reported two developments that should result in improved margins going forward. They completed the integration of Newport manufacturing into the more efficient Reynolds facilities ahead of schedule will reduce production costs. And the company announced that it would eliminate $500 million of debt in the third quarter and bring the company's leverage down to the 3.0x level target in accordance with the acquisition plan, which will reduce interest expense and risk going forward.
Shareholders Benefit
Reynolds approved an increase in its dividend payout target to 80% of adjusted net income exceeding the previously announced target of 75%, granting shareholders a larger share of company profits. In line with the new payout target the company approved a 9.5% increased in the quarterly cash dividend to $0.46 per share or $1.84 per year, payable Oct 3, 2016 to shareholders of record as of Sept 12, 2016. This is the second dividend increase in 2016 (following the 16.7% dividend increase last February.) Based on a recent price of $50.06 the stock now yields 3.68%.
In Q2 the company also announced that the board has approved a new $2.0 billion share repurchase program that is intended to be completed by year-end 2018.
Based on the full year EPS guidance of $2.26 - $2.34 and a recent price of $50.06, RAI P/E is 21.8. Altria's (NYSE:MO) 2016 P/E is 22.3.
Conclusion
Although the second quarter results fell short of expected revenue and earnings per share I attribute that in part to forecasting difficulty due to the complexity of the Lorillard acquisition and the subsequent transition of the company's product line. For the full year RAI affirmed and narrowed its forecast adjusted EPS guidance to a range of $2.26 to $2.34, which represents an increase of 14% - 18%. The company expects to realize increased cost savings and margin improvement going forward from completion of the integration of the Newport brand into Reynolds production facilities and reduction of debt. The strong Newport brand provides Reynolds with interesting opportunities to build market share in the combustible tobacco segment to augment the company's strengths in non combustibles including its VUSE digital vapor cigarettes.
The tobacco business inspires exceptionally strong customer loyalty that results in reliable earnings that are almost immune to economic cycles. The stock can reduce portfolio volatility and generate reliable growing income. At $50, RAI is not a screaming BUY but share price dips below $50 provide opportunities for long term investors to acquire or expand their ownership in this reliable dividend paying stock. The potential for RAI to gain market share from the newly acquired Newport brand and build on its strength in the emerging e-cigarette market provide interesting growth opportunities,
Disclosure: I am/we are long RAI, MO.
I wrote this article myself, and it expresses my own opinions. I am not receiving compensation for it (other than from Seeking Alpha). I have no business relationship with any company whose stock is mentioned in this article.