Torstar Corporation (OTCPK:TORSF) is the owner of Canada's largest newspaper, the Toronto Star, in addition to more than 100 weekly community papers and several digital interests. Previous commentary through a complete investment analysis and subsequent coverage of its acquisition potential concluded that from a fundamental perspective, the company is severely undervalued based on the real estate assets it currently owns. With the advent of online news, sentiment surrounding the newspaper industry has declined as print advertising begins to lose market share to cheaper online options. Although Torstar is currently investing in its digital segments largely through its 56% interest in VerticalScope, the success of this transition has been limited and investors should not expect the company to survive on its own as proven through Postmedia's (OTC:PCDAF) demise in recent years.
Instead, readers should look to media conglomerate Gannett (NYSE:GCI), which in the past year has acquired Journal Media Group (NYSE:JMG) for $280 million and purchased several print assets from North Jersey Media. Consolidation in the print sector has been a major trend in the United States exhibited by Gannett's recent moves and the Canadian print industry will need to follow in order to survive. For Torstar, with a current market cap of $105 million CAD, the company's real estate assets make up over half of this valuation. In addition to valuable real estate assets, its recognizable Toronto Star and Metro Daily brands offer strong content reach for interested media companies that have the available capital and experience to successfully lead a digital transition. For more speculative investors, Torstar's current valuation offers an opportunity to play the acquisition potential that continues to grow as the Canadian print industry looks for consolidation opportunities in order to survive.
Quarterly Update
On July 27th, Torstar released its Q2 results, which allowed investors to get an updated perspective on the existing digital transition and performance of its print assets. In line with the 65.45% yoy decline in the company's share price, the headline numbers continue to remain weak as the company reported a net loss of $24.3 million, which included a $31 million non-cash amortization and depreciation expense. Management also decided to cut Torstar's dividend for the second time in the past 12 months by 62%. The company will now pay an annual 10 cent dividend, which, on an annualized basis, yields 6.6% based on current share price levels. The dividend cut is expected to save around $12.4 million annually, which can be used to develop Torstar's digital interests. While fully removing the dividend remains the better option in order to protect current liquidity, the move was a positive step for the longer-term stability of the company.
As mentioned in the company's Q1 report, Torstar will continue to incur non-cash amortization charges relating to the company's $200 million investment in VerticalScope. In the second quarter, management elaborates:
"Given the relatively large value allocated to acquired content (U.S. $60.6 million) and the one year amortization period associated with it, we expect large amortization charges related to these intangible assets to continue through the end of July 2016.we anticipate our 56% share of VerticalScope's non-cash amortization charges to drop to approximately U.S. $10 million in the third quarter of 2016 and U.S. $5 million in the fourth quarter of 2016 from approximately U.S. $20.0 million in each of the first and second quarters of 2016."
VerticalScope's line of business is primarily focused on developing a portfolio of niche online websites either through organic growth or acquisitions. The challenge facing Torstar is the short (one-year) amortization period related to these investments which will impact the bottom line for the company through its 56% interest in the business. Not only does the company expect to write down some of this acquired content in Q3, but also the acquisitions VerticalScope has made over the past quarter will result in further write-downs in the coming year due to this short amortization period. When putting the current non-cash expenses into perspective, Torstar has written down a combined $98 million in the past four quarters, which amounts to almost half of its initial investment in VerticalScope 13 months ago. This investment and the negative financial impact it has had on the company's bottom line confirms to investors that Torstar lacks the necessary experience to lead a successful transition on its own.

Sourced from Q2 Torstar Financial Statements
When considering the company's segmental performance, both the Metroland Media Group (MMG) and Star Media Group (SMG) reported revenue declines of 9.2% and 19.26% yoy, respectively. The Digital Ventures segment appeared to perform better as segment earnings increased by 77% yoy and 7.97% qoq. The company's Digital Ventures segment is primarily led by Torstar's interest in VerticalScope with additional contributions from eyeReturn Marketing, Inc. and Workopolis. While total segment revenues have improved, much of this has originated from VerticalScope's contribution as the company compensated for earning declines from Torstar's Workopolis and eyeReturn interests.
Unfortunately, with a digital contribution of only 8.75%, the overall growth seen in digital earnings was not significant enough to offset the underperformance of total segmented revenues. Not only was the contribution minimal, but also the growth seen from the Digital Ventures group was not entirely organic as VerticalScope made several acquisitions in the past six months totaling $10.8 million USD. When considering this past year's $7.5 million increase in segment revenue, it seems that much of this growth has come from these acquisitions, thus confirming that even in the current market, Torstar's improved earnings from its digital assets remain below expectations.
Key Takeaways
Management Changes
As mentioned in the more complete investment analysis, the lack of online experience seen in Torstar's management has been detrimental to the overall performance of the company. None of the key leaders managing the company's assets have any proven track record of online success, which is illustrated by the costly investment decisions in VerticalScope and TheStar iPad app. A combined $240 million has been invested into these two digital assets over the past year, and so far, the company has lost millions on both through write-downs or poor usership numbers. In light of these management mistakes, the company has an opportunity to change its direction as David Holland, the company's CEO, announced his retirement earlier last month. Following the exit of John Cruickshank earlier this year, Torstar has expanded its search for both a CEO and president of Star Media Group. If the board does decide to hire externally for both positions and bring in leaders with online media experience, these additions can have a positive impact on the future performance of the organization. Changing the cultural focus from a "print" mentality to one that understands the online industry can positively impact Torstar's strategic direction while also improving the performance of its digital assets.
Reduced Costs
In a print environment where revenue growth is non-existent, shareholder value continues to originate from the protection of Torstar's remaining profitability until the company is able to successfully transition to a digital platform. Focusing on Torstar's balance sheet, unlike its direct competitor, Postmedia Group, which has suffered from persistent debt struggles, the company currently holds no bank debt, which eliminates any risk related to interest expenses. The move to cut the dividend was another positive cost-cutting measure as Torstar will save around $12.2 million in costs. At current levels, a 6.1% yielding dividend remains relatively high, but with a changing management structure, future board discussions may move for the complete removal of the dividend.
Looking to the cost trajectory for each segment, excluding the non-cash charges seen for SMG, both MMG and SMG saw across-the-board declines in overall costs. With the outsourcing of the Toronto Star printing responsibilities, the current transition costs have masked the relative savings impact that will be seen in the following quarters. Looking to MMG's performance, declines in salary, operating, and amortization costs of 10.4%, 6.3%, and 4.6%, respectively, were primarily due to lower print circulation. Overall, from a cost perspective, Torstar has done well in reducing costs as total segment salaries and benefits fell by 8.61% yoy while other operating costs also fell by 6.88% yoy.
Torstar's Real Estate Assets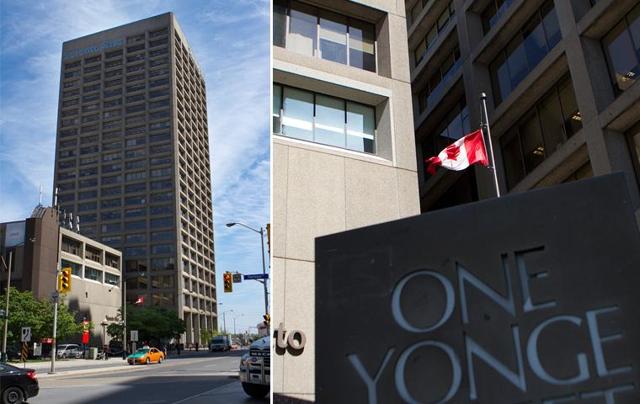 Torstar building - Sourced From Google Images
While Torstar's print business continues to attract large readership numbers relative to the Canadian market, the main value for the company comes from its real estate assets. Key to its real estate portfolio is Torstar's 56-acre printing facility in Vaughan, Ontario. Torstar also owns several smaller assets throughout its community print division which are difficult to value, but the recent $1.9 million sale of a property in Guelph does prove that the company holds additional value across these smaller assets. In addition to the Guelph property sale, which will be recognized in Q3, the company has listed its Vaughan printing facility which should increase the financial liquidity of Torstar in the coming quarters. Among Q2's highlights has been management's commentary on the sale interest surrounding the printing property:
"The sale process for the printing facility and land in Vaughan is well underway and we have been pleased with the level of interest and progress thus far. However, at this point we cannot be certain as to the timing and proceeds related to a potential sale of this property."
While the company may take its time in sourcing the best deal for the asset, estimates from RBC analyst Haran Posner value the property around the $50 million level. When considering the overall value of Torstar's real estate assets, in a buyout scenario, this remains the key value proposition to any potential acquirer. Alongside the possible $60 million originating from the company's smaller assets, Torstar's office building and lease agreement for the property in Toronto's downtown core has generated large amounts of development demand, which only increases the future value of its current agreement. For media companies interested in Torstar, in addition to the existing value of its print brands, an acquisition is able to unlock over $60 million in real estate value.
Lower Earnings

Sourced from Q2 Torstar Financial Statements
When considering Torstar's earnings data, there is a clear downward trend confirmed by Q2's earnings declines in the MMG and SMG segments. It is important to note that there is a slight cyclicality to print revenues as exhibited by the variation above with the second and fourth quarters being the strongest while the first and third quarters performing much slower. When analyzing Torstar's earnings data, the qoq growth in overall segment revenue is largely biased due to the cyclicality of this data. When adjusting for this variance and considering the yoy comparison, both the MMG and SMG segments have seen revenues trend downward over the past few years with no clear evidence of stabilization. For investors considering the growth outlook for the company, the declining print environment will only continue to increase pressure on Torstar, which should further push down earnings. The implications of this poor environment impacts the fundamental valuation of the company as FCF continues to decline.
Pension Liabilities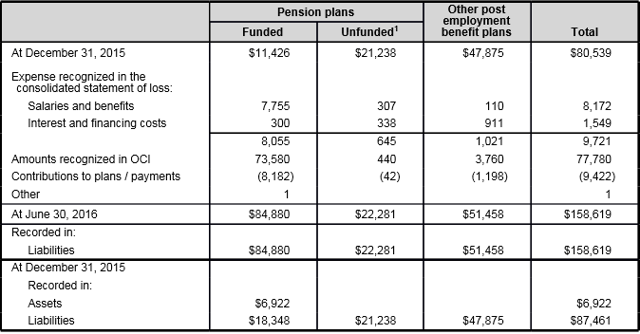 Sourced from Q2 Torstar Financial Statements
A more concerning development, which continues to threaten the future stability of the company, is the existing pension obligations Torstar faces and the risks involved with its defined benefit pension plan. Unlike a defined contribution plan where employees decide how their money is invested and depend on those independent returns, a defined benefit plan is a professionally managed fund guaranteeing any pension outflows and future payments. The defined benefit pension plan forces Torstar to account for any underperformance by guaranteeing the difference in outflows.
In the current low interest rate environment, the performance of these professionally-managed funds have largely underperformed as lower fixed income yields have missed quarterly return targets. This underperformance has resulted in a $44.14 million actuarial loss on employee benefits in Q2, which was not reflected in the company's adjusted bottom line. Compared to the $11.4 million actuarial gain in Q2 of 2015, this large loss is among the more concerning developments which investors need to watch in the coming quarters. While changes related to the closing of the Vaughan plant may have had a temporarily negative impact, the unfunded expense of $22.28 million in the plan is unlikely to improve. When considering a potential acquirer, Torstar's pension liabilities remains a major consideration as the respective buyer would have to take on this obligation or offer a lump-sum buyout to eliminate any future liability.
Conclusion
Relative to Torstar's previous quarters, its Q2 results continue to prove that the company cannot survive on its own as earnings trend downwards and digital revenues have a limited impact on the bottom line. Torstar remains a textbook definition of a "value trap" based on the underlying value that exists from its real estate assets, which have been discounted by the poor sentiment surrounding the Canadian print industry. When considering the investment potential of any value trap, investors are looking towards a key event, either an acquisition or dramatic change in leadership and direction, which can unlock this existing shareholder value. For Torstar, a change in leadership is already underway as two key positions are currently vacant, which provides the ideal opportunity to change the culture of senior management through external hires. In addition, an acquisition is more likely to occur as the Canadian print sector signals that cooperation is necessary to survive in the current environment. While pension obligations and lower earnings from print assets continue to worsen the outlook for the company, speculative investors should continue to watch for any developments which can help unlock this hidden value in Canada's largest newspaper company.
Disclosure: I/we have no positions in any stocks mentioned, and no plans to initiate any positions within the next 72 hours.
I wrote this article myself, and it expresses my own opinions. I am not receiving compensation for it (other than from Seeking Alpha). I have no business relationship with any company whose stock is mentioned in this article.
Editor's Note: This article covers one or more stocks trading at less than $1 per share and/or with less than a $100 million market cap. Please be aware of the risks associated with these stocks.