Management's pessimistic tone regarding the company's outlook was overwhelmingly the most notable aspect of Ford's (NYSE:F) most recent earnings call. CEO Mark Fields was very straightforward with Wall Street when he discussed Ford's full-year prospects as well as for the whole of 2017. This struck me as strange, not primarily due to my opinion on the auto industry but rather on my time following Ford. Dating back to the Alan Mulally days, when Ford was not earning nearly as much, management consistently painted a positive picture with an upbeat attitude. Talk of the ONE Ford plan and gradually increasing shareholder returns dominating conversation on previous earnings calls enduring Mulally's tenure and continuing on into the Mark Fields era. This past quarter brought an abrupt halt to that pattern. The timing is rather ironic, given that the first half of this year is the most profitable one in the company's history.
Granted, management's attitude is geared toward the future, which makes sense in context why previous calls were so optimistic while the Q2 call was anything but. However, Ford has a tendency to view its current and future scenarios with rose-colored glasses, or at least it portrays that perspective to investors. The drastic difference in mentality leads me to believe that while the headwinds facing Ford are significant, Fields is preparing Wall Street for the worst. The auto stocks have been out of favor with the markets as they've been trading at low multiples for years.

These multiples occurred at a time when the S&P was often trading at upwards of 15x earnings. It seemed as if analysts were waiting for a truly damaging quarter to pile on negative reports and write the industry off for the next few years. To be clear, I am not disagreeing that the auto industry will be under pressure over the next few years while facing declining sales figures, but I do believe that rumors of the industry's demise have been at least somewhat exaggerated. Shares of Ford and other automakers have been facing an uphill climb for so long now that I see Ford's guidance and comments as a way for the company to limit the potential downside in share price over the next few years while also setting beatable expectations. There are a few things mentioned in the conference call that caught my attention and contribute to my opinion.
1. Guidance for 2016 remained unchanged
This means that the most profitable year in Ford's history will continue and outperform 2015 in several key metrics.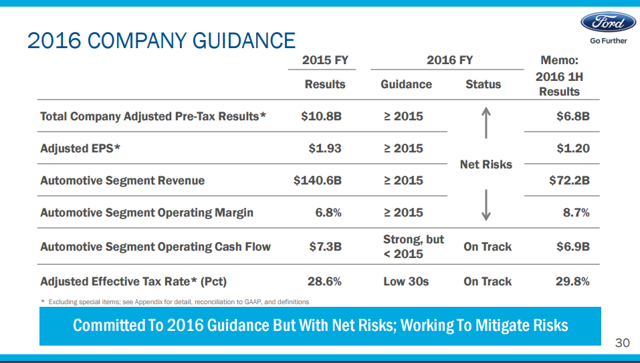 Given the long time horizon needed when looking at F, operating cash flow is the most important metric. Although the projection is for the 2016 total to come in below 2015's figure of $7.3 billion, Ford has already earned $6.9 billion YTD so it's fair to say even if 2016 operating cash flow is less than that of 2015, it will be close to the $7.3 billion earned last year. With shares hovering around $12/share at the moment, the quarterly dividend of $0.15/share results in a 5% annual dividend yield. With $14.1 billion of cash, net of debt, Ford has significant flexibility to increase the dividend and/or buy back a massive amount of shares to prop up share price as well as earnings per share.
2. Q2 strength in Europe
Ford surprised investors with a solid performance in Europe as sales increased 16% year over year and operating margin increased 3.5 percentage points for the same period. Operating margin was up 5.1 percentage points year over year on a YTD basis. Of course, this comes at a bad time with the impacts of the Brexit difficult to quantify on an economy-wide scale at this point. CFO Bob Shanks predicts the impact on Ford will be between $400 million and $500 million in both 2017 and 2018. This will certainly impede the company's progress in the region, but with $901 million in operating income YTD in Europe, Ford has a cushion before the much maligned region loses money as it has for years in the past.
3. Use of the word "uncertainty"
This point is the one that serves as the foundation of my perspective. Fields cited "higher levels of economic uncertainty" when describing the global business environment. He gave very little specific information while unsettling investors by using a word that shareholders loathe in almost any context. Choosing "uncertainty" is Ford's way of telling onlookers that the guidance and comments you're providing are not the most accurate and provides a reasonable expectation for failure to meet objectives. It's a cop-out and exactly why shares fell almost 10% after the call.
Conclusion
To reiterate, I don't believe 2017 is going to be a great year for Ford, but I do believe it will beat expectations. Management has intentionally made vague and pessimistic comments on the conference call to provide a margin of safety in case the despised "uncertainty" yields results more negative than first thought. Also, at $12/share, F is currently trading at a P/E of about 6 based on 2016 FY earnings. There is not much downside from here which combined with low expectations and high cash levels provides the opportunity for the stock to stay at current levels and potentially even positively surprise Wall Street, while investors collect a 5% yield.
Disclosure: I/we have no positions in any stocks mentioned, and no plans to initiate any positions within the next 72 hours.
I wrote this article myself, and it expresses my own opinions. I am not receiving compensation for it (other than from Seeking Alpha). I have no business relationship with any company whose stock is mentioned in this article.