Today Fresnillo plc (OTCPK:FNLPF) released its 1H 2016 financial results. To be honest, I'm positively surprised. Due to radically lower costs of production, the company delivered much better results than in 1H 2015. In this article I would like to discuss these results. In the final section of the article I'm trying to answer the most important question: "What to do with Fresnillo shares now?"
Results
Gold sales are much higher than silver sales
Although Fresnillo is perceived as a silver producer, it is actually the gold that is the primary metal produced by the company. What's more, gold is the main factor standing behind Fresnillo's performance. For example, the company increased its gold production from 364.0 thousand ounces in 1H 2015 to 447.6 thousand ounces in 1H 2016 (an increase of 83.6 thousand ounces or 23.0%, compared to 1H 2015). Higher production was driven mainly by the Herradura mine, which delivered 248.6 thousand ounces of gold (an increase of 60.5 thousand ounces, compared to 1H 2015).
Higher production equals higher sales - in 1H 2016 Fresnillo's gold sales were $542 million while silver sales were "only' $343 million. To remind readers, until 2011 the company was selling mainly silver but since then gold sales were rapidly increasing. Finally, in 2015 gold sales were substantially higher than silver ones.
The company is well aware of these positive developments in its gold segment. As a result, the 2016 gold production outlook was raised from 775 - 790 thousand ounces to 850 - 870 thousand ounces.
Lower production costs
In my opinion, Fresnillo's management team is one of the best in the entire industry. The best evidence of this fact is the way the company is cutting its costs of production.
Note: I calculate these costs in a simple way: I gather all operating costs (costs of sales, general and administrative expenses, exploration and selling expenses) and divide them by the amount of silver ounces sold. The final result is adjusted to the silver share in the total company's sales.
In 2012, at the start of a medium-term slump in the precious metals sector, the company initiated a heavy cost cutting program. Since that time the costs of production went down from $16.7 per ounce of silver to $11.7 per ounce of silver in 1H 2016 (a 30% decrease).
Higher margins
Now, the best part of the story. At today's prices of silver ($20.0 per ounce) Fresnillo makes an operating profit of around $8.3 on each ounce of silver sold. Let me assume that the ratio of gold price to silver price is standing at 67.5 (gold price of $1,350 per ounce divided by the silver price of $20.0 per ounce of silver). This year the company expects to produce 850 thousand ounces of gold and 45 million ounces of silver, which is equal to 102.4 million ounces of silver equivalent. If this guidance is met, Fresnillo should sell 52.3 million ounces of silver equivalent in the second half of 2016 and report an operating profit of $434 million. Together with the operating profit delivered in 1H 2016, Fresnillo should make around $680 million in the 2016 fiscal year. Compare this figure with $216 million made in 2015 and Fresnillo is one of the best illustrations of what a bull market in gold/silver plus higher production mean for the well managed mining company.
Cash flow
The graph below shows cash flows from operations, excluding working capital issues. For comparison reasons, cash flows are calculated on a per quarter basis: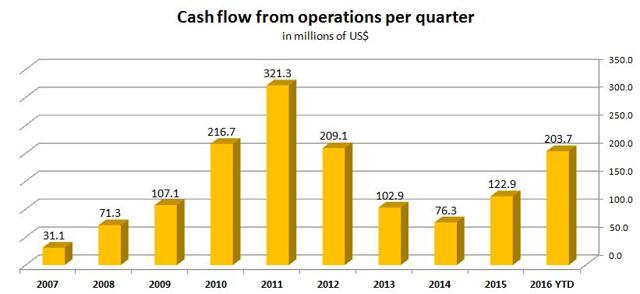 Source: Simple Digressions
As the graph shows, since 2014 Fresnillo has been increasing its cash flows from operations. Note that in 2014 and 2015 the prices of gold and silver were rapidly going down. Despite this fact, the company was able to squeeze out more and more cash from its operations.
Another fact - in 1H 2016 Fresnillo operations were adding $203.7 million in cash per quarter. This figure is close to $216.7 million added in 2010. However, keep in mind that in 1H 2016 and 2010 the company was selling its silver for $16.6 and $21.4 per ounce, respectively. Using different wording, now Fresnillo is able to generate the same cash flow as a few years ago, when silver prices were much higher.
Silverstream contract
In 2007 the company entered into the so-called "Silverstream contract." In exchange for an upfront payment of $350 million paid to Penoles, the company is entitled to the proceeds received by the Penoles Group in respect of the refined silver sold by the Sabinas Mine (a mine controlled by Penoles). In its books the company discloses this contract as a derivative financial instrument. Without going into technical matters, it is recorded at fair value and accounted for in the following way:
Any change in fair value, which has nothing to do with the delivery of silver, is a non - cash issue, as such it is recorded in the balance sheet and the statement of operations
The silver delivered by the Sabinas Mine is a cash issue, as such it is disclosed in the cash flow statement
In my opinion, Fresnillo made a nice deal. Between the beginning of 2008 and the end of 2015 the company got $502 million in exchange for the upfront payment of $350 million. Using a discount rate of 5% it means that this investment returned 48.7 million up to the end of 2015. The contract expires no earlier than in 2032 so it looks like Fresnillo should get a lot more cash in the coming years.
What to do now
Currently Fresnillo shares are trading at a multiple of enterprise value/EBITDA of 25.8. In my opinion, these shares are richly valued. However, I do not think that it could be a good idea to sell these shares.
Here are the main reasons:
The company runs excellent mining operations
In the coming years a few new, interesting projects should be added (for example, this year the San Julian mine should be commissioned)
The pace at which the company's management is cutting production costs is really impressive
Higher prices of gold and silver should have a positive impact on the company's bottom line, driving up all economic measures (in a hyperbolic way)
In my opinion, this mixture of reasons makes Fresnillo a perfect gold/silver play in the ongoing bull market in precious metals. Therefore any weakness in Fresnillo share prices should be regarded as a buying opportunity. Using different words - I believe that the only reasonable strategy is to buy and hold these shares.
Disclosure: I am/we are long FNLPF.
I wrote this article myself, and it expresses my own opinions. I am not receiving compensation for it (other than from Seeking Alpha). I have no business relationship with any company whose stock is mentioned in this article.
Editor's Note: This article discusses one or more securities that do not trade on a major U.S. exchange. Please be aware of the risks associated with these stocks.