With many fixed income investors looking at dividend investing to bridge their income gap, many are focusing on the dividend yield rather than dividend growth. While dividend investing can be done in many different ways, dividend growth investing is a powerful approach worth considering. The investing strategy has been around for decades, and has been proven to give good results.
While focusing on the dividend yield may satisfy the need for receiving regular income, it may come with the sacrifice of long-term stock growth and prevent your retirement portfolio from reaching the size you need. Dividend yield is looking at returns today, while dividend growth is looking at future growth.
Dividend Growth Investing Concept
The concept is pretty simple, but to start with, as an investor, you will need to realize that you may be eliminating high yield stocks. Putting that limitation aside, the primary data point to look at is dividend growth. You want to ensure the dividend stock you are interested in grows its dividend regularly and at a good dividend growth rate. Utility companies do not usually exhibit a high dividend growth rate, since their business growth tends to be regulated and slower. Just having increased dividends for over 25 years does not mean you have good growth either.
Assuming the company maintains its dividend payout ratio within the guidelines, what we see is both a dividend growth and a stock appreciation when the company is able to grow its bottom line. One way to visualize it is by comparing the EPS and the dividend paid. When both increase together, the company shows significant strength in growing its bottom line, and the stock will also appreciate. As an investor, you win on two fronts:
Dividend growth

Compounded growth if you DRIP.

Stock appreciation
Have a look at Canadian National Railway (TSE:CNR, CNR) as an example. The sea green line represent the payout ratio, which is staying within range. We can also see that the dividend in black is below the EPS and moving up in line with EPS. The key factor is that the dividend is not increasing faster than the EPS.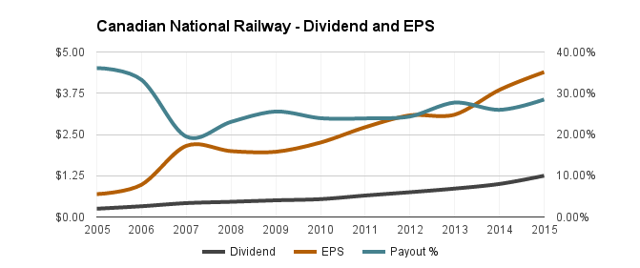 With increasing earnings, the price grows as well and somewhat exhibits the same pattern as the EPS, which leads to a relatively consistent dividend yield. In the case of CNR, the dividend yield is usually below 2%, but the company happens to have a really good dividend growth rate.
3-year dividend growth: 18.56%
5-year dividend growth: 18.28%
10-year dividend growth: 17.46%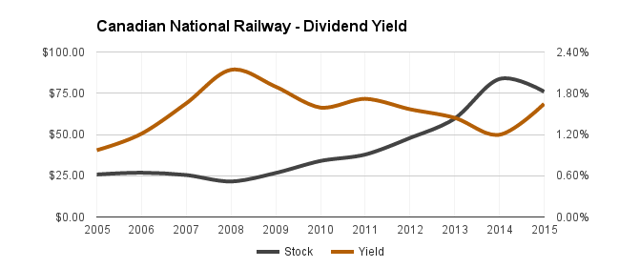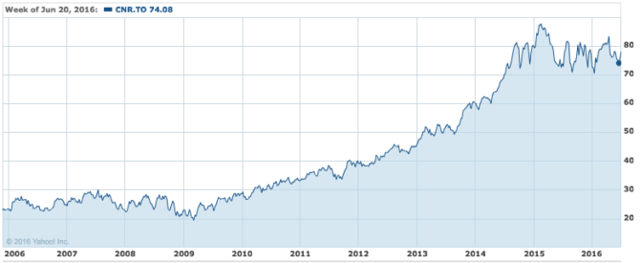 Steps to Select Dividend Growth Stocks
Step 1 - Annual Dividend Growth
Make sure the company has increased its dividend annually for a number of years. The Canadian Dividend Aristocrats have a 5-year minimum, while the US Dividend Aristocrats have a 25-year minimum. I like 10 years as a minimum.
As a first step, you can start with one of those lists or just filter from any lists you have access to.
Step 2 - Average Annual Dividend Growth Rate
Even if you have increased your dividend every year, the growth rate of the dividend increases might not match what you want. A 1-cent increase will allow the company to be included in the Dividend Aristocrats list, but it doesn't offer a significant growth rate.
Choose the dividend growth rate you want to target. I am targeting 10%, but I am okay with over 7%. This data point might be harder to get from free services. You should also decide on how far back you want to look for establishing the growth rate. I like 10 years, and then I look at 3 and 5 years to see if there is consistency. The Canadian Dividend Performance List provides 3-, 5- and 10-year CAGR dividend growth rates.
When both steps are combined, you are left with a strong list of dividend investing options. There are currently 26 Canadian dividend stocks matching the criteria of 10 years of consecutive dividend increased at a 10-year average of 10% or more. Many of the stocks are blue-chip dividend stocks as well. The end result of holding many of the stocks matching those criteria is a predictable dividend stock portfolio.
Editor's Note: This article covers one or more stocks trading at less than $1 per share and/or with less than a $100 million market cap. Please be aware of the risks associated with these stocks.