Chesapeake Energy (NYSE:CHK) is due to announce its second-quarter earnings on Aug. 4, 2016. As the earnings date nears, the longs seem to be liquidating their positions as the stock has dropped more than 10 percent in just a couple of days; at the time of writing this analysis, the stock was down 6 percent at $4.78.
Earlier, I had written an article on Chesapeake titled, "Chesapeake Stock Might Get Crushed Again," wherein I called for a price of $3.50 per share. I received a lot of hate and criticism that time from the bulls, but in less than two weeks, the stock did touch a low of $3.56 before rebounding.
After that, I had once again written about Chesapeake heading to $5 per share with the higher end at $5.50, and advised shareholders to sell the rally. Recently, the stock touched a high of $5.60 but has been precipitously falling since then.
This is to convey that what I am going to present now may not appeal immediately, but given some time, the information may prove valuable.
Important Points to Consider
A couple of important points have been taken from the 2015 Annual Report for better understanding the company. The business derives 40% of its revenue from crude oil, 52% of its revenue from natural gas, and the remaining 8% from natural gas liquids.

An increase or decrease of $1 per barrel of oil sold would result in an increase or decrease in 2015 revenues and cash flows of approximately $42 million and $40 million, respectively. Similarly, an increase or decrease of $0.10 per mcf of natural gas sold would result in an increase or decrease in 2015 revenues and cash flows of approximately $107 million and $106 million, respectively.

The two fundamental facts are very valuable for someone who hasn't tracked the company so closely, and is often left wondering why the stock is so volatile some times. It is not uncommon for market participants to reduce their exposure before a stock is due for its earnings. But, could there be a disappointment in CHK earnings?
Leading oil and gas sector companies such as ConocoPhillips (NYSE:COP), Exxon Mobil (NYSE:XOM), and Chevron Corporation (NYSE:CVX) have missed on their quarterly numbers, indicating lower average realized prices across the board. While crude oil had retreated fairly from its above $50 levels, natural gas has calmly maintained its higher ground.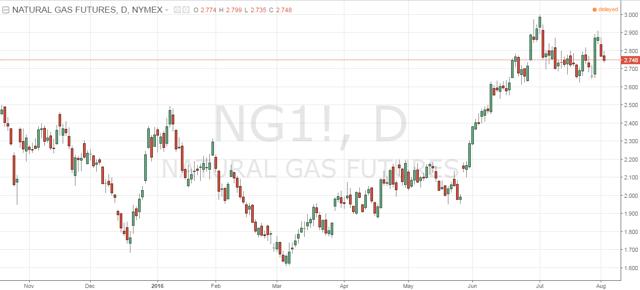 Source: TradingView
So, this came as quite a shocker to the investing community as to why the managements of some of the world's leading oil and gas companies failed to capitalize on the rebound in the gas market? Did they fail to read the market correctly? Possibly, yes.
This has cautioned the investors that the same "lower average realized prices" theme might spoil Chesapeake's Q2 earnings. But, Chesapeake proved it in Q1 that it is astutely using its hedges, which helps in attaining better average realized prices.
Furthermore, Chesapeake Q2 numbers would reflect the earnings from period April to June, during which both crude oil and natural gas advanced to their peak levels. Therefore, the results may not disappoint unless the company reports some production losses.
There is a general contention that the market is forward looking. Hence, if the market assumes that either crude oil or natural gas may head significantly downwards from here on, that could be troubling for CHK. I have already expressed my view of crude at $35. Natural gas generally tends to follow crude oil in the action, and therefore, if crude does get sold, then natural gas may also cave under the pressure of selling. A change of sentiments could see CHK violate its YTD strong support level of $3.50.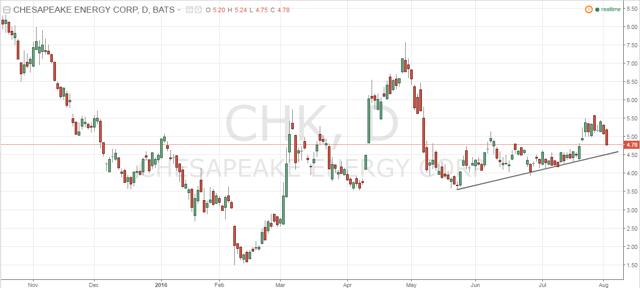 Source: TradingView
Before the earnings, the stock could touch $4.50, but the long-term view of the energy markets will guide the stock henceforth. ConocoPhillips' (COP) management has already guided for a "world of low and a lot of volatility in prices" recently. Taking cues from the capex cuts being announced, and the managements resorting to staff layoffs, it's not rocket science to deduce what they are expecting for the next couple of years.
It can be reasonably expected that Chesapeake's stock will not reward the faint-hearted as a lot of volatility will be seen in this high-beta counter. Investors must focus on reducing their purchasing cost, and be willing to wait for the long term (3-5 years) in order to reap good returns.
Disclosure: I/we have no positions in any stocks mentioned, and no plans to initiate any positions within the next 72 hours.
I wrote this article myself, and it expresses my own opinions. I am not receiving compensation for it (other than from Seeking Alpha). I have no business relationship with any company whose stock is mentioned in this article.