Introduction And Summary
In the past, the annual release and hype of the latest addition to the best-selling Call of Duty (COD) franchise was the main driver of attention towards Activision Blizzard (NASDAQ:ATVI). While there are zero arguments to be made regarding the success of the COD franchise, it's a known fact that the series' player base and once jaw-dropping gameplay has taken a turn towards exhaustion, which in turn has become a concern for investors. Recently, the company's latest announcement regarding Call of Duty: Infinite Warfare was met with significant distaste and low enthusiasm, just three months out from launch date.
Irrespective of whether the latest COD installment proves to be a dud or another best-seller, the company has multiple catalysts lined up for the remaining of the year, which should adequately shift the focus away from solely relying on revenue from COD. Overwatch, which was released in the latter part of May, has been received extremely positively and is expected to drive the majority of revenue growth for the remainder of the year. Lastly, the company's increasing involvement in eSports and the launch of a new installment to World of Warcraft (WoW): Legion should help Activision Blizzard remain a solid name to hold into the remainder of the 2016.
Figure 1: Activision Blizzard Segment Breakdown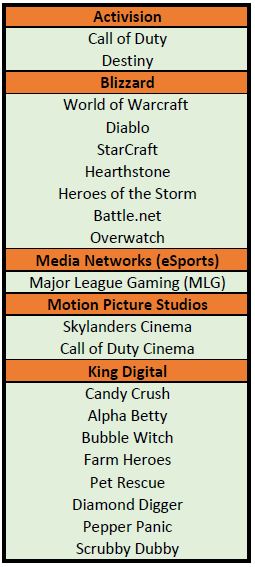 (Source: Company filings)
PlayStation And Xbox Trends Show Console Gaming Is Still Alive And Well
With both Microsoft (NASDAQ:MSFT) and Sony (NYSE:SNE) having reported earnings over the past two weeks, a sneak peek can often be gained regarding the state of console gaming. Following the release of both next-generation consoles in late 2013, it's clear that Sony's PlayStation 4 has taken the lead from Xbox after trailing early on despite the Xbox receiving relatively rave reviews amongst older-generation consoles. That said, Sony reported ~17% y/y growth in PS4 units sold despite being on the market for over two and a half years, indicating continuously strong demand for the entertainment system. In addition, Microsoft reported growth of ~3.5% y/y in consoles sold over FY 2014/2015, which highlights its underperformance versus the PS4 yet still shows that console gaming hasn't exactly peaked. Interestingly, Microsoft quit reporting console unit sales after Q3 2015 (MSFT's fiscal reporting period of Q4 2015), which turns investor attention to Xbox Live monthly active users (MAUs), a more valuable metric in my view regarding the platform and universe of Xbox players.
Figure 2: Xbox and PS4 Console Sales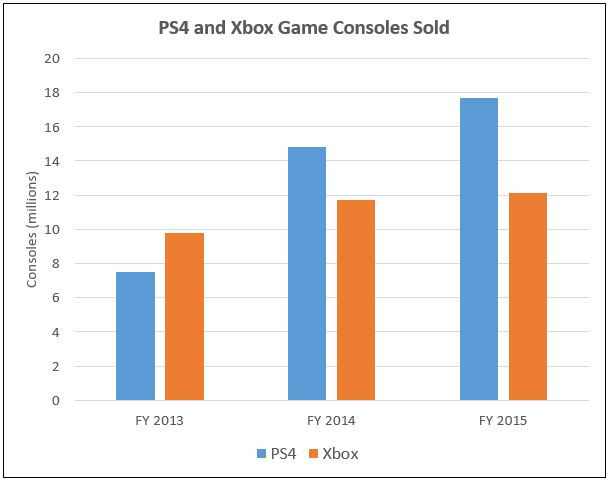 (Source: Company filings)
Concerns over somewhat sluggish Xbox console unit growth may be alleviated when looking at the growth in MAU of Xbox Live with the company reporting ~33% y/y growth from Q3 2015 to Q3 2016. The remarkable +30% growth in users in a service that has been alive for over 10 years now underscores the value and importance of the increasing trend of microtransactions and additional downloadable content (DLC), both of which contribute to the sales growth and user engagement of content-generating companies like Activision Blizzard.
Figure 3: Xbox Live MAUs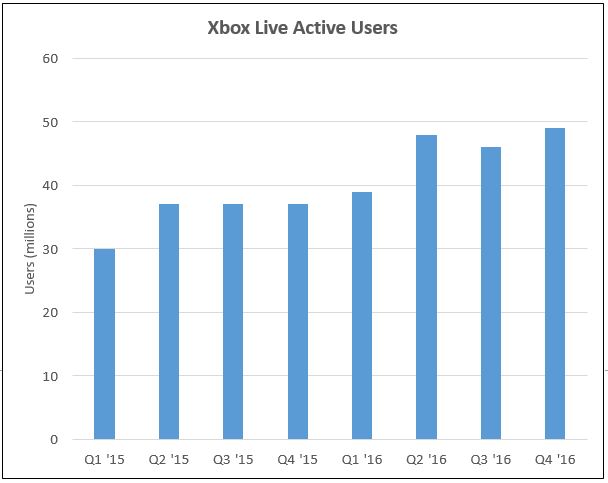 (Source: Company filings)
DLC and other content available to gamers of a certain series allow for the franchise to remain connected with its most active players and allows for slower exhaustion of a particular game. Note, available DLC and other content has significantly increased over the past few years with game developers gradually catching on and switching to the model of selling a game at base price and raking in additional, passive revenue from add-ons, all while keeping users engaged. Erring on the side of developers like Activision, the model is indeed a keen way to milk out any lasting revenue from a game that is set to die or become mostly irrelevant in the coming months. For example, Activision is set to release four sets of DLC (two already released) for its best-seller COD: Black Ops 3, all of which are priced at $15 each. This motive may seem pesky for gamers, but sure is a lucrative approach for additional revenue for the company.
Overwatch Remains A Hit, Leading Video Game Sales In June
According to the NPD Group, which tracks industry trends and metrics, June was a relatively soft month for video game sales with total sales of all game-related items declining ~26% on a y/y basis compared to June 2015. Activision's Overwatch, which released in May, remained a bright spot in the month and came in as the best-selling title for the month. Moreover, Engadget claims that the report published by the NPD Group excluded digital PC sales from Overwatch's numbers, which is even more bullish for the idea that Overwatch's full potential and value may not be fully baked into Activision's current valuation. Granted, Activision is up over 50% over the past year, but consistent revenue growth on fresh, best-selling titles and flawless execution continues to be a strong suit for the long thesis. Year after year, the company continues to crank out hit titles even when met with strong hate and distaste in the initial stages of launch and/or revelation.
By combining the concept of a sci-fi and cartoon-themed character universe and classic shooting functions, Activision has been able to fuse together a whole new type of player base that was originally built with the release of the company's Destiny series in 2014. The game has had its fair share of hiccups, but regained the confidence of players following several expansions and was/is still relatively well received by a large base of gamers. With Destiny in mind, the company recently announced that the game's universe had recently reached 30 million users, a metric that should serve as a conservative floor for what investors should expect from Overwatch knowing that Destiny was initially plagued by some serious issues that turned off many gamers.
Additionally, Overwatch's strong launch and future outperformance should aid in the deconcentration of the company's revenue mix which primarily consists of the COD, World of Warcraft, Skylanders, and Destiny franchises. Specifically, this combination comprised 71%, 72%, and 80% in 2015/2014/2013, respectively. Further, the concentration has been declining since 2013, which is a healthy sign and should aid in the de-risking of the revenue model to alleviate the impact of one single franchise's underperformance in a given quarter or year.
Audience For eSports Continues To Grow
The eSports landscape has graduated to a larger scale as of late, most notably earning time on cable TV stations like TBS and ESPN. With the 10 million or so players already on Overwatch, it'll be interesting to see how the viewership of the game on TV compares to games that already dominate the eSports arena such as Counter Strike and League of Legends. TBS recently announced that it will be broadcasting the finals of the "Overwatch Open" in September of this year, with the earlier rounds being broadcast on Twitch. The argument that Activision won't receive a material monetary boost from the broadcasting itself given that Turner Sports owns ELeague is valid but immaterial, and the majority of benefit should be earned in terms of potential new users to the game's universe, a metric that is far more valuable because the company already owns MLG (Major League Gaming), which will allow it to leverage the constant flow of new users.
Moving on to MLG, the company's acquisition earlier in 2016 does secure the idea that eSports has transformed into a larger-scale operation and initiative rather than a set of events that a smaller subset of average gamers looked forward to every year. As 2016 remains an eventful year in terms of the launches of Overwatch, World of Warcraft: Legion, and COD: Infinite Warfare, the company is in an excellent position to capitalize on the established audience that MLG brings and fuse it with fresh launches to ensure that there isn't a gap in terms of when the game launches and when competitive gameplay ensues. Moreover, this move of replacing traditional sports air time in favor of gaming eSports proves that the company has its hands in the right jar, and investors should expect to see an increase in air time if the competitions are hits.
Acquisition Of King Digital Doesn't Look Too Bad (So Far)
With the launch of Pokemon Go in July, it has been nearly impossible to walk through a public setting without bumping into or meeting an individual enjoying the game. While free to download, the game relies on the concept of attracting hardcore players paying up for in-app purchases to officially "beat the game", something that King Digital and other mobile developers have been doing for multiple years now (starting with Candy Crush). Aside from the original Candy Crush Saga, King has released seven additional games all relying on a similar model. With that in mind, it's a fact that in-app purchases have become the main source of revenue generation for developers who wish to initially lure in players by offering the game for free.
In Q1, Activision officially started reporting metrics for King Digital, and reported ~3% growth in MAU to 463 million in the King universe on a q/q basis. Additionally, the company reported $297 million in total revenue for that portion of the business, which equates to around $0.65 in revenue per active King user. Note, while the single-digit growth in MAU may seem weak, it's important to note that many of King's new releases are often built around the same themes and ideas of previous games, which results in the amount of unique player additions to the King universe also turning out to be soft.
Although expensive, I think the trigger on the King acquisition was pulled at an ideal time, and that the valuation could potentially well north of the $5.9 billion that Activision paid last year. The rise in Nintendo's (OTCPK:NTDOY) valuation should serve as a fair indicator of what King could've gained by stepping into the augmented reality space, and I think that the company is well positioned to take advantage of the shift and expansion in mobile gaming in the near future.
Expect Call of Duty Enthusiasm to Increase Ahead of November Launch
The media is buzzing over the disproportionate amount of dislikes/likes on Infinite Warfare's debut trailer, but for good reason. Gamers seemed to be tired of the annual "minor tweaking" and fresh $60 price tag move. Additionally, the release of Electronic Arts' (NASDAQ:EA) Battlefield 1 debut trailer couldn't have come at a worse time considering the amount of praise it has received to date. Activision went on to respond to the heavy distaste, stating that Black Ops 2 was also heavily punished leading up to its official release, and the game ironically turned out to be another best-seller for the franchise. Moreover, management had the following to say regarding a potential exhaustion in gamers following COD and the current lack of enthusiasm:
And while of course we see the passionate opinions online, we also look at other measurements. And the fact is, while it's very early, preorders are off to a very strong start [...] So what we know for sure is that if we always just did what worked in the past and never took any creative risks, we wouldn't have a franchise. The day to worry is the day we stop trying new things. - Eric Hirshberg, CEO, Activision
This tidbit of answer that was provided remains rather profound and instills enough conviction in me to believe that the release of Infinite Warfare will be a rather smooth one, and that the ideas regarding a potential end to growth in the COD franchise are overblown. Additionally, the coupling of COD: Modern Warfare (4) in some editions may entice hardcore gamers to dip their toes in once again.
Valuation Summary
With the company's closest peers, Take-Two Interactive (NASDAQ:TTWO) and EA, trading at ~32x and ~20x forward EPS estimates (respectively), I have assigned a forward PE of 25 to Activision in my model. Note, while Take-Two has guided for decline of nearly 43% in EPS from 2015/2016 on a y/y basis and EA has guided for a modest ~11% growth, both still trade at premiums to Activision. I am modeling for ~$1.96/share in non-GAAP diluted EPS for the NTM, coming in below consensus estimates of around $2.07/share. Subtracting net debt of ~$4.02/share, I arrive a target of ~$45/share, implying upside of ~13%.
Figure 4: Activision Blizzard Valuation Summary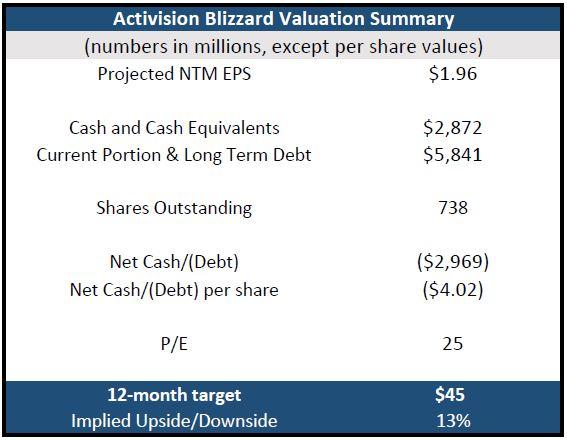 (Source: Company filings, personal estimates)
My estimate of $1.467 billion in total non-GAAP revenue for Q2 actually exceeds management guidance of $1.375 billion for Q2, but remains achievable given the company's beat and raise in the first quarter. Further, my projection of ~$1.83 in FY 2016 EPS is five cents above management's guidance and aligns with ~35% growth in non-GAAP diluted EPS from FY 2014 to FY 2015.
Figure 5: Activision Blizzard Income Statement Projections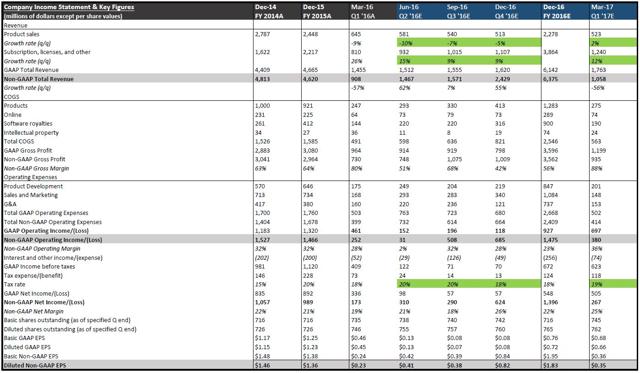 (Source: Company filings, personal estimates)
I have modeled for a softer-than-expected decline in sales from Q2 to Q3 primarily due to the launch of World of Warcraft: Legion at the end of August. Considering that the company did admit that the ~10% decline in Blizzard sales was due to the shrinkage and low level of Warcraft subscribers, I'm not too optimistic about this specific installment ability to revitalize the franchise.
Note: Data as of market close, August 9th, 2016.
Disclosure: I am/we are long ATVI.
I wrote this article myself, and it expresses my own opinions. I am not receiving compensation for it (other than from Seeking Alpha). I have no business relationship with any company whose stock is mentioned in this article.