The two-month decline in the corn market is a response to what is looking like an incredible crop. Has it gone too far?
An impressive pre-harvest selloff
As of 8/1, CME December 2016 corn futures settled $1.12/bushel or 25% below the high price set in late June (see chart). 2016 crop futures trade in a range from $3.34 to $3.63/bushel out to September 2017. This compares to the midpoint of the farm price forecast from the USDA of $3.40/bushel in its July WASDE release.

Source: Quandl
The chart below outlines the latest official projections for the US Supply and Disposition for Corn. The July estimate projects a 380M bushel or 22% increase of ending stocks compared to 2015. As the market was already expecting an all-time record crop, any further upside on the yield projection of 168 bushel/acre would create burdensome ending stocks of corn.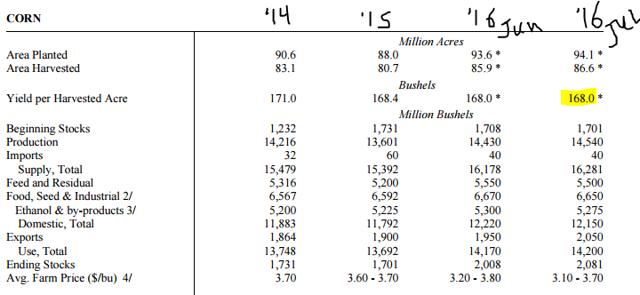 Source: USDA July 2016 WASDE
All implications suggested that July was a great month for the corn crop. In fact, using USDA Crop Progress and the total Good/Excellent rated percentage as a metric, 2016 in aggregate is of better quality than 2014 (the all-time record national average corn yield) and the highest since 2004. Over the last 20 years, only 2004 had a better rating through the end of July. The chart below shows a strong relationship between Good/Excellent rating and deviation to trend yield. In 2014 and 2014, the deviation to the trend yield approached +10%. Based on this metric, it is not unreasonable to project 2016 in the same ballpark.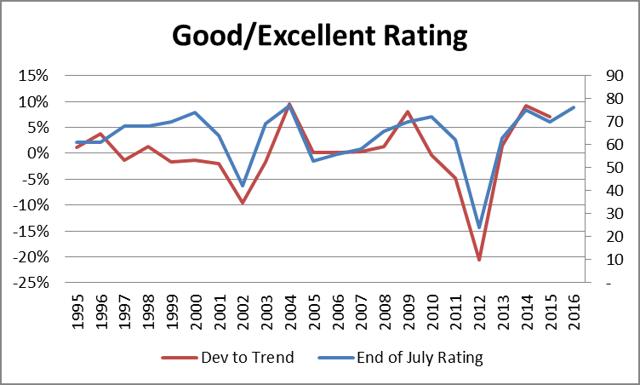 Source: USDA and own
What to expect for September WASDE and future price movements?
The market is now anticipating a revision to the 168 bushel/acre yield estimate. In the event the 2014 record is matched or surpassed (171.0), at least another quarter of a billion bushels will need to be moved. In the event a new record is set, it is not impossible to project a doubling of the currently anticipated increase in ending stocks (+380 million bushels).
The current USDA projection shows average farm prices to be $0.25/bushel lower than crop year 2015. If the ending stocks estimate expands another 300 million bushels, it is easy to fathom the fair value of corn to fall another $0.25-0.30/bushel to an average farm price closer to $3.10-3.20/bushel, which would suggest further downside on futures.
While there is a chance the market could be oversold, closer evaluation of the aggregate speculators' position, measured by the CFTC Managed Money Futures and Options' net position, suggests speculators could triple the current net short position and still not reach the levels from March 2016 or November 2013.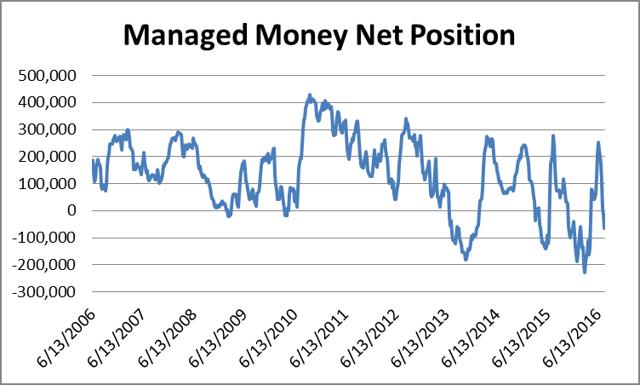 Source: CFTC
Final Note on Position Managing via an ETF
To take a short position in corn, one approach is using the Teucrium Corn ETF (NYSEARCA:CORN). Over time, this is a HORRIBLE option for a passive long. Like many other commodity ETFs, over the long haul, the entire market cap is eroded paying perpetual grain carry fees.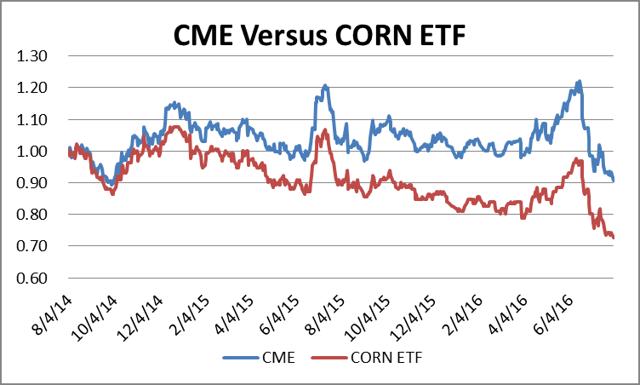 Source: Quandl
Disclosure: I/we have no positions in any stocks mentioned, and no plans to initiate any positions within the next 72 hours.
I wrote this article myself, and it expresses my own opinions. I am not receiving compensation for it (other than from Seeking Alpha). I have no business relationship with any company whose stock is mentioned in this article.