Whenever a market just absolutely tanks you have to ask yourself, is this a fundamental long-term strategic change in the market or is there an opportunity here? A good example of that is the dot com bubble at the turn of this century. The market was way over extended built on top of a bubble and came crashing back to earth. People came to realize those market valuations were built on irrational exuberance not sound business fundamentals. After the crash you had to sort through the wheat from the chaff to find the opportunities. The same is true with the oil drillers in the current market environment. When the price of crude oil came down starting in 2014 so did the price of the oil drillers. This article examines opportunities in the oil drillers Helmerich & Payne Inc (NYSE:HP), Patterson-UTI Energy Inc (NASDAQ:PTEN), Precision Drilling Corporation (NYSE:PDS), and Nabors Industries Ltd (NYSE:NBR).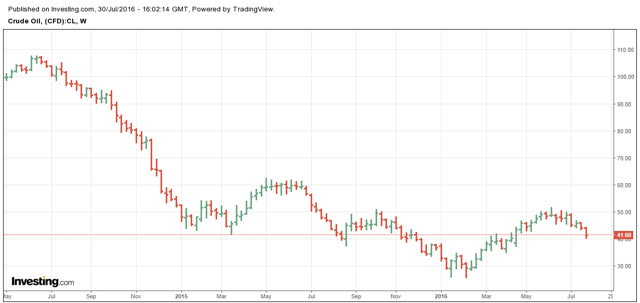 Source: Investing.com
Fundamentally the world runs on oil and there is nothing in the medium term horizon to change this fact. Not only does it run on oil, but the demand for oil is ever increasing. If there is a demand for oil there will be a demand for oil drillers. In the past 5 years alone the consumption of liquid fuels has increased over 8% worldwide. Most of this increase is coming from the developing world which has abundant demand potential. Even though we are currently in a short-term situation of oversupply, the EIA estimates that by production and consumption will balance in 2017.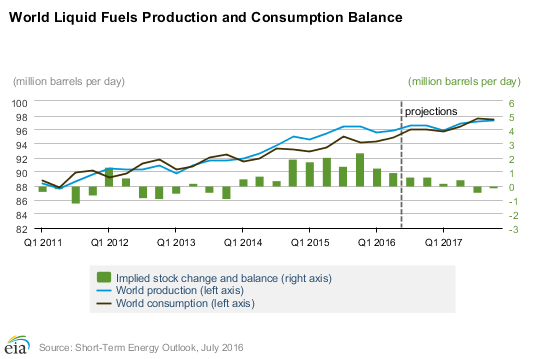 Source: EIA
So we need to think of our current situation as a short-term opportunity. The EIA estimates that global consumption of petroleum and other liquid fuels increased by 1.4 million b/d in 2015. The EIA expects essentially the same growth in 2016 and 2017 with the majority of this growth coming from the developing world. Two of the most populous nations India and China are expected to increase their growth in 2016 and 2017. The EIA raised India's growth projections by 33% to 0.4 million b/d annually. China's consumption is also anticipated to grow by 0.4 million b/d in 2016 and 2017.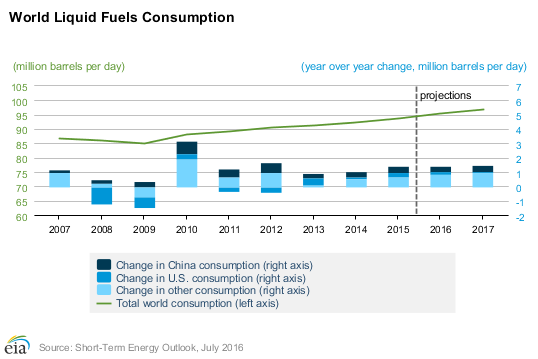 Source: EIA
With the oversupply in crude oil we have seen an incredible drop in the rig count especially in the US and Canada. Since 2014 the International Rig Count is down 27%, Canada 87% and US 76% according to Baker Hughes Inc (NYSE:BHI). This reduction in rig count leads directly to a reduction in revenue for these oil drillers. Not only is there a reduction in rig count but we can also expect some margin compression going forward in a market where there is a significant oversupply of oil rigs.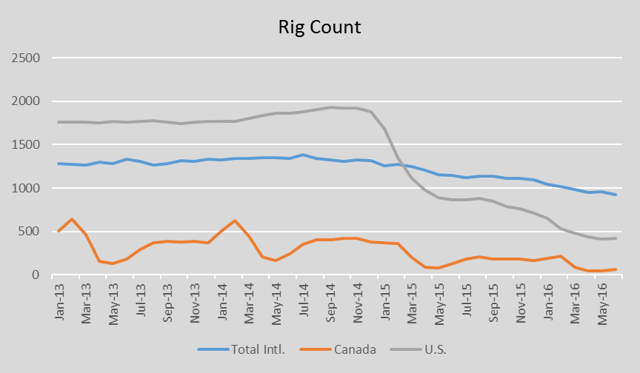 Source: Baker Hughes
There is no disagreement that oil prices will turn higher and rig count will once again rise. The only issue is timing? When will the oil price turn? I have looked around the internet for different views on this topic and unsurprisingly the views are all across the spectrum from nearly immediately through not until later 2017.
Halliburton CEO Dave Lesar said in a report that he believes the North American market "has turned" and that his company is preparing for the "upcycle."
He seems to be one of the most optimistic voices on the oil price recovery.
The World Bank doesn't see any meaningful increase in oil prices through 2016 according to this report.
BP chief financial officer Brian Gilvary said: "We continue to reset our capital and cost base and are moving steadily towards our aim of rebalancing organic sources and uses of cash by 2017 in a $50-55 per barrel oil price range."
I was particularly intrigued by Brian Nelson in his State of the Oil Market article. Brian thinks the extreme rig count decline will lead the current oversupply situation to big supply deficits starting in 2017.
The long-term increasing demand for petroleum products will subsequently lead to increasing demand for oil rigs. Right now the oil drillers have to survive the current market conditions to be able to chase the demand long term. We ask the question are there drillers that will not survive the current downturn? From looking at their financial statements and earnings calls it is clear these companies are making all the right decisions. They are drastically cutting costs, continually reviewing their bank lines and other capital sources, and focusing on keeping a core workforce in place for the eventual turnaround.
To start we took a look at the liquidity ratios to see if any of these companies faced a problem meeting their interest expenses within the next year. We will start by looking at the short-term ability of the company to fund its immediate obligations. The current ratio is the ability for a company to pay off its short-term liabilities with its current assets. We want the current ratio to generally be > 1.5. A ratio of < 1 may indicate a problem. All of these companies have an acceptable current ratio.
The Quick Ratio and the Cash Ratio are similar ratios but getting more restrictive on the current assets to cash equivalents.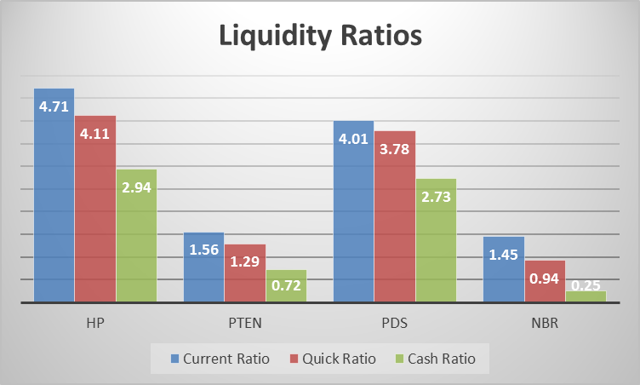 Next, we look at the leverage ratios and see a company's ability to finance its activities. The more leverage a company uses the more difficult time it will have during this downturn. We like the leverage ratios of all these companies especially HP and PTEN. They are least leveraged and best positioned to weather this current environment.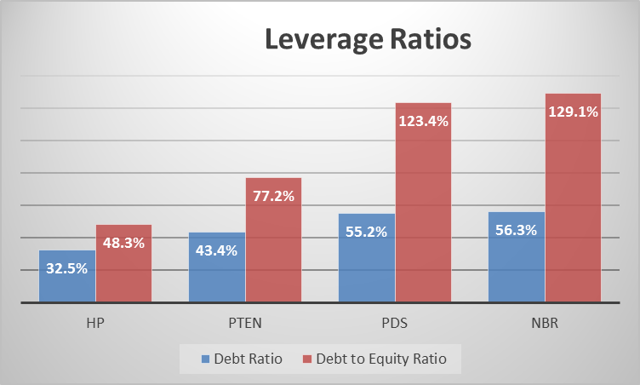 It does not appear that any of these companies are going to have problems operating right now. Even though they don't appear to have a problem PDS and NBR have more risk associated with their leverage. For me this means I would want to purchase at a lower price to compensate for the associated risks.
Let's take a look at revenues and see how they have been performing during this downturn.
Most of these companies have already announced earnings for the quarter ending in June. The exception is NBR, which will announce their earnings on August 2nd. We expect NBR earnings for the most recent quarter to be slightly worse than last quarter. Ongoing operational revenue and income should be lower corresponding with a lower average rig count for the quarter. Then NBR will have extraordinary items related to C&J Energy Services including a loss related to C&J income and a write down of their investment in C&J. With C&J's bankruptcy announcement in mid July NBR should have only 1 additional quarter of significant losses related to C&J.
As you can see on a trailing twelve month (TTM) basis, HP has the strongest EPS. Until this most recent quarter just announced late last week HP was the only company of the 4 to have a positive TTM EPS number.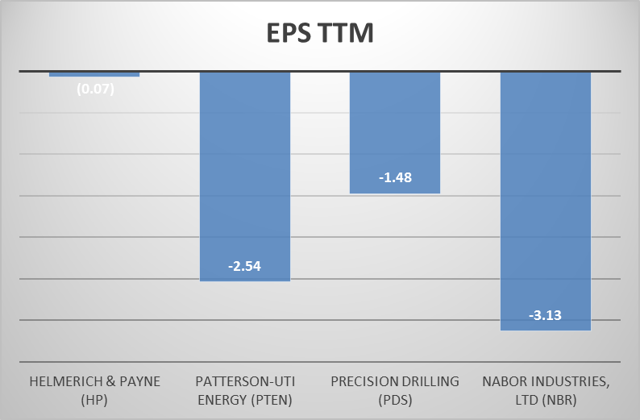 Although these numbers look bad you have to keep in context that the US and Canada have lost over 75% of their rigs in the last year. The environment is just remarkably bad. I think these management teams deserve some credit for positioning their companies to survive in this environment.
Looking at the relative valuation of these companies HP and PTEN are strongest with EV around a 3 time multiple of sales. You will also notice that HP and PTEN are only 13% off their 52-week highs. This shows that the market generally prefers these oil drillers.

The stock price of each of these companies has a strong correlation to the price of crude oil. The chart below the price of crude oil is the dark blue line. PTEN green, HP yellow, PDS is maroon, NBR grey, and USO bright red. You will notice that currently both PTEN and HP are doing better than crude oil as a percentage for the past year.
Ironically, The United States Oil ETF, LP (NYSEARCA:USO) is the worst performer of the group on a relative basis. This fact really gave me pause when I was examining the risks of investing in the oil drillers.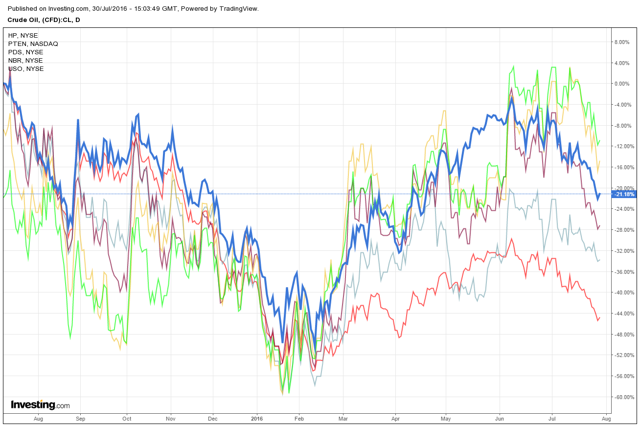 Source: Investing.com
I enjoyed reading Robert Boslego's recent article Oil Price Risks Have Shifted From The Shorts To The Longs. Robert thinks there is some more downside to the recent slide in oil prices.
I think we are still firmly in the bottoming process and the current oil price is heading lower in the very short term before finishing the year above $50/barrel. My target for the near term oil prices are in the $35-$38 range. This should correspond to a 5%-10% decrease in the stock prices of the oil drillers. This level if reached should provide an entry point to establish a position in these stocks especially HP and PTEN.
Conclusion
The world runs on oil and the oil drillers that survive this incredible market slow down will be poised to prosper in the long term. HP, PTEN, PDS, and NBR all currently look strong enough to survive. HP and PTEN are our preferred stocks based on the strength of their balance sheets. PDS and NBR would be attractive at lower stock prices. Due to the correlation of these stock prices to the price of crude oil we look at this current drop in the price of oil as an opportunity to establish a position. Ideally we'd like to see crude oil in the $35-$38 range before establishing a position.
Disclosure: I/we have no positions in any stocks mentioned, but may initiate a long position in HP, PTEN over the next 72 hours.
I wrote this article myself, and it expresses my own opinions. I am not receiving compensation for it (other than from Seeking Alpha). I have no business relationship with any company whose stock is mentioned in this article.
Additional disclosure: The information contained in this article is taken from sources believed to be reliable, but is not guaranteed by AgTrades, LLC, nor any affiliates, as to accuracy or completeness, and is intended for purposes of information and education only. Nothing herein should be considered as a solicitation to trade commodities, equities, or a trade recommendation by AgTrades, LLC. Futures, equities, and options trading involves the risk of loss. Past performance is not indicative of future results.