We are short SPYR Inc. (OTCQB:SPYR), and at by the end of this article, we think you will be too.
This article details the past and current promotional efforts by management team and stock promoters to inflate the valuation of SPYR Inc. despite the fact that its real revenue comes from just 1 restaurant whose lease is up 9 months from now.
The headquarters of the current center of promotions "Spectacle Games" doesn't exist!
Main Financier & SPYR Shareholder - Joe Fiore is implicated as a known stock promoter and stock manipulator in an SEC deposition. He is now doing the same thing with SPYR again.
SPYR exists to sell stock not develop games.
Only part of their business that is real - the Eat at Joes restaurant goes away in 9 months when their lease expires.
Cash to fund SPYR actually came from other stock promotions!
If ForceField Energy (OTC:FNRG) and Code Rebel (CDRB) had a less successful step-child it would be named SPYR Inc., and it would eat exclusively at Eat at Joes in the Philadelphia airport.
Brief history of SPYR (formerly Eat at Joes): SPYR Inc. was formed when the company formerly known as Eat at Joes "pivoted" at the end of 2014 from being a restaurant development company with 1 restaurant into a mobile advertising company & app development company with still 1 restaurant. Sound ridiculous? It is!
Last year, SPYR reached a market cap of $100m as they sent out tons of press releases about their new Feb 2015 acquisition of Franklin Networks and their very basic apps Plucky & Pluck Rush. By Dec of 2015 Franklin networks had broken up with SPYR and unwound their acquisition agreement. This is the first time since the dissolution of ThinOps acquisition by Code Rebel (CDRB) that we've ever seen a promotional penny-stock get dumped by their own asset they were promoting. Congrats to Franklin Networks on getting out! Despite 9 press releases about how great Franklin Networks possibilities were in 2015 they issued 0 about the dissolution of the partnership.
Perhaps the founder of Franklin, Mark McGarrity, did some research on his new acquirer's past and wanted no more part of it. That's the only thing that makes sense since he was willing to give back $625,000 of stock to SPYR, but that's a small price compared being investigated by the SEC and being barred from the Securities Industry which some of the backers of Joe Fiore's past deals had occur. More to come later on this within the uncovered the deposition of SEC attorney Alex Rue with John Rivera (former CEO of Sustainable Energy Corp. - another Joe Fiore Company).
The Current barrage of SPYR press releases and stock promoter releases are all about the future of a game Pocket Starships by Spectacle Games. It's actually been the source of over 13 press releases since April and this barrage of promotion has led to over a $25m increase in SPYR's valuation.
Thus we decided to visit the headquarters of Spectacle Games in Sunny California. We wanted to see how "Pocket Starships Could Be SPYR's Ticket to Growing Revenues in a Fast-Growing Digital Games Market" in person. Lo and behold, it doesn't even exist!!!!
We found two listed addresses for Spectacle Games:
Spectacle Games own legal information points you too: 1475 N. Broadway #440; Walnut Creek, CA 94596 United States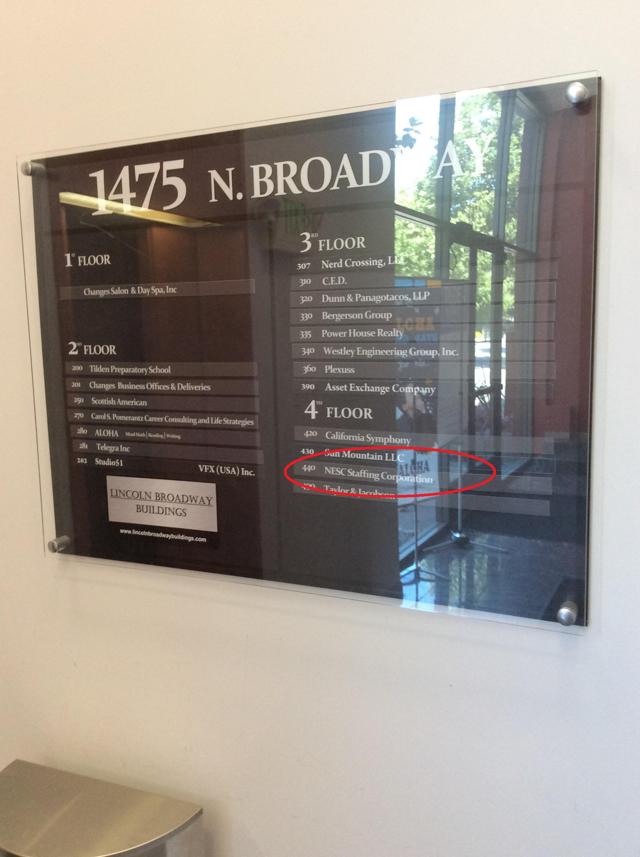 Where is it????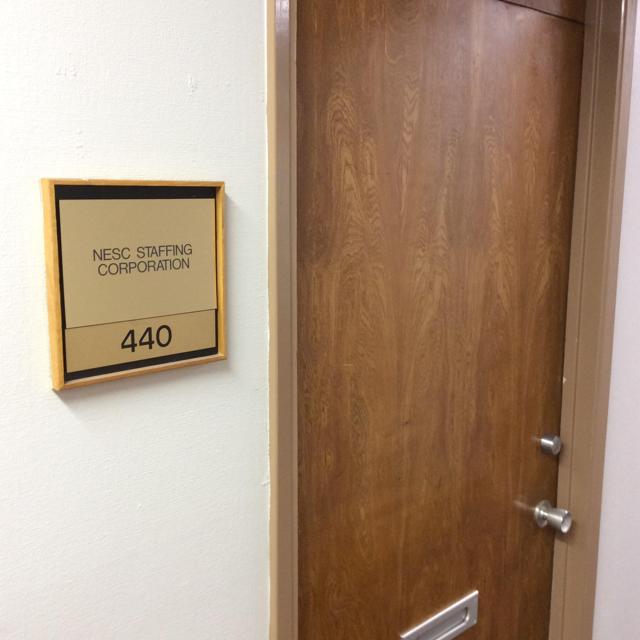 When we contacted the real tenant of 1475 Broadway #440 "NESC Staffing Corp." they had not heard of Spectacle Games. However we also found another address that is registered with the State of California (search Spectacle Games in Corporation) that is 1 block away from the 1475 N Broadway address.
Perhaps this 2 min walk to 1630 N Main Street #104 Walnut Creek, CA 94596 will lead to the next Zynga, Glu Mobile, or Pokemon Go:
Nope, it led us to a UPS store and post box!!!!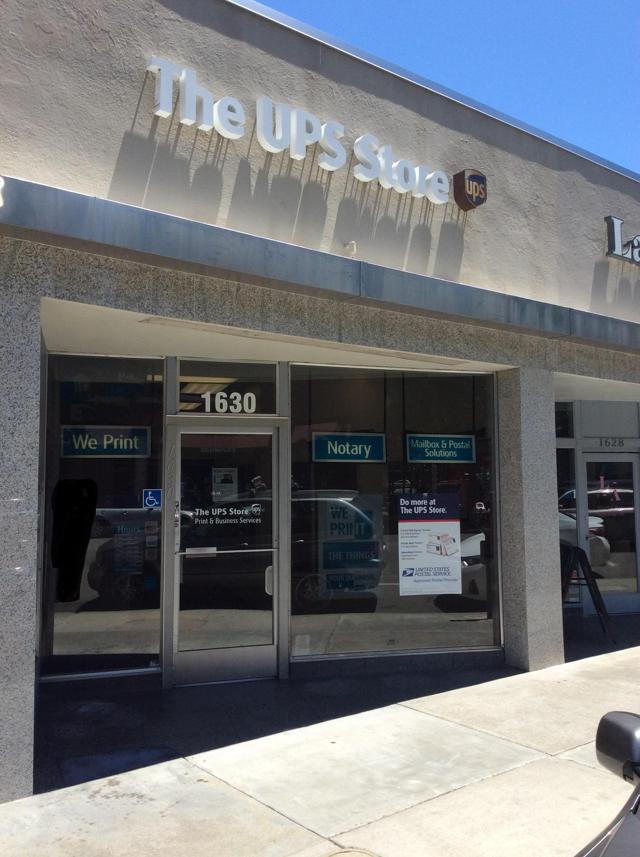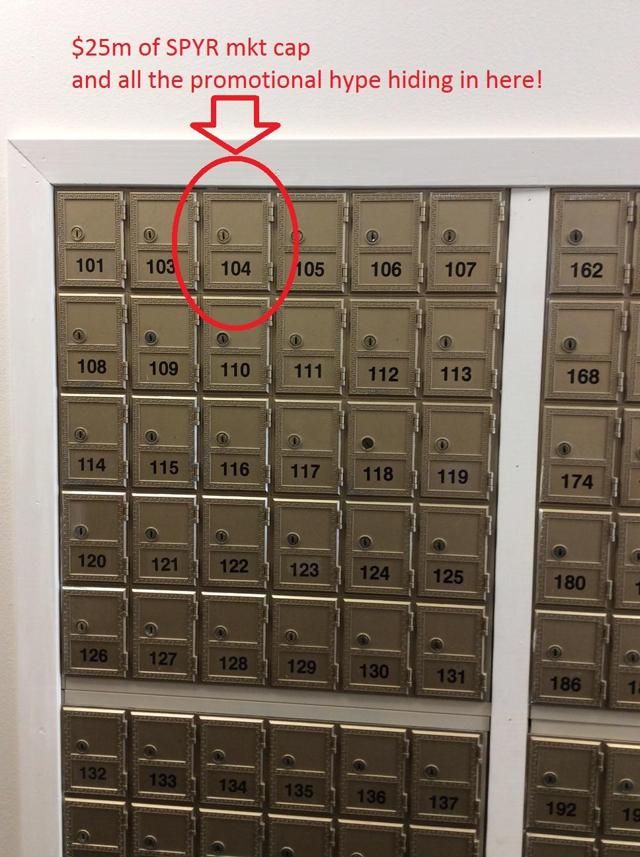 I wonder how many game amazing developers fit inside that tiny box. Surely at least a team of 25, 1 for each million of value creation. Sadly the team consists of just 1 product manager and 1 game designer. Hardly the quality of team that has been promoted in all of SPYR's promotional press releases.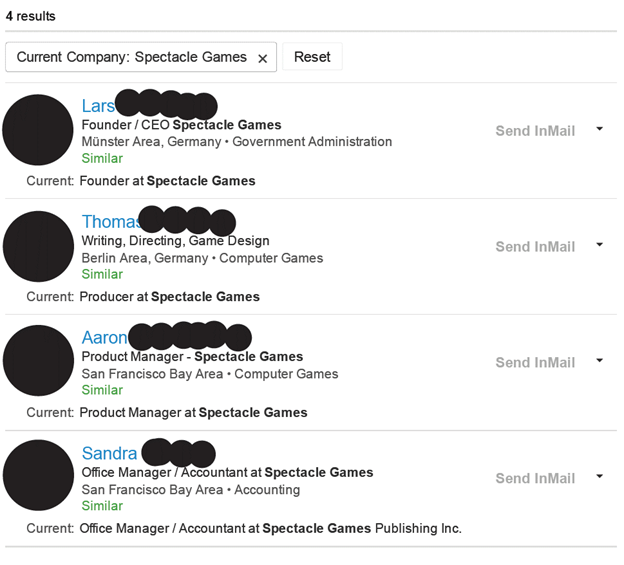 But that doesn't stop the hype machine from being hard at work. Check out SPYR press releases!
For a sanity check we thought we should do a quick comparison between SPYR and Gluu Mobile (GLUU) an actual successful app developer.

An investor could conclude that from the 9.6% short interest that many investors think GLUU is a short, but argument's sake let's say it is fairly valued. One thing is for certain, and that is that they do indeed create successful apps. GLUU has 11 apps on Android's Top Grossing App List versus SPYR's 0 when we last checked.
So here is a valuation comparison of GLUU vs SPYR. It shows that SPYR is worth <$0.01.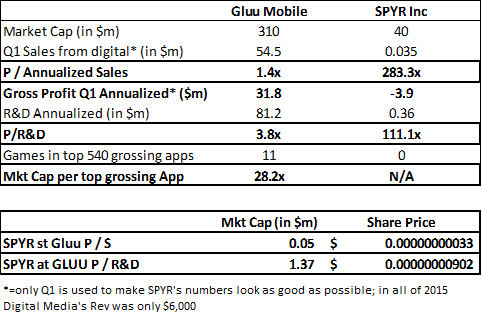 In case you are wondering Net Income, EBITDA, Gross Profit are all worthless metrics for SPYR because they have none of those things and won't in the near future. Also, we excluded the revenue from the 1 Eat at Joe's restaurant because their lease expires in April 2017. That's right, 90% of SPYR's current revenue is gone in 9 months.
Also SPYR seems to have missed sending out the press release that interest in Pocket Starships peaked in June and July of 2015 - 7 months before SPYR had anything to do with them: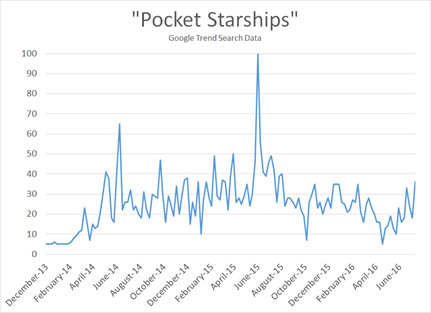 And what is even funnier is all that time that SPYR has been sending out press releases about Pocket Starships it turns out they don't even own the app yet!
So just in case you have any doubt that the above team working out of a UPS box for an app that SPYR doesn't own is worth an additional $25m in mkt cap and the overall SPYR portfolio being valued at $40m then I think we should take a minute to evaluate SPYR's history and some of the people behind it.
SPYR's Long-term history - Joe Fiore and Berkshire Capital:
SPYR has existed as a shell company solely used to promote trends of the times since when it was first formed. When it was first formed in 1988 it was a Halter Venture Corp. Casino now known as Debbie Reynolds Hotel & Casino. They then pivoted into being a mining company from 1988 to 1990. That didn't work. Then it became Eat at Joes in 1997 as a development restaurant company. So far they have developed 1 restaurant in the Philadelphia Airport, and now they claim to be an app development company, despite having never developed a successful app (see Plucky and Plucky Rush) and having even been dumped by Franklin Networks which was the source of their 2015 promotional campaign that ended in a 84% decline in their stock price and Franklin Networks actually taking back their assets as they desired to just get out of the transaction.
So what is it really - Eat at Joe's/SPYR Inc.'s has been used a shell for their major shareholder Joe Fiore and his company Berkshire Capital to execute stock purchase transactions from his other stock "investment/promotional" endeavors.
Take special note of these two names… Joe Fiore & Berkshire Capital - Obviously no relations Warren Buffet, Berkshire Hathaway, or Berkshire Partners. So the plan worked like this... Joe & Berkshire used to "sell" the stock issued to them from other promotes to SPYR/Eat at Joe's and take a credit note for future payment. This then allowed SPYR to freely sell the shares of their promotions onto the open market. This has been SPYR's source of funding and the remaining cash/securities has resulted from them dumping these "investments" of other pump & dumps onto the market.
Historical SPYR Investments:
· 2007 - 7m shares of International Oil & Gas from Berkshire Capital Mgmt in exchange for an unsecured demand note of $805k with a 6% interest rate.
· Jan 2012 - 3.5m shares of Plandai (OTCPK:PLPL) from Berkshire Capital Mgmt in exchange for a demand note in amount of $1.575m with a 6% interest rate
· Feb 2012 - 3.5m shares of Inscor (formerly IOGA now OICT) from Berkshire Capital Mgmt in exchange for an unsecured demand note of $3.675m with a 6% interest rate
· May 14 2013 - 8m shares of Nuvilex (formerly NVLX now PMCB) from Berkshire Capital Mgmt in exchange for an unsecured demand note of $1.42m with a 6% interest rate
· May 21 2013 - 8.23m shares of Nuvilex (now PMCB) directly from Joseph Fiore in exchange for an unsecured demand note of $1.185m with a 6% interest rate
So if you are taking note, Joseph Fiore and his investment fund Berkshire Capital Management have been using SPYR (Eat at Joes) as their own personal public piggy bank to park stock of other promotions at in exchange for debt secured by the company. Since Eat at Joes was a separate public entity they didn't require the same reporting requirements to sell stock in the other entities that Berkshire or Joseph Fiore did, thus getting around public reporting requirements.
Now in case you have any doubt about SPYR (Eat at Joe's) buying terrible companies here is some past research to evaluate and stock charts that shows SPYR's future fate:
PMCB: PharmaCyte Biotech: Smells Like a Pump And Dump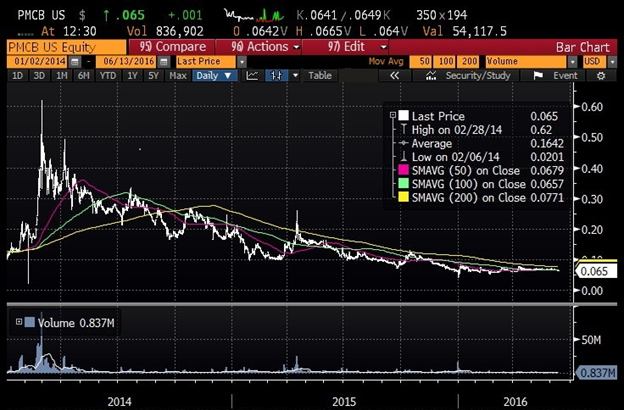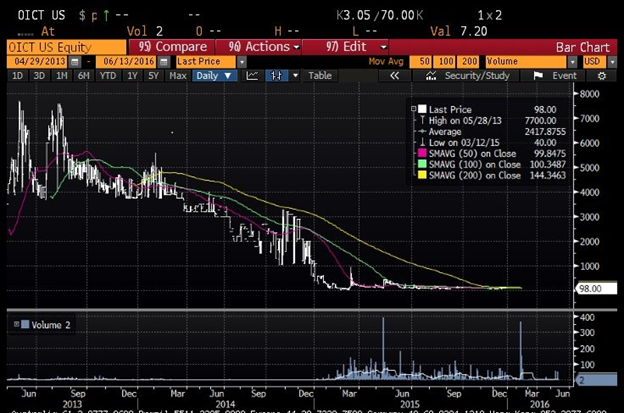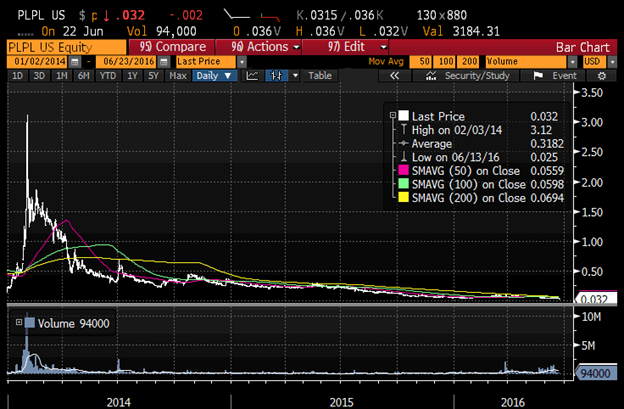 Of course Joe is SPYR's largest shareholders (owning 66% and the chairman of the board) so he is behind SPYR. Once Eat at Joe's became flush with cash from the sales of the other promotions they "pivoted" into an app company & web developer. In reality 99.6% of their 1.6m of 2015 revenue came from the 1 Eat at Joe's Restaurant. But App development company sounds much more exciting in an email.

Joe Fiore & Berkshire Capital Involvement in US Sustainable Energy Disclosed in SEC Deposition!
US Sustainable Energy was a stock promotion that the SEC went after in 2007 and Joe and Berkshire's involvement is highlighted in this damning deposition of the US Sustainable Energy CEO John Rivera by SEC Attorney Alex Rue.
Full text for the deposition is here. We highly suggest you read through all of it to get the full picture of how the US Sustainable Energy stock promotion was executed and so you can fully understand Joe Fiore & Berkshire's involvement. What the below quotes from the deposition highlight are that under oath John Rivera explains in detail how Joe Fiore & Berkshire Capital executed a Pump & Dump scam with US Sustainable Energy and even involved Eat at Joes (now SPYR).
Deposition Highlights from SEC v. U. S. Sustainable Energy Corp. Et Al Doc 102 Filed 15 Oct 12 (Our emphasis added)
Pg 53 & 54
Q - SEC Alex Rue: And my question is: How come, if you know, Berkshire Capital Management Company, Inc. acquired 11,360,000 shares of Sustainable Power Corp.?
A- CEO John Rivera: I don't know how they acquired 11,360,000 shares of Sustainable Power Corp. I do know, okay, how they defrauded Sustainable Power out of 50 to 60 million shares.
Q - SEC: Well, before we get to that, tell me what Berkshire Capital Management Company is?
A- CEO: They're investment bankers supposably. Actually, they are cohorts, partners in crime with Redwood
Consultants and Jens Dalsgaard.
Q - SEC: And Berkshire Capital Management is represented by individuals, I would assume?
A- CEO: Berkshire Cap - oh, people that work for them?
Q - SEC: Yes.
A- CEO: Oh, that's a great assumption, yes, sir.
Q - SEC: And who is the head of Berkshire Capital Management
Company?
A- CEO: Well, Joe Fiore would be a pretty good guess, and I would probably bet my life on it.
Q - SEC: . All right.
A- CEO: . So I guess I'm pretty sure it's Joe Fiore.
Q - SEC: And I understand that there's some affiliation with Berkshire - between Berkshire Capital Management and Eat at Joe's, Ltd.
A- CEO: Eat at Joe's, Ltd., is - gee, Eat at Joe Fiore's would be a better title.
Pg 57
Q - SEC: ... how about the name Offshore Creations? Does that
A - CEO: Bingo.
Q - SEC: - ring a bell?
A- CEO: That is Joe Fiore.
Q - SEC: That one is Joe Fiore, too?
A - CEO: Absolutely, yes.
Q - SEC: And it's the same sort of transaction that you've just
described?
A - CEO: The transaction that I just described was for Laforza, okay, with the Offshore Creations. That was a shell that Joe puportedly could get. I later found out that it was always his.
You know, more of the fraud. And basically the same scenario.
Only this time where Jens got the lion's share of the stock
from Laforza, Joe got the lion's share of the stock.
Joe and Jens got the lion's share of the stock from Offshore Creations.
Pg 59
Q - SEC: Okay. Now, how was this - explain how this transaction was going to
operate to finance the company.
A- CEO: The way I have it understood, the shares going to Berkshire Capital, Eat at Joe's, Diamond Food RanchAmanda Johnson,
James Mylock, okay, were being purchased by Berkshire Capital from SSTP where Alice Price, as a stockholder, facilitated her free-trading shares so that the company could sell these shares to Berkshire to continue its operation.
Pg 62
Q - SEC: My question is: Who is Ronald Sparkman and how did he come to acquire
Sustainable Power Corporation shares?
A- CEO: I have no idea - any knowledge of Ronald Sparkman other than him, according to what I'm seeing here, being one of the Does of Joe Fiore.
Q - SEC: One of the Does, you mean one of the people there associated with Fiore?
A- CEO: Yes, sir. I thought that was the definition of does. But I don't know.
Pg 63
Q - SEC: Who are those people? Who is Marlin Molinaro?
A- CEO: Oh, okay. Marlin Molinaro, we haven't - we haven't discussed him.
Q - SEC: Let's - let's talk about him then. Who is he?
A- CEO. Marlin Molinaro is - Molinaro is an IR specialist who was operating in Las Vegas where he had his own investor relations firm. Jens Dalsgaard made him an apparent very lucrative offer to come work for Redwood. And, yeah, he packed up and went to sunny California and worked for Redwood for a short period of time.
Once Marlin realized what a scam artist and the fraud he was committing on all his clients, he quit, packed up and went back to Las Vegas and went back to work on his own with his own investor relation firm.
Pg 68-9
A- CEO. ...Mr. Barkman was working for Redwood. And when the pump and dump became totally apparent to him, he resigned. And just for the record, Mr. Barkman has come forward to the company and has made it known that when Jens was on the phone pumping the stock, he had him on the other phone selling the stock, or he would have him calling Joe Fiore on the other line saying, hey, I got 3 million shares coming in at this, you know, so that Joe could sell 3 million shares. Hence, every time I put out a press release, the stock would go down.
Pg 79 A- CEO. And for the record, I neither wrote, authored or authorized any press release that did not have at least one, if not two, legal opinions attached to them.
All the press releases were written by Jen Dalsgaard, Joe Fiore, Robert Davis, and some were written by Keith Mazer.
_________________________
The SEC deposition clearly show the type of fraudulent company that Joe Fiore has been involved in the past, It implicates SPYR (Eat at Joe's) as having been a shell used in these past transactions.
As a summary the US Sustainable Energy Promotions scheme involved:
Promotional press releases about technology & assets they didn't have (Same with SPYR)
Hype that is never lived up to (Same with SPYR - see Plucky apps or Franklin networks)
Stock Promoters sending out promotional emails (Same with SPYR)
Joe Fiore & Berkshire Partners (Same with SPYR)
Marlin Molinaro (Current IR for SPYR too)
No Fundamentals supporting valuation (Same with SPYR)
The SEC halting the stock & charging board members or senior management with fraud (is this coming soon to SPYR???)
If you are steaming with questions I suggest you give Marlin a call at the below number listed on SPYR's website.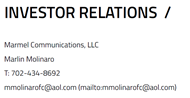 Let's take a quick humor break to point out that this new "tech" company has an IR contact with an AOL.com email address. We always wondered who was still paying AOL for an email address and now we've found one!
Now let's interrupt the humor break to move into a clear conflict of interest:
SPYR's Auditor from before 2013 is now their CFO:
As can be seen in the 2014 10-k SPYR's Former Auditor of financials was Robison, Hill & Co. The president of Robison, Hill & Co was none other than Barry Loveless who is now SPYR's CFO! We would normally shoot a message to the chairman of the board alerting him to how egregious it is to have your former auditor become your CFO, but the Chairman is Joe Fiore so our warning might fall on deaf ears.
SPYR Review of the Recent Stock Promoters:
SPYR has recently received the very prestigious award. Is it for being an upcoming App developer? Is it for their amazing technological platform that sprung out of the fry machine at Eat at Joe's. Nope…it is for being one of the Top 20 Heavily promoted stocks in June of 2016!

And in all the stock promotion emails we have received (and we definitely don't get all of them) they have spent $170,000 (see below chart). That compares to the $90,000 they spent on R&D in Q1-16.
But I guess we can't argue with their choice of how to spend money. The $90k in R&D resulted in $35k of Revenue and a loss of $964k, whereas the $170k of stock promotion boosted their market cap by >$25m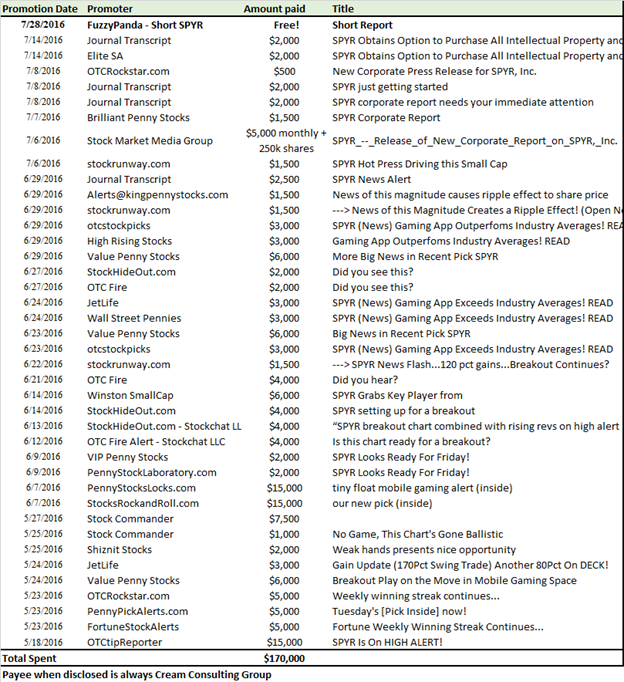 Let's check out some of the advisory language in those promotional emails too. We are highlighting this one from the "Stock Commander" since we thought it was the most hilarious of the bunch. But all of them pretty much say the same thing. (Paid to Promote SPYR by Cream Consulting $X,XXX, and other people are going to use that volume to liquidate stock.)
From the Stock Commander SPYR emails: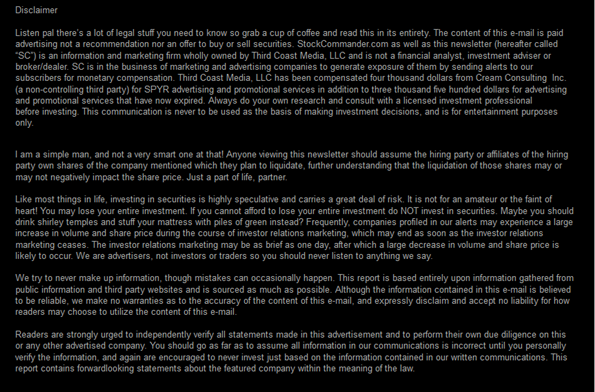 The Stock Commander specifically calls out:
"Anyone viewing this newsletter should assume the hiring party or affiliates of the hiring party own shares of the company mentioned which they plan to liquidate, further understanding that the liquidation of those shares may or may not negatively impact the share price. Just a part of life, partner."
Summary up to now:
At this point we have a company who is connected and was an investor in past stock promotions. They have used the cash from the sales of the other stock promotions to fund their current business which from what we can tell from their R&D vs stock promoter payments is primarily promoting SPYR's stock. We have a CFO that was their auditor. A CEO and Chairman accused of Fraud from within an SEC deposition. A company that will run out of cash in 3 or 4 quarters (based on our est 1.5m quarterly burn) which is also when their restaurant lease is canceled.
What else can there be?
Dumped by the asset they were promoting!
And we haven't even mentioned the "core asset" Franklin Networks that SPYR was flaunting in their numerous press releases in 2015 year. The known stock pumper Konlin Letter pickets SPYR in 2015 as their stock of the year after it's acquisition of Franklin Networks and it's eight online brands.
But at the end of 2015 Franklin Networks, broke up with SPYR so unceremoniously that SPYR didn't even send out a press release. See the 8-k here: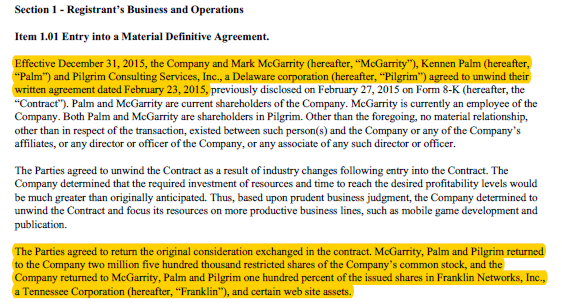 The only rational conclusion that we can come up with is that either the founder of Franklin Network's or the other investors (Palm & Pilgrim) discovered how his websites user numbers had been inflated and just wanted out! They had been paid 2.5m shares so in Dec that stock was still worth over $625,000 and they were just willing to give that up in order to drop their association with SPYR
There is a past article that goes into detail about Franklin Networks.
But we will go through a quick summary for those not familiar.
Franklin Networks had 9 online websites that had very little content and were rarely updated. Despite that SPYR was able to get them to being all ranked in the top 3,000 visited websites briefly.
Check out the content on Flawless.com at the Peak of it's viewship. Note that this is one of their highest content websites
It includes 4 extremely short articles from May
5 articles from April,
3 from March
Now compare that to Perez Hilton a very popular celebrity gossip site with a similar ranking of top ~2,000 globally and top ~1,000 in the USA. From the same day. ~40 articles, photos, and interactive slideshows of original content from just that day.
Perez Hilton's website ranking from Alexa: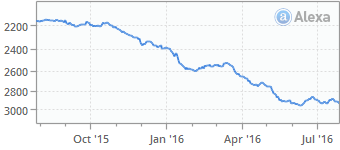 Now Flawless.com Alexa Rankings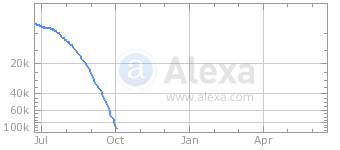 We suggest diligent investors go through all the each of the 9 SPYR media properties via The Wayback Machine and then via Alexa.com you'll see the same pattern:
All 9 websites devoid of updated or relevant content
All somehow getting a top 3,000 ranking that then immediately plummeting to the sub <100,000 despite having the same content.
Current rankings for all the media properties are:
http://www.alexa.com/siteinfo/entree.com (now ranked 8,485,031)
http://www.alexa.com/siteinfo/flawless.com (now 9,931,546)
http://www.alexa.com/siteinfo/crumb.com (now 18,966,567)
http://www.alexa.com/siteinfo/gladiators.com (now 10,961,504)
http://www.alexa.com/siteinfo/nutristic.com (now not ranked) http://www.alexa.com/siteinfo/celebrityhq.com (now 29,121,573)
http://www.alexa.com/siteinfo/parentingpad.com (now 12,876,103)
http://www.alexa.com/siteinfo/grubbr.com (now 23,080,011)
http://www.alexa.com/siteinfo/guiltytravel.com (now 15,843,728)
So how did SPYR get such high rankings and the below traffic numbers for all Franklin Networks?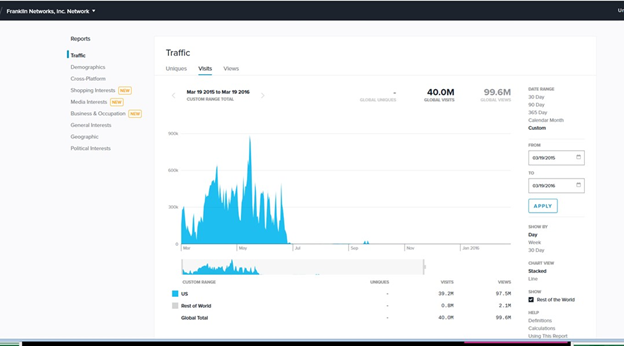 But then manage to very quickly lose all that traffic.
The only explanation that we can come up with for how Franklin Networks went from 12,800,000 visitors in May & June to <30,000 in August and 0 today without actually creating any original content for the websites is......
CLICKFARMS!!!:
HBO does a great job explaining click farms in this pied piper episode:
Or check out this guardian article to explain.
We strongly speculate that this is how they did it? However we are wiling to admit our mistakes if they did it someother way...perhaps an insane amount of paid traffic. But if SPYR has a real explanation of how their traffic rose so quickly and then fell off without using clickfarms then we will be waiting in anticipation for that press release.
We believe the investors in Franklin Networks discovered how their website ranking was being inflated and for that reason were willing to terminate their agreement with SPYR. They gave up $625,000 just to no longer be associated with the company!
The Pattern Continues with SPYR Apps:
We see the same amazing pattern that happened with Franklin Networks with the behavior of the Apps that SPYR develops and then promotes:
They go from lots of downloads and positive reviews when it launched in 1 month to later no longer working and being a "blank screen":
Let's look at Plucky Rush's reviews - these are the most recent reviews on the latest update (1* is bad and 5* great):
Feb 29-2016 = 1* = "Black screen Just a black screen"
Jan 11-2016 = 3* = I think there's a bug in the game because every time I pass a red dot it says that I died but I'm not even touching then and I still die.
Nov 29-2015 = 1* = Come on people! Goddang! So many freaking ads and then it wont even freaking load!
June 24-2015 = 1* = "Why The screen is black every time I go on."
A pretty amazing fall-off for a game that SPYR launched on May 18th:
"SPYR Launches Second Mobile Game, "Plucky Rush," in the Google Play Store"
Then 10 days later:
SPYR's Plucky Rush is Now Ranked among the Top 50 New Free Games in the Google Play Store
Then 20 more days after that: Review "June 24-2015 = 1* = "Why The screen is black every time I go on."
Finally, the only real revenue that SPYR has is going away in 9 months!
In reality all their revenue comes from the restaurant Eat at Joe's. In Q1-16 90% of SPYR's revenue came from this one restaurant! And it's lease is up April 30th, 2017. So goodbye to 90% of SPYR's Revenue. Management has mentioned no intention to extend the lease nor does it appear that the Philadephia Airport has given them the option.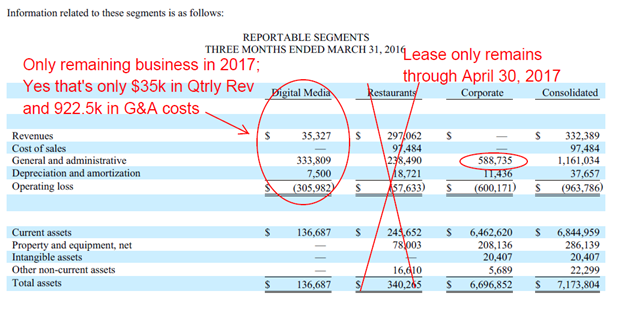 The most optimistic scenario we can come up with SPYR is to value it liquidation value of its cash and marketable securities. Oh and in case you are wondering those marketable securities we believe are shares of PMCB (so see the other articles on PMCB to value those).
Why liquidation value the best method to valuing SPYR?
Restaurant business is going away in <1 year so should be valued on Cash contribution which will likely be negative, so best case is worth 0.
Company will run out of cash before this time next year.
SPYR's own CFO does not think they will make any profits in the near-term.
That's right! The CFO that used to work for their auditor doesn't even think they will be profitable anytime in the future:
We know this because:
SPYR's CFO and auditor don't expect them to make money anytime soon. They wrote off all $1.9m of their deferred tax assets since they don't view them as recoverable (aka they think they will be Unprofitable and will never be able to use the tax assets to offset their income).


Thus the most optimistic valuation we have for SPYR has them worth $0.036 >85% downside from today's price.
So in brief summary we have:
A company actively paying and using stock promoters.
A non-existent headquarters for the acquisition that is the focus of the current stock promotional emails & press releases.
A management team that has been accused of running past stock promotions scams in an SEC investigation.
Cash running out and the only revenue generating business going away.
And a related party willing to give up $625,000 just to dissociate themselves with SPYR!
SPYR Inc., it's back to the French Fryer for you! Strong Sell/Short!
Editor's Note: This article covers one or more microcap stocks. Please be aware of the risks associated with these stocks.