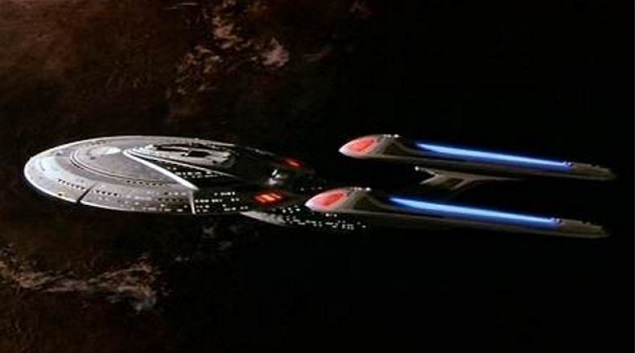 Source: RSI Community Forums
Data center REIT DuPont Fabros Technology (NYSE: DFT) announced another huge quarter of leasing success, primarily driven by the public cloud digital land grab.
Including July results, DuPont Fabros has now exceeded its leasing performance for FY 2015.
The key question investors must now consider regarding DuPont Fabros is how much of this news is already baked into the cake.
Tale Of The Tape - DFT Crushes 1H2016
DFT shares are up over 53% year to date and 68% during the past 12 months. However, July trading was essentially flat - after a nice pop in the shares on Q2 results and guidance.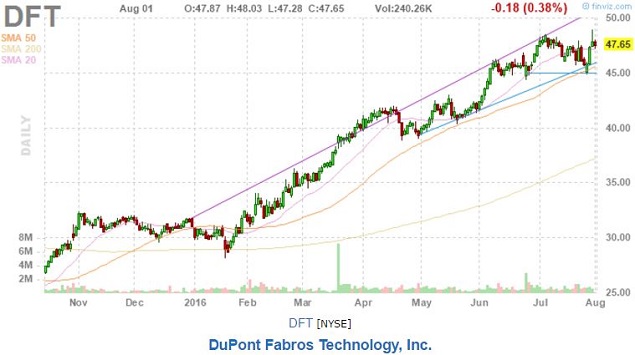 During the past 52 weeks, DuPont Fabros has traded in a range of $23.60-48.97 per share. The $1.88 per share annualized quarterly distribution currently yields 3.93%, which is the highest yield currently available from any data center REIT.
However, since June 30, 2016, the shares have essentially been flat, as investors appear concerned after the huge run that much of the good news is already baked into the shares.
DFT - Solid Q2 2016 Results
DuPont Fabros has become a victim of its own success, as nobody could have anticipated the incredible acceleration in wholesale data center leasing during the past 12 months.
In the past, there was very little pre-leasing in the data center world. The willingness of the Big 4 public cloud service providers to contract for build-to-suits and future space has changed the industry leasing dynamic.
The competition has recently heated up between the large "hyperscale" public cloud services providers Microsoft Azure (NASDAQ:MSFT), Google Cloud Platform (GOOG, GOOGL), and IBM/Softlayer, which are now in a race to grab market share from dominant leader Amazon Web Services (NASDAQ:AMZN). These hyperscale cloud providers are locking down large swaths of lease space, commissioning build-to-suits, and pre-leasing space in future phases of multi-tenant data centers.
This pre-leasing has created a $48 million backlog for DuPont Fabros data center projects which will be built out and delivered during the next few quarters. While it certainly helps to give earnings visibility for the next few quarters, the DFT upside in FFO per share growth is limited.
Silicon Valley Is Full
Last week, I wrote an SA article focused upon the impacts of rapid expansion by the second-largest public cloud player: " Why Data Center REIT Shareholders Should Hug Microsoft's CEO Satya Nadella." DuPont Fabros announced previously that it had leased its remaining 16 MW available at SC1 Phase III to a public cloud customer widely believed to be Microsoft.
Notably, privately-held Vantage Data Centers has previously done a major deal with Microsoft Azure, for 10 MW at its existing Santa Clara campus. Vantage appears to be one of the only wholesale-focused landlords that has large new projects under active development and entitled land with critical load capacity left in that market.
DuPont Fabros currently has nothing new on the drawing board and no more available land in this extremely tight market. In fact, "land" is actually a misnomer. In order to bring a new, larger-scale campus out of the ground in Santa Clara, it is likely that existing buildings would need to be purchased, and then either be repurposed or demolished.
Chicago: Space Is Tight
DuPont Fabros has recently led the way in providing large contiguous data center hall space close to downtown Chicago. The REIT reportedly plans to repurpose a Chicago industrial property into an 18 MW data center facility, located near its successful CH1 and CH2 wholesale data centers. However, in the near term, DuPont Fabros will have limited available inventory.
CyrusOne (NASDAQ:CONE) has recently entered the wholesale market outside of Chicago in a big way with its sale-leaseback of the CME Globex data center. CyrusOne has previously announced its intention to build a second large facility on 15 acres of adjacent land.
QTS Realty Trust (NYSE:QTS) held its grand opening of the first phase of QTS Chicago on July 15, which is built on a 30-acre site formerly occupied by the Chicago Sun Times press facility.
Digital Realty (NYSE:DLR) will also be bringing additional phases on-line in the Chicago market during the next few months.
The DuPont Fabros CH3 facility will likely face more competition than CH1 and CH2, which were perfectly timed to beat these other projects to the market.
Northern Virginia Leads The Way
An incredible amount of leasing demand continues in DFT's largest market, Northern Virginia's "data center alley," located in Ashburn, and the surrounding area. According to the most recent JLL data center report published in July 2016, there was an incredible 78 MW of net absorption during 1H2016, including 55 MW absorbed just during Q2 2016.
Northern Virginia is DuPont Fabros' major market, with over 1.6 million square feet and 156 MW of critical load developed over the years. Unlike the supply-constrained markets around downtown Chicago and the Bay Area/Silicon Valley, there are still land parcels available in Louden County and Prince William County.
However, the land grab is fierce, and DuPont will be competing in a dynamic wholesale market alongside public and private players, including Digital Realty, Equinix (NASDAQ: EQIX), CyrusOne, Sabey Data Centers, Raging Wire, DBT Data Trust, Corporate Office Properties Trust (NYSE:OFC), Iron Mountain (NYSE:IRM), and Infomart (OTC:IFMOF).
According to CEO Chris Eldredge on the recent call:
"The macro environment for our business is strong and strengthening, based largely on two factors. First, the continued evolution to outsource IT, which consists of both the shift from on-premises to collocation, and the shift to public cloud."

"There have been several recent announcements of cloud adoptions that we believe support our strategy. GE is moving the vast majority of their leased and owned data centers into the public cloud. Johnson & Johnson announced in July that it expects to have 85% of its applications running in the public cloud by 2018."

"Microsoft recently reported that nearly 60% of the Fortune 500 companies had at least three of their cloud products."
Unlike its publicly traded peers which are involved with collocation for small deployments, DuPont Fabros is sticking with a purely wholesale data center strategy. This results in a much more concentrated lease portfolio, which currently consists of only 32 logos.
One of the biggest advantages DuPont Fabros has over the competition is the existing relationships it has with some of the biggest players.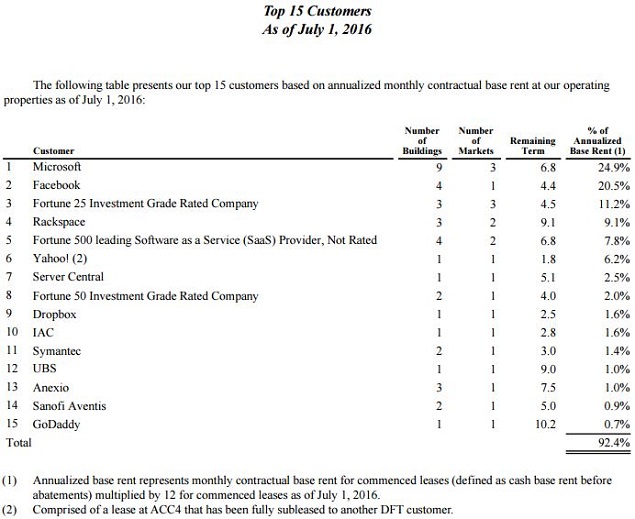 Source: DuPont Fabros - Q2 2016 Earnings/Supplemental (for all slides)
The glass half-full of concentration is that DuPont Fabros has a very high percentage of investment-grade customers. Additionally, the REIT is able to generate sector-leading ~60% EBITDA margins, due to much lower SG&A compared to its peers.
However, more than any other data center REIT, DuPont Fabros depends upon existing customer expansion for the lion's share of its new leasing success.
Overall 99% Occupancy Is "A Happy Problem"
Here are the REIT's Q2 earnings highlights at a glance: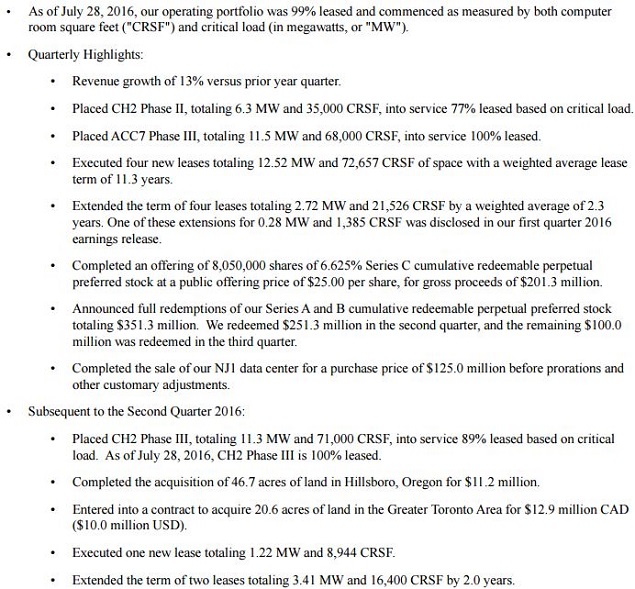 There are no more leases expiring in 2016, and there will only be 4 leases rolling during 2017.
However, investors need to keep an eye on the lease renewals during the following two years, with 2018 and 2019 lease expirations jumping up to 33.5 MW and 56.1 MW, respectively. These leases represent 12.7% of current ABR (annual base rent) in 2018 and 20.7% of ABR in 2019.
Q2 2016 Earnings Call
From the Q2 earnings call, the following are some key takeaways from DuPont Fabros CEO Chris Eldredge.
New Markets Update: DuPont closed on its Hillsboro, Oregon 46.7-acre land purchase. Oregon Phase I is targeted for 12 MW of critical load, with a delivery date of 2H2018.
Additionally, DFT's Toronto land contract is expected to close prior to YE 2016, and Eldredge hopes to have "products available for lease in Q1 2018, if not sooner."
Flexible 4.0 Design: DuPont will be constructing its "4.0" design, which is a faster build and allows for a range of power densities, an attractive combination for the large-scale cloud customers.
Fast-Tracking 2017 Development: 1) DuPont has accelerated the completion date for ACC 9 Phase I to Q2 2017, from Q3 2017 previously; and 2) Delivery of SC1 Phase III has been moved up to July 2017.
Hyperscale Leasing Color: Based upon listening to previous DFT presentations, I believe Google is the company being described by CEO Eldredge in his prepared comments:
"Our sales funnel remains quite robust and includes both new and existing customers. A highlight of our second quarter leasing involved execution of our first full service lease with a significant hyperscale provider at ACC7. This important logo which had not taken any additional states with us since our IPO specifically chose us for the quality of our data centers and the flexibility of our new lease offering.

Two factors that will likely lead to additional business with them. Demand for our products is strong among existing customers and evidenced by our renewal activity. In the second quarter, we renewed four leases totaling 2.72 megawatts for an average of 2.3 years with positive rent growth. GAAP base rent increased by an average of 2.9% and cash base rents increased 3.5%."
During the Q&A, he reiterated:
"We secured our first lease with the hyperscale cloud provider that hadn't done anything with us since our IPO at 2007. They came to us for the quality of our data centers and the flexibility that we've provided."
On previous calls, Google had been mentioned as a tenant which leased a small space around the time of the DuPont Fabros IPO, but had not leased additional space. Google has the least experience with third-party leasing among the top four cloud providers, and can lock in its cost of power through a full service lease. DuPont Fabros is able to price in a cushion for future increases, so this alternative is a win-win.
The CEO also mentioned Amazon Web Services as a prime example of another hyperscale provider following a dual strategy. As of 2015, it was the number one public cloud services provider data center fleet consisting of 78% leased facilities versus just 28% owned properties, according to Eldredge. That was the first time that I recall that statistic being mentioned, and frankly, I was surprised to learn the number of AWS leased facilities was so high relative to owned data centers.
NJ1 Sale To QTS Realty: Eldredge pointed out that the $125 million sale of the Piscataway, NJ, facility and adjacent land parcel was $25 million higher than an appraisal commissioned by DFT.
Notably, the NJ1 property had previously been written down from ~$200,000,000 book value because of the lack of wholesale leasing demand by large-footprint customers in that market.
According to QTS Realty, the facility was bought for just under $7 million per MW, when it would cost $12 million per MW to replace it with a new build today. QTS is investing additional capex in order to market it to smaller wholesale and colocation customers. DuPont Fabros remains the only data center REIT exclusively focused upon wholesale deployments.
Strong ROIC Results: CH2 Phase III has achieved an unlevered GAAP ROI slightly higher than the targeted 12%.The GAAP ROI for ACC7 Phase III is 14%. That compares favorably with the 13% generated by the first two stages of ACC7, and exceeds DuPont's targeted ROI of 12%.
5-Year Plan Funded: According to CFO Jeff Foster, the Investor Day development plan can now be fully funded from a mix of cash on hand, internally generated cash, and the $750 million credit facility, which currently has zero drawn down. This includes:
CH2 Phase IV - a newly created 1.2 MW critical power availability.
ACC7 Phase IV - a total of 8.2 MW, with 49% pre-leased.
ACC9 Phase I - a total of 14.4 MW under development and available for lease, with early occupancy possible for pre-leased space in Q1 2017, balance to be in-service Q2 2017.
SC1 Phase III - 100% pre-leased, with completion anticipated for July 2017.
In addition, there are three projects funded which Foster described as being "on-deck," which are CH3 (reportedly 18 MW built on repurposed industrial facilities near CH1 and CH2), plus OR1 and TOR 1.
Notable Q&A: Eldredge was asked, given the large backlog and existing pre-lease signings, whether this has diminished the pipeline of future deals. His initial answer was "... the pipeline is as strong as it's ever been..." He added, it is "... still early stages of hyperscale cloud leasing, both existing and new customers need capacity."
Investor Takeaway
The cloud service provider land grab continues to be fast and furious. However, DuPont Fabros does not have space available to accommodate much of this "cloudburst" in the short run.
It appears likely that during 2H2016, DFT shares may be trading in a narrower range than peers such as CyrusOne, CoreSite Realty (NYSE: COR), and QTS Realty. In addition to strategic wholesale deals, those three data center REITs pursue a dual strategy of colocation leasing to smaller users.
In a pinch, a few megawatts can go a long way when you can sell cages and cabinets. On the other hand, DuPont Fabros needs to make sure it has large chunks of space available in order to move the needle.
Meanwhile, Equinix, Inc., the global interconnection giant, and investment-grade industry pioneer Digital Realty, are both S&P 500 companies. These REIT blue chips have much larger balance sheets, which gives them more flexibility to engineer M&A deals to augment organic growth.
Given the potential DuPont Fabros upside in 2H2017 and beyond, income-focused investors can simply hold DFT shares and wait for the next leg-up. In a post-Brexit, low interest rate environment, long-term investors are being paid a yield of close to 4% while they wait for additional product to be built.
I relentlessly hunt for diamonds in the rough and rising stars, in addition to closely following data centers, covering REIT blue chips and breaking news. Please consider following me as a Seeking Alpha author if you would like to be notified when my future articles are published.
Disclosure: I/we have no positions in any stocks mentioned, but may initiate a long position in CONE, COR, QTS, DLR over the next 72 hours.
I wrote this article myself, and it expresses my own opinions. I am not receiving compensation for it (other than from Seeking Alpha). I have no business relationship with any company whose stock is mentioned in this article.