Shares of Fitbit (NYSE:FIT) are spiking after-hours following a strong Q2 ER that saw the company top estimates and guide higher. We are bullish on the company's robust unit growth in Q2, and believe the valuation is attractive enough here to position the stock for a nice run. We see parallels with other beaten-up consumer electronics names like GoPro (NASDAQ:GPRO) and Apple (NASDAQ:AAPL), and we think all three of these stocks have considerable upside in the back-half of the year.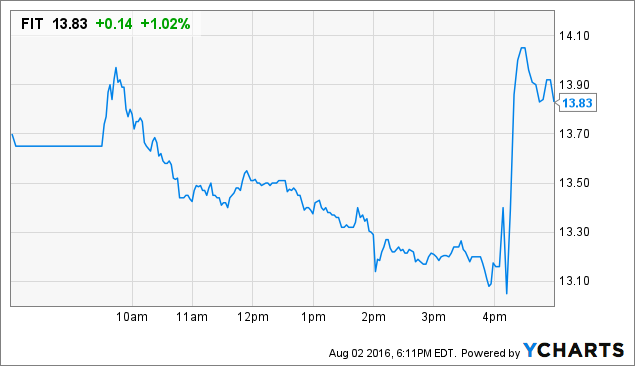 Overall, we were impressed by the quarterly results and believe the stock is cheap enough to warrant a nice run-up. Some of our key takeaways from the quarter include:
Unit growth of 27% or 1.2 million devices was very impressive. That represents an acceleration from Q1 while lapping a tougher comp. Garmin (NASDAQ:GRMN) also reported robust wearable growth this quarter, so the wearable space is clearly a consumer favorite right now and we see this trend continuing into the Holiday season.
New products are growing FIT's market. Not only are the Blaze and Alta selling really well at higher-than-average ASPs, but they are also growing FIT's customer base. According to management, nearly two-thirds of all activations with Blaze and Alta were by new customers. This sort of growth shows us that as long as the company invests strategically in R&D to launch innovative products, the customer base will expand.
Operating costs are rising fast, but the company is spending the right way. R&D and S&M comprise 84% of opex so far this year, with R&D up roughly 3x YoY. We view this as strategic spend, and believe high R&D spend now will result in sustained sales growth in the future.
Our financial model implies significant upside in a near-term window. Given robust unit growth in Q2, we think the company will sell at least 25 million devices this year. Thereafter, we see the company steadily growing unit sales by 2-3 million per year as the wearable market gradually welcomes new buyers.
Strong ASP growth should continue as higher ASP devices are launched and more accessories are bundled. Higher ASPs should flow-through to higher gross margins, and we see GAAP gross margins expanding to just shy of 50% by 2020. Opex will continue to climb higher, albeit at a lesser rate, driven by R&D and S&M ramp. In sum, we think this is a company with low double-digit earnings growth potential over the next 5 years, and think EPS can climb to almost $2 by 2020.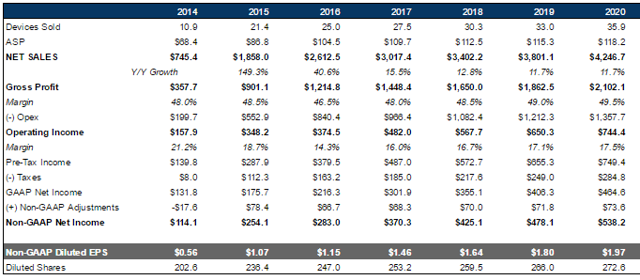 The after-hours quote implies the stock is trading right around 10x forward earnings. This multiple feels rather fair to us, given our belief the company can grow earnings at 13% per year into 2020. We think FIT should trade at a sub-1 PEG given uncertainty surrounding market saturation and competition. Assuming this 10x multiple persists, then that would imply a year-end price target of above $16 (10x our FY18E EPS of $1.64).
That rather conservative price target implies more than 17% upside over the next several months. We think, though, investors will be able to sell at an even higher price than that. Management has promised new products later this year, and believes this holiday season will be the most exciting one yet for the company. New product hype will likely cause an influx of buyers into the stock, spark multiple expansion and give current investors an opportunity to sell much higher. As market sentiment is just starting to turn following the strong quarter, now feels like an opportune time to get in before the product hype cycle.
We think FIT, much like GPRO and AAPL, is gearing up for a strong 2H16. All of these three are beaten-up consumer electronic stocks that, despite being the iconic brand in their respective space (FIT for fitness wearables, GPRO for action cams, and AAPL for smartphones), are trading at heavily discounted valuations. The tide for each, though, has started to turn with strong quarterly reports, and market sentiment seems to have turned cautiously optimistic on all three stocks.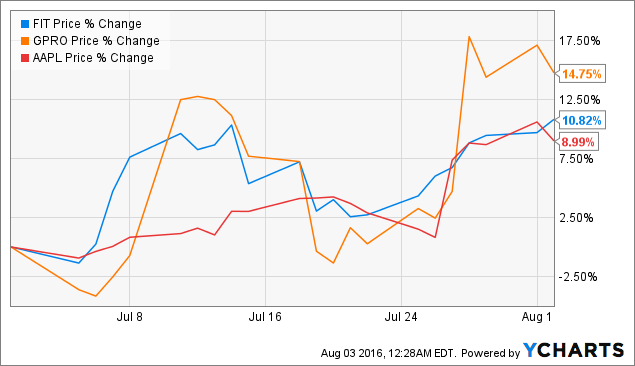 All three also have new products launching later this year, which should create a consumer hype cycle, and shoot the stocks out of discount valuation range. We are long AAPL, GPRO and FIT, and think all three have considerable upside from their current levels.
Disclosure: I am/we are long AAPL, FIT, GPRO.
I wrote this article myself, and it expresses my own opinions. I am not receiving compensation for it (other than from Seeking Alpha). I have no business relationship with any company whose stock is mentioned in this article.