On August 1st Glass Lewis recommended that Hill International (NYSE:HIL) shareholders vote against two of the three directors suggested by activist shareholder Bulldog Investors, LLC. In leaving open the possibility of one "dissident nominee" Glass Lewis noted that one nominee would represent 11% of the board and the appropriateness of that proportion for a shareholder with a 13% stake in the company. Bulldog took a different view of the same report, stating that it rejected the incumbent nominees for the Bulldog proxy card. The recommendation was just the latest in this long-standing activist effort. In late July Hill International issued a letter to shareholders supporting its own slate of directors and track record with Bulldog Investors publishing a response a few days later. Such communications have seasoned roots - last year there was another proxy contest between the two. In August of 2015, Bulldog claimed to have achieved at least a partial victory in achieving corporate governance reforms.
Bulldog has criticized Hill International for using "cherry picked" comparable companies, disconnect between executive pay and performance, and other corporate governance shortcomings. In the Hill International response, it noted that with the addition of the two independent directors it has made progress on minimum director qualifications, executive compensation, and financial performance. It also questions, individually, the qualifications of the Bulldog nominees and the track record of the activist.
Within this contentious atmosphere, I wanted to take an independent look at a few corporate governance trends - including many of the ones addressed by both sides. Due to Bulldog's accusation of Hill International choosing "cherry picked" comparable companies, I only used Quick Comps from CapIQ for the comparison. Of these, I limited my analysis to companies with under $1 billion in market capitalization (Hill International is around $218 million). Note that many of these peers are broader in their consulting practices than Hill's construction focus and all are larger in market capitalization. These peers are Resources Connection (NASDAQ:RECN), CBIZ (NYSE:CBZ), TRC Companies (NYSE:TRR), Navigant Consulting (NYSE:NCI), and ICF International (NASDAQ:ICFI).
For the comparison I used the peer set and our free real-time monitoring platform. The trends hosted on our platform help investors decide how well executive and shareholder interests are aligned. Also, the Board Skills Matrix, our new feature, helps to signal board proficiencies and how those skills align with company strategy.
Total Shareholder Return
Before jumping into governance, I like to take a look at total shareholder return between the company and the peer set. Of course, returns, or more specifically lack thereof, usually inspire and boost activist successes. At close on August 1st, Hill International was approaching negative 21% while the peer set median was nearly 63% since the beginning of 2012. Below, I broke out the peer set returns by individual company.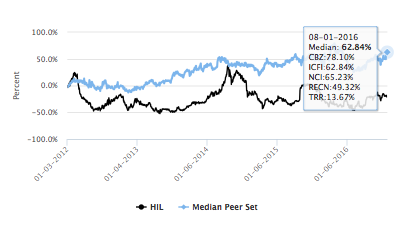 Exhibit 1: Total Shareholder Return
Source: Enlight Research
Note: Assumes dividend reinvestment
CEO Compensation
Below is Hill's CEO compensation before the changes driven by the last proxy contest. The changes are listed in the letter referenced at the top of the article. For this issue, Bulldog seems to have had reasonable grounds at the time - we rarely see CEO compensation so lacking in long-term incentives. The peer set generally used long-term incentives as a much greater proportion of their compensation packages. The peer set over the last couple of years has consistently garnered 95% and up in shareholder approval of executive compensation through Say-on-Pay.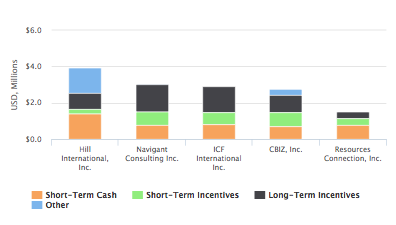 Exhibit 2: CEO Compensation
Source: Enlight Research, LLC
Of course CEO compensation tied to incentives is only a positive for shareholders if it is related to appropriate targets. A board can set a substantial incentive structure but negate it with easy to reach targets or limited downside.
Director Compensation
Again, Hill lacked when it came to compensation on our platform, this time for directors. It relied almost entirely on director fees with a low proportion of the structure focused on long-term incentives. This was in stark contrast to the peer set's compensation structures. Fortunately for shareholders, this is mitigated by other circumstances detailed below.

Exhibit 3: Director Compensation
Source: Enlight Research, LLC
Hill's directors own a much higher proportion of its stock than the peer set with over 17%. Even with the smallest market capitalization, this is well above the peer set even in absolute value at nearly $38 million. Soon, we will roll out a trend analysis of these holdings to show how director common stock holdings are changing over time, rather than where they sit at a specific point in time. This will give investors a perspective of shifting director confidence in company strategy and future returns. I like to see the high director investment in the company and it helps soften my concerns about the compensation structure. The ownership also gives the directors a substantial voting stake even larger than the Bulldog position.

Exhibit 4: Board Common Stock Ownership (Percentage)
Source: Enlight Research, LLC
Here is the board stock ownership in absolute terms - where Hill still leads despite its smaller market capitalization than any other company from the peer set.

Exhibit 5: Board Common Stock Ownership (Absolute)
Source: Enlight Research, LLC
Director Tenure
Hill particularly stands out among the peer set in director tenure range. Directors for the company have served from less than a year to over 40 years with a median of 7.6 years. The range far exceeds the peer set but the median is actually on the lower end of the peer set, largely probably due to the refreshment of the board through the recent independent director additions. Retaining institutional knowledge through a wider range of tenures can certainly be a positive when combined with some fresh, relevant perspectives and skills on the board. I feel that this kind of board refreshment is key in a shifting marketplace, as acquisitions, consumer trends, and other developments potentially change the strategy and scope of a company tremendously.

Exhibit 6: Board Tenure
Source: Enlight Research, LLC
Board Diversity

Exhibit 7: Board Diversity
Source: Enlight Research, LLC
Hill has a particular lack of board gender diversity among the industry. Currently it has 1 female director of 9 total directors, accounting for 11% of the board. Women, according to the 20% by 2020 mid-2016 study, accounted for 17.9% of directors in the Fortune 1000. The goal of the 20% by 2020 campaign is to reach 20% women representation on the boards of the Fortune 1000. No other company in the peer set is below this 20% threshold. SEC Chair Mary Jo White recently reinforced her increasing focus on board diversity saying -
"Diversity on boards, and in organizations more generally, is very important to me and I have not shied away from expressing my strong views on the topic. As a former member of a public company board and its audit committee, I have seen first-hand what the research is telling us-boards with diverse members function better and are correlated with better company performance. This is precisely why investors have - and should have - an interest in diversity disclosure about board members and nominees."
Regardless of mixed performance or fairness arguments related to board diversity, shareholders at companies beyond potential thresholds are in more stable position should institutional investors, proxy advisors or regulators exert pressure to meet board diversity thresholds. Speaking of such pressures, here is a quick rundown of the increasing efforts from major stakeholders to push board diversity.
Board Skills Matrix
Our newest offering, now rolled out on our platform, is the Executive ID feature. Executive ID allows you and us to take a deeper dive into learning about the individuals that make up corporate boards of directors. Although activist and institutional investors have had the benefit of increasing their face-to-face interactions with corporate directors, it is extremely challenging as a retail investor to really analyze the directors who represent us in the boardroom. To mitigate this asymmetry, the feature includes board biographies, the Board Skills Matrix, and board equity positions. It is very rare for a company to disclose such a matrix - and when they do disclose it, it is often in response to an activist slate of nominees. With it, investors can determine if the board is staying relevant with the skills and experiences needed in a shifting competitive space. Below is the Board Skills Matrix for the peer set.
Hill International is at or above median for most of the skills on the matrix based on the experiences and qualifications from their board biographies. Notably, it is last in Strategy and Financial expertise while first in International, Human Resources, and Legal expertise.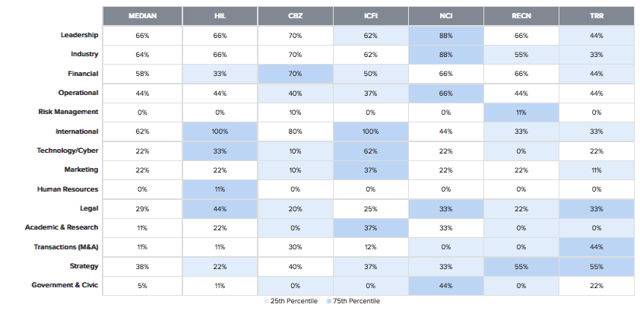 Exhibit 7: Board Skills Matrix
Source: Enlight Research, LLC
What Does This Mean?
With the upcoming proxy vote and corresponding appeals to shareholders, it is useful to get an independent look at the Hill International board. The Board Skills Matrix and other analytics features of our platform allow investors to easily find this aggregated information all in one place. With it, investors can keep an eye on how executive incentives and actions, such as company equity ownership, align with shareholder's best interests. Additionally, knowing where the board stands in terms of a skills matrix can help frame the qualifications behind important strategic decisions and potential problem areas.
Interested in seeing similar metrics done with another company and peer set? Drop us a comment, send us a private message, or check out our profile to access our free real-time monitoring platform.
Disclosure: I/we have no positions in any stocks mentioned, and no plans to initiate any positions within the next 72 hours.
I wrote this article myself, and it expresses my own opinions. I am not receiving compensation for it (other than from Seeking Alpha). I have no business relationship with any company whose stock is mentioned in this article.