The U.S. manufacturing industry continues to grow - the PMIs by ISM and Markit report reasonable expansion. After a weak first half of the year, the economy seems to get back on track. The ISM Manufacturing PMI is slightly down by 0.6 points in July at 52.6 and expanded for the fifth consecutive month. The Markit Manufacturing PMI rises to 52.9 in July and is in line with the ISM PMI - after a lot of divergence in the past few months.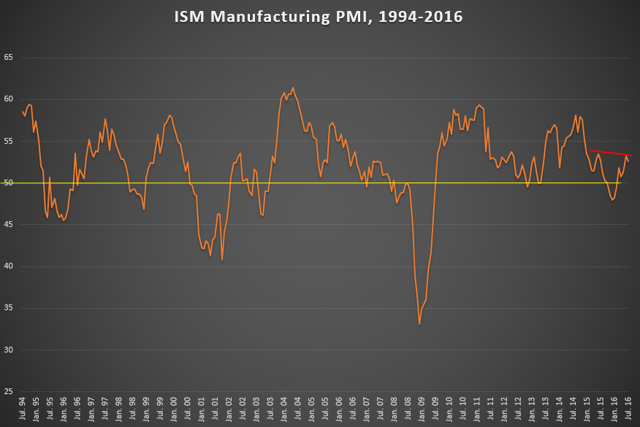 Despite a stronger dollar in July, data signaled a sustained rebound in production volumes across the manufacturing sector. However, U.S. manufacturing output still looks weak. Chris Williamson, Chief Economist at Markit said on the PMI: "Having signaled the sector's worst performance for over six years in the second quarter, contributing to a sluggishness in the economy that was later seen in the soft GDP numbers, the improvement in July suggests that manufacturers and exporters will have helped lift the economy at the start of the third quarter."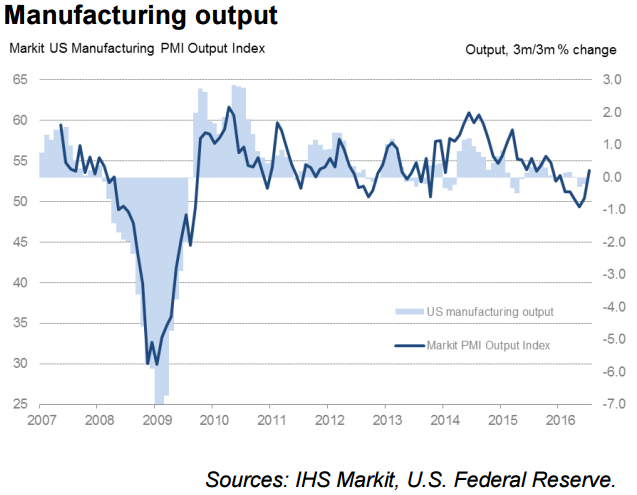 I had expected the appreciation of the dollar (UUP) since May would have had a negative impact on exports and drag down new orders much more. As the dollar is still in an uptrend, I remain cautious on the expansion of the manufacturing industry. With recent indications from the fed mentioning a rate hike this year, the dollar finds further support. In addition to that, I was wondering about the underperformance of the DJ Transportation Index (see XTN) versus the DJ Utilities Index (see XLU) signaling investor's worries about the strength of the economy (see the chart below).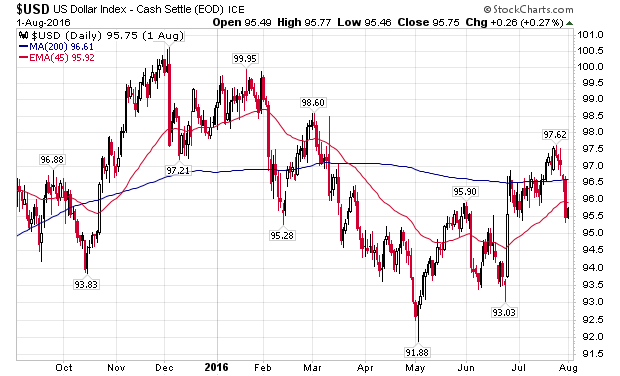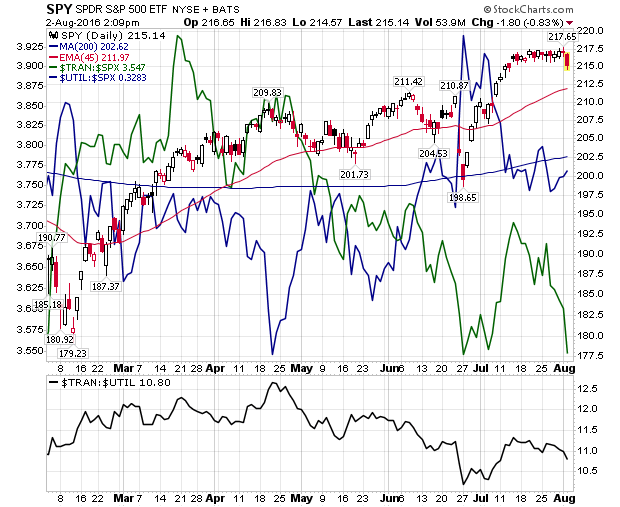 Disclosure: I/we have no positions in any stocks mentioned, and no plans to initiate any positions within the next 72 hours.
I wrote this article myself, and it expresses my own opinions. I am not receiving compensation for it (other than from Seeking Alpha). I have no business relationship with any company whose stock is mentioned in this article.