SodaStream (NASDAQ:SODA) reported strong Q2 results today for FY2016: $119.2 million revenue compared to $99.8 million in the same quarter last year, and net income of $0.37 per share, which beat even the high estimate of $0.36 by a penny. On average, analysts' EPS expectations were $0.19.
Q2'15 net income was $3.5 million which means Q2'16's EPS of $0.37 is 120.8% higher than last year, but it is not an important comparison to make in my opinion. What matters the most is that the company is indeed profitable, and that revenue has increased despite some very dark clouds in 2015.
Keurig & Coca-Cola vs SodaStream: The 10-Month Siege
I had real doubts about SodaStream's survivability in 2015 when Keurig Green Mountain launched the Keurig Kold. Keurig's partnership with Coca-Cola (NYSE:KO) meant that their carbonation machine had the ability to make official Coca-Cola flavors such as Coca-Cola Classic and Sprite. This was a serious threat to SodaStream, whose customers had been sold on the convenience of making soda from home, yet could not make brand name sodas, and instead could only create sodas using SodaStream's proprietary flavors and mixes.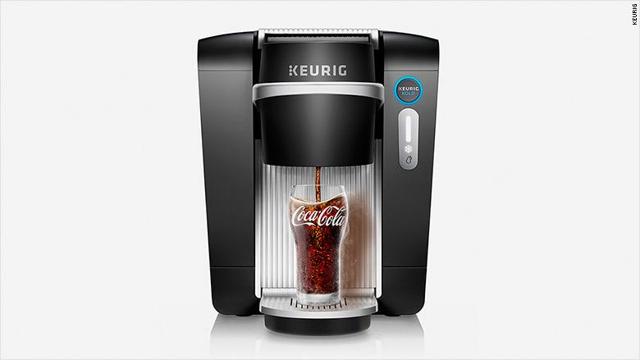 Keurig Kold's price point proved to be its downfall. It was simply priced way too high: $370, or 4.6x more expensive than SodaStream's $80 machine. As of June 7, 2016, the company has discontinued Keurig Kold and is offering refunds to customers-just 10 months since releasing the product. It is an absolute disaster in my book, although the company stated that it might try again in the future. For now, it seems that there is simply not enough demand for having a soda machine at home, and not even the prospect of decreasing one's environmental impact by using less plastic bottles or the idea of not having to bring home soda bottles from the grocery store is compelling enough for consumers to buy soda machines at large.
SodaStream: From Soda to Water
The weekly chart below shows the multi-year resistance levels established in late-2014 and 2015 that SODA was approaching prior to earnings, and how the stock price reacted as SodaStream pivoted from a soda maker to a sparkling water maker.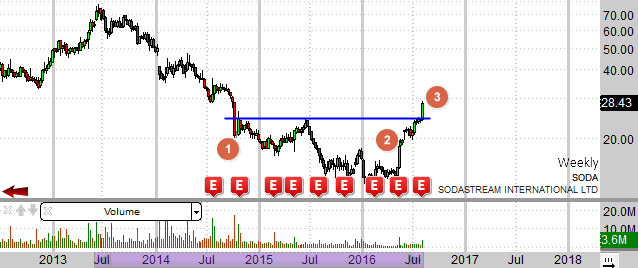 1. The stock price decline in SODA that occurred on the week of 10/06/14 was due to preliminary earnings results released on October 7, 2014 in which CEO Daniel Birnbaum stated that there was a low demand for the company's soda makers and flavors. "We are very disappointed in our recent performance," Birnbaum stated, and that the 3rd quarter results are "a clear indication that we must alter our course…towards health and wellness."
2. Fast forward to May 10, 2016, the recalibration of SODA's marketing message from that of a Soda maker to a sparkling water maker led to a 10% increase in revenues from the same period in 2015, mostly in Europe, Africa, and Middle East. Sales were relatively flat in the U.S. (only 1% growth), and sales decreased in Asia. Since then, the stock has traded higher.
3. With this Q2 earnings report, SodaStream has proved that its healthier marketing message is indeed tangibly working and that its business is back on track. SODA has also officially broken a multi-year resistance point established in late 2014 and 2015, which was located at the $24.50 range. Despite a weak broad market, SODA has held gains and is trading at $28.70 compared to yesterday's $24.28 close.
The daily chart below shows a closer look at the multi-year resistance line in blue, and SODA trading well above it at $28.87 on August 2, 2016 around 1:45 PM.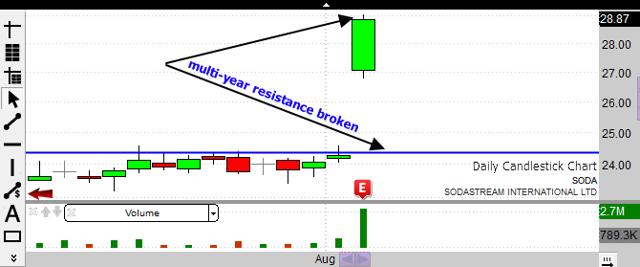 Moving forward, if this level of profitability can be maintained and expanded upon, it is not inconceivable for SODA to warrant a price of $38.48 per share in the near-term based on ($1.48 EPS annual x 26 current multiple.)
However, there are a lot of uncertainties in respects to the demand of home-carbonation, as well as the market for SODA shares, that makes this company challenging to price accurately.
According to management, the company's main focus is growing in the United States, which currently represents 17% of sales. On that front, things appear to be going well: water maker unit sales increased 42% and flavors increased 28%.
However, gas refills declined by 2.7% which implies that there might be some churn and that perhaps some customers are opting not to use their machines after some time. It will be an interesting metric of note to look at for the next quarter.
It's still uncertain how deep demand is, as the company's marketing shift to sparkling water is relatively new. Only time will tell whether at-home carbonation makers are here to stay and will continue to be adopted by the consumer, or if it proves to be a niche product.
For now, the company is smooth sailing with Keurig Kold out of the picture and a successful advertising campaign that began in May, which highlighted the statistic that consumers with SodaStream at their home drank 43% more water per day. The ad was well-received and helped boost sales from double-digit declines earlier in the year to positive growth in the weeks following the ad launch.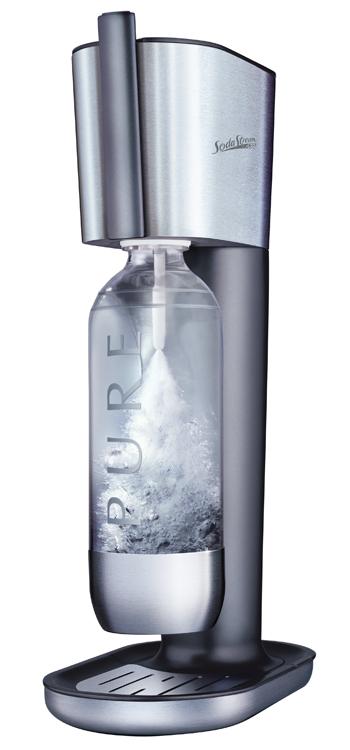 With the management doing a stellar job in pivoting from sodas to sparkling water, increasing revenues, and keeping the company profitable, I would say that there is more upside for shares in the short-term, barring a broad market correction.
SodaStream Company Information
SodaStream, based in Israel, produces and sells carbonation machines. The business model is simple: produce the machines and distribute them to retailers. Once the customer has a machine, they must continually purchase carbonators, which creates the bubbles in sodas and sparkling waters. They may also purchase "sparkling drink mixes" which add flavor (and even alcohol-at least in Germany and Switzerland-via the "Blondie" beer mix) to drinks.
SODA originally positioned their marketing strategy behind the convenience of making soda from home and not carrying bottles home every week from the grocery store, and decreasing environmental footprint by using less bottles. According to the company, SodaStream users save an average of 550 plastic bottles per year.
But after demand for SODA's products did not match expectations, management re-positioned themselves as a sparkling water company, which has been successful so far.
Disclosure: I am/we are long SODA.
I wrote this article myself, and it expresses my own opinions. I am not receiving compensation for it (other than from Seeking Alpha). I have no business relationship with any company whose stock is mentioned in this article.