It wasn't long ago that I wrote a bearish piece focused on Exxon Mobil (NYSE:XOM) and as you can probably tell by the title of this one, my tune hasn't changed. XOM recently reported Q2 earnings, which, in my opinion, painted an ugly picture for the stock moving forward. But, this piece isn't going to be focused on the business operations, or even the company's fundamentals, which worry me. I've harped on all of this before and if the recent quarterly results haven't caught your attention, I don't think it's going to matter much what I have to say. What I want to focus specifically on in this piece is the sustainability of the dividend. I fear that what many believe to be the unthinkable is very possible, if not likely: an Exxon Mobil dividend cut.
As a dividend growth investor one of my primary concerns as a portfolio manager is a reliably increasing dividend. For this to happen the companies that I own must do several things, namely, grow sales and earnings year in and year out which enables them to increase their cash payments to shareholders without putting excess pressure on the balance sheet. For years and years XOM did this for investors, which is why the company now boasts a 34 year streak of increasing the annual dividend. This is impressive and puts the company into the upper echelon of dividend growth companies, though I worry that it's also given investors a false sense of security.
I fear that many income oriented investors have become entirely too complacent when it comes to big oil companies in the current commodity environment, XOM specifically. I've heard it again and again when I talk negatively about XOM; it seems that most retail investors, especially those who've been at it for awhile now, having reaped the rewards that XOM has offered investors in the past, think that the high and mighty XOM would NEVER cut its dividend. But, investors need to realize that XOM shares are intrinsically the same as all other equities, meaning that they come with risks and absolutely nothing is guaranteed. Complacency is not a prudent path, regardless of the past.
I say all of this, a little bit facetiously, because I worry that there are many retail investors who are piling into names like XOM right now because of their high yields because they need the income and are having a hard time finding it elsewhere. Although none of us would like to see a company that we hold cut its dividend, retirees, or those nearing retirement, can hardly afford the negative price action that would be associated with a cut coming from an aristocrat like XOM (forgive me for speculation, but I imagine that if XOM were to slash its payment the stock would sell off drastically due to the market's reliance on yield when it comes to a company like this). Someone younger may be able to ride out this storm as the company restructures itself in an attempt to find renewed profitability in the current reality where oil prices are hovering around $45 rather than $100/barrel. But, for someone who needs to hit a certain yield threshold in the present, the capital hit would likely be permanent as portfolio rebalancing involving a sale of XOM stock would be required.
I get it, all of this is hypothetical. But, I think its important for XOM shareholders, especially those who are living off of the income that their portfolio generations, to ask themselves this: am I prepared to lose a percentage of the income that XOM offers and deal with the potential repercussions of a sell-off in the equity should the dividend be cut. Obviously this theoretical situation is all about risk/reward and your confidence in the direction that the price of a barrel of oil is heading. Based on what I see with regard to supply and demand in the industry, I think its going to stay down here around $45 for awhile, with a near/medium term top around $60. I know others disagree, and that's fine. That's what makes a market. And, much of this thought is speculative, which we should all try to avoid.
However, what isn't speculative is the nasty realty that XOM faces in the present. Oil is selling for prices where the company is having a hard time finding profitability like it once did. This is why were saw earnings fall 59% y/y for Q2, from $4.2b a year ago to $1.7b today. This $1.7b figure represents an EPS of $0.41/share after dilution. Across much of the board XOM posted negative y/y comps with regard to its different business segments, proving that not even the high and mighty Exxon Mobil is immune to crashing commodity prices.
Cash flows from operations during the quarter came in at $5.5b. Some might say, this is great while thinking that even at the bottom of the commodity cycle, XOM is able to turn a profit. Well, that is all fine and good, except for when you factor in the quarterly dividend payment, that totaled $3.1b, or $0.75/share (significantly higher than Q2's reported EPS). Making matters worse, the company spent $5.2b on capex in the quarter, which, while down 58% y/y, is still a cost that the company is not able to bear with its current cash flows when combined with the dividend payment.
What we come to during Q2 is the fact that XOM made $5.5b, but spent $8.3b. This $2.8b deficit has to be replaced somewhere. Cutting the $3.1b dividend would cover the excess cost, though management is steadfast in their desire not to do this. This means that the company either has to sell off assets (potentially hampering future growth to make ends meet in the present) or take on debt to cover the dividend that cash flows can't, which to me, is a negative sign for shareholders as this practice cannot be relied upon for long periods of time, even with such low rates, before that debt begins to dominate the balance sheet, putting the company in peril.
XOM's rising debt load is probably the biggest issue that I have with the company. At the end of Q2, the company had $44.5b of debt on the balance sheet. Just one year ago, this total was $33.8b. The year before that it was $21.8b. Obviously, doubling the debt load in any two year period, regardless of where rates lie, is a potential problem. Especially when the returns on these issuances seem limited due to the fact that much of this money appear to be headed out to the door to shareholders, rather than investing in the future of this company.
And, to highlight the sustainability issues that I see with XOM's dividend, I'll paint this same picture using 6 month data for 2016, showing that the problems that this company faces weren't isolated to Q2. For the first 6 months of 2016, XOM has produced earnings of $3.5b, or $0.84/share, which were down 62% y/y. Cash flows during the first half of the year thus far total $10.5b. Capex during the same period was $10.3b (a 36% y/y reduction). Dividend payments to shareholders have totaled $6.2b thus far for 2016, meaning that once again, we come to a sizeable deficit ($6b) with regard to the company's spending vs its cash flows.
Here is an image that management included in the Q2 report. I think it shows very clearly that this company is facing major issues and that investors should beware.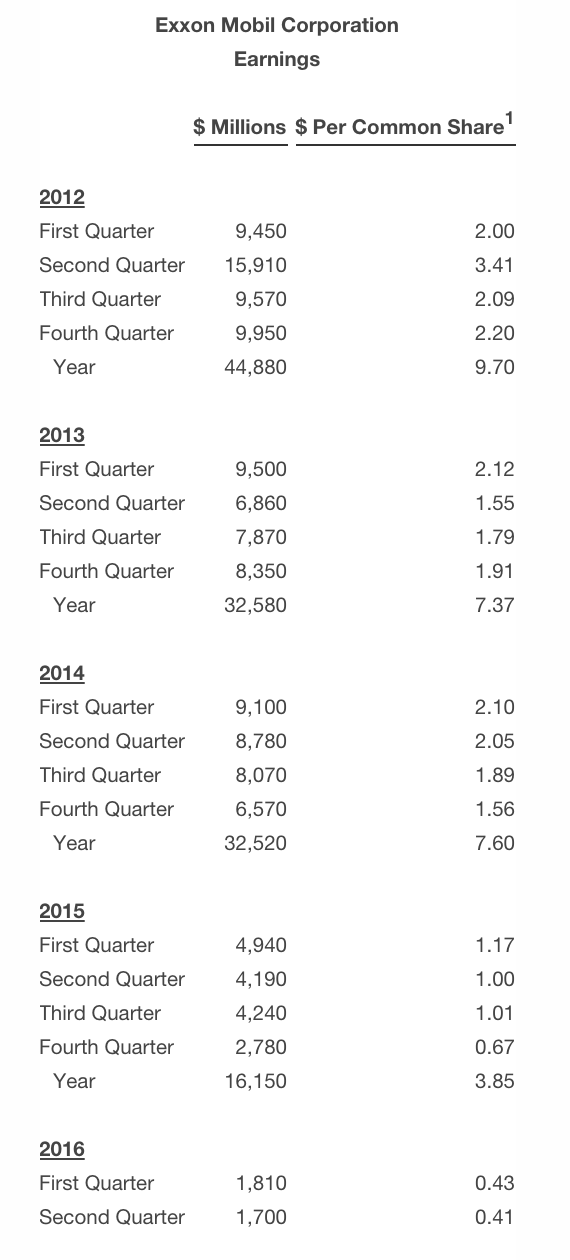 Source: XOM Q2 Earnings Slides
In the Q2 report management highlighted the fact that they plan to continue to repurchase shares on a quarterly basis to off-set the dilution that comes along with benefit plans and programs. Although I appreciate this willingness to spend money to maintain the current outstanding share count and not dilute current shareholders' value, this cost is just another burden that the company is forced to bear. Management also said that it doesn't plan on spending any money to further reduce the share count, which seems prudent due to the cash flow situation. Though, prudence aside, I think investors should take this into consideration when contemplating adding XOM to their portfolios, or even owning the stock at all, as there are other, non cash strapped companies out there right now who are able to pay a sustainable dividend with similar yields to XOM's while dedicating funds towards a buyback, retiring shares which adds value to the remaining shares through basic scarcity forces (a recent purchase of mine: Cisco (NASDAQ:CSCO) seems to fit that bill, in case you were wondering).
So, in conclusion, this is what income oriented investors face when looking at Exxon Mobil: a company, that is not able to return cash to shareholders in the form of share buybacks, whose dividend currently exceeds the quarterly EPS figures and whose cash flows do not cover the combined costs of capex and dividend payments. For this reality to change, the company either needs to cut the dividend, or capex, or both, or the price of oil needs to rise. I know that many of you out there believe the latter option is very likely and that this painful time for XOM will be short lived. However, I believe that having that stance requires a good bit of speculation in the face of what seems to be a supply and demand picture pointing to the contrary, in the present time at least, and I for one, am not willing to put the income stream of my portfolio in jeopardy because of a willingness to speculate on the price movement of a volatile commodity.
Disclosure: I am/we are long CSCO.
I wrote this article myself, and it expresses my own opinions. I am not receiving compensation for it (other than from Seeking Alpha). I have no business relationship with any company whose stock is mentioned in this article.