Is GameStop (NYSE:GME) really that doomed? Shares have cratered by 36% from this time last year, leaving a fat dividend yield near the 5% mark in its wake. That's one of the silver-linings for potential new investors. At less than 8 times earnings, shares aren't exactly priced for perfection either.
Breaking down return on equity
Quickly glancing over GameStop's ten year financials on Morningstar left me curious for more. Margins, return on invested capital, and return on equity are all higher over the last decade.
I decided to single out ROE, analyzing what's going on recently in more detail with the below Dupont. All numbers came from the firm's financial statements found in its annual reports over the last three years.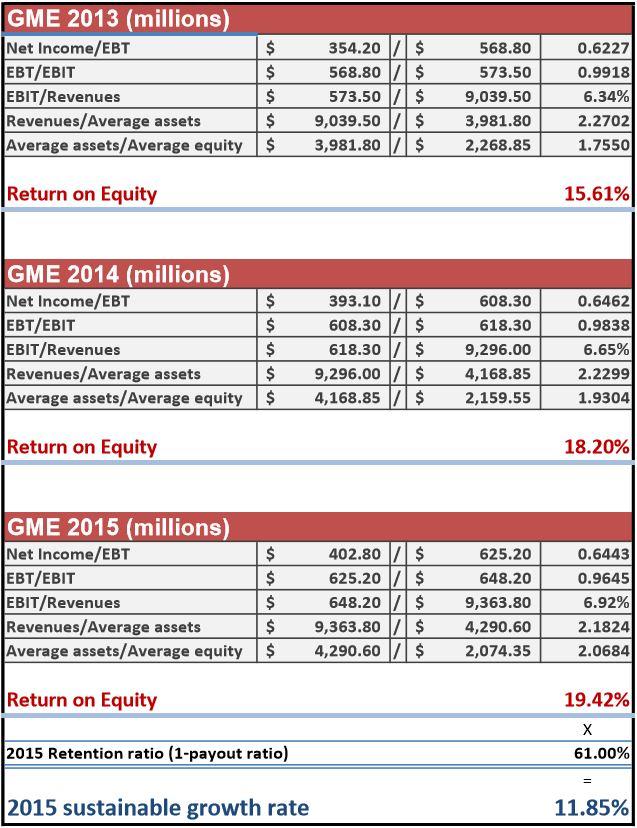 It appears that return on equity has marched higher largely due to margin expansion. A high tax burden is offset by a relatively low interest burden. Despite a declining asset turnover ratio, GameStop has upped the leverage, which in turn has magnified ROE.
GameStop's asset base has outgrown its revenues, explaining the weakening asset turnover. Over the last three years, current assets have been relatively stable, so most of the asset expansion has come from noncurrent assets, and I think a large part of this is related to the 12.45% pop in goodwill and intangibles over the last three years.
The company is also able to maintain a double-digit sustainable growth rate (or the amount it could grow without external funding), largely due to its high ROE and low payout ratio. Despite its above average yield, it's able to retain more than half of earnings. In other words, the high yield is from the drop in its share price, not an abnormally large payout ratio.
Big drop brings a big dividend
GameStop's valuations have sunk to the low end of their historic range, bumping the yield on GME shares in the process.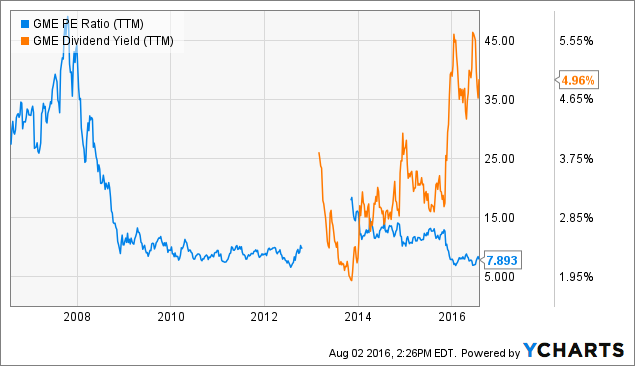 GME PE Ratio (NYSE:TTM) data by YCharts
Does it deserve the multiple compression? A weak first quarter and weak guidance for the rest of fiscal 2016 could add to the argument for "cheap" valuations. After all, a low P/E ratio doesn't automatically mean something's cheap. GME's same-store sales are in a free fall, but one bright note is the continued margin expansion. Gross margins expanded 3.30% to hit 34.3% for the first quarter of its fiscal 2016.
The company is also in the middle of changing its business mix by diversifying and adopting "non-physical" gaming sales strategies, which constituted 42% of operating income during its first quarter for fiscal 2016. GameStop recognizes its traditional business model is decaying, and it's now focused on finding new ways to stay relevant.
Now it's up to them to execute going forward. Assuming the strategy of focusing on collectibles, technology brands, and digital works out in the long run, things will probably still be bumpy along the road to transition in the short to medium-term.
Orange Peel Investments wrote an excellent article detailing how the recent Pokemon Go craze ties into the company and generates traffic and merchandise sales. I agree with OPI, who thinks downside is limited. Maybe the firm shouldn't be the recipient of the bricks-and-mortar retailer discount? Give OPI's article a read.
Diversity is also coming in other forms, not just video games. GameStop recently acquired 507 of AT&T's (NYSE:T) former wireless stores. GameStop's COO acknowledged that "Video games are cyclical," Then said that, "We said, 'Let's take our real estate experience and extra capital that we have and see if we can diversify.' " The firm continues to maintain a strong, financially flexible balance sheet with little debt, and a little under 10% of sales now come from mobile and consumer electronics.
It makes sense, now that the firm has 1,421 stores added to its footprint, making it the largest AT&T mobility retailer. GameStop thinks its wireless retailing sales will hit around the $1 billion mark, bring in $85 million to $100 million in profits. That means that (in theory) it will also continue to boost overall margins, therefore - at least if the COO's numbers are correct.
Conclusion: At the very least, a short term tool
I think the punishment the market has placed on GME shares is a little harsher than it should be. This gives investors a nice entry point into an "accidental" high-yielder. The company's fundamentals are stronger than the market seems to think, in my opinion, especially if it continues to generate above-average returns on equity through margin expansion - without distorting it too much with excessive financial leverage.
To make things clear, I'm not pounding the table for a long-term investment in GameStop. What I'm personally considering is going long in the short-term, harvesting the hefty dividend payments to invest somewhere else, and then selling shares once they trade closer to fair value.
I certainly wouldn't overweight GME, but as an income-producing security within the context of a diversified portfolio, I think you could certainly do worse. Shares look like a legitimate deep value play, one that can also serve as a short-term tool to boost overall portfolio yield while waiting for valuations to normalize.
It might just be a "cigar butt", but I think it's got more than a few puffs left - especially short-term. As long as the company's margins and return on equity continue to expand, I see no reason to freak out. I'd also want same-store sales to get back to growth (along with long-term diversification plans showing definitive proof of recovery) before allocating a long-term investment slot for the company, though.
If you enjoyed this article and would like to receive further updates and articles in the future, please feel free to hit the "Follow" button at the top of the page next to the author's name.
Disclosure: I/we have no positions in any stocks mentioned, and no plans to initiate any positions within the next 72 hours.
I wrote this article myself, and it expresses my own opinions. I am not receiving compensation for it (other than from Seeking Alpha). I have no business relationship with any company whose stock is mentioned in this article.
Additional disclosure: Articles I write for Seeking Alpha represent my own personal opinion and should not be taken as professional investment advice. I am not a registered financial adviser. Due diligence and/or consultation with your investment adviser should be undertaken before making any financial decisions, as these decisions are an individual's personal responsibility.