Zika, a mosquito-borne virus which can cause serious neurological problems, is finally beginning to make headlines in the United States. Here is the headline from the Drudge Report on Monday, August 1:

Zika has made headlines recently for a few reasons:
Last week, Florida recorded the first cases of mosquito-transmitted Zika in the US.
The state reported an additional 10 cases August 1. All the cases were in Miami-Dade and Broward Counties, in south Florida. Here is an interesting graphic showing the overall spread of Zika cases in Florida.
As a result of the outbreak, the CDC has recommended that pregnant women avoid travel to the area with the greatest density of mosquito-borne cases.
Also on August 1, the British government issued a travel warning for pregnant women visiting Florida, but specifically the Miami-Dade area.
Zika is a nasty virus. Avoiding it is a good idea. It's also a good idea for investors to take the possibility of a larger Zika outbreak into account when buying stocks. Some companies could be affected positively, particularly pharmaceutical companies such as Inovio Pharmaceuticals (NASDAQ: INO) or Intrexon (NYSE: XON). NewLink Genetics (NASDAQ: NLNK) has teamed with Merck (NYSE: MRK). Sanofi (NYSE: SNY) announced that it has put together a person team to develop a vaccine. Finally, GlaxoSmithKline NYSE: GSK) announced in January that it was weighing development of a vaccine.
One company which clearly could be negatively affected by an outbreak is Disney (NYSE: DIS), because Disney has extensive resort operations, including Disney World, in Florida. I took a look at Disney's recent financials, and have come up with a very rough estimate of the possible financial impact of Zika on DIS earnings. This estimate is of course separate from any other analysis of Disney, which is an absolutely wonderful company with a great record and outlook.
How big a health problem is Zika?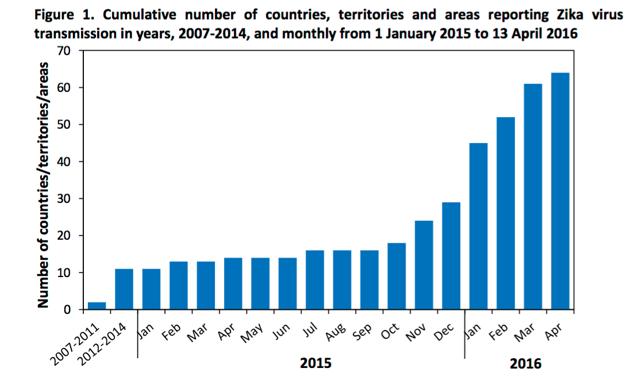 Zika has been in the news for several months now. The graphic above, produced by the World Health Organization, shows that the virus is now present in more than 60 countries. But public concern in the US has thus far been muted. Reaction to Zika has been markedly different from reaction to the Ebola scare in 2014, even though there were very few US Ebola cases, as opposed to several thousand Zika cases in Puerto Rico already. One reason for the difference was that Ebola is a particularly terrible disease whose effects were immediate and obvious. Another reason was because Ebola had the potential to become an outbreak which could have spread exponentially through the general population.
Still, Zika is a very serious health problem in its own right. The chance that babies whose mothers have Zika can be born with microcephaly is well documented. But there could be other, more common impacts on Zika-infected children who don't show obvious physical deformities at birth. For instance, risks include the chance that children can develop acute disseminated encephalomyelitis (ADEM). According to the New England Journal of Medicine, a preliminary report from Brazil indicated that fetal abnormalities detected by ultrasonography were present in 29% of women with Zika virus infection during pregnancy. According to reporting by the BBC, while "only" approximately 1% of pregnant women who contract the Zika virus while pregnant will have babies with microcephaly, up to 20% of their babies could have other neurological problems.
The virus attacks immature brains with particular vigor- but there's no assurance that it attacks only the brains of babies in utero. It likely can have significant impact on young children as well.
Zika is also a risk to adults. It can also cause Guillain-Barré syndrome (GBS). It recently has been found to cause meningoencephalitis in some adults.
We are just now beginning to understand the risks of Zika. For instance, we only recently learned that the virus can be transmitted sexually. There is still uncertainty about how long the virus can be transmitted sexually- the CDC says " at least 93 days", and it recommends that men not have unprotected sex for at least six months after displaying symptoms of having the virus. We don't understand all of the neurological impacts that Zika can have on young children because many of the defects won't present themselves until the children are much older. All we know now is that more than 7,000 children in Brazil alone have been diagnosed with microcephaly.
Zika a certainly a threat to take seriously. Since it affects very young people more strongly than older ones, it makes sense that families with small children may decide to avoid exposure to the virus- which could mean avoiding Disney World.
Beyond the actual risk of Zika, there is the potential for a public overreaction to risks of the virus. One need only recall the Ebola scare to understand just how intense public reaction to health risks can be. Concern about Zika risk could be particularly inflated because we don't yet have a true understanding of how dangerous Zika is, since many of its effects are delayed. It's hard not to worry too much when you don't know how much worry is enough!
The Zika Threat to Disney Profitability
Resorts are a significant part of overall Disney activity, and Florida is an important center of resort activity. For the fiscal year ending October 3, 2015, Disney as a company had total revenue of about $52 billion, of which theme parks and resorts contributed $16 billion. Here is the company's summary of 2015 theme park and resort operations. Data is taken from the Disney 2015 10K:
Walt Disney Company 2015 Theme Park and Resort Segment Date (in Millions)

Revenue

Domestic

13,611

International

2,551

Total Revenue

16,162

Less Expenses

Operating Costs

(9,730)

SG&A

(1,884)

Depreciation

(1,517)

Total Expenses

(13,131)

Operating Profit

3,031
This segment summary is for the global theme park and resort business. We need to break out the Florida component of operating results. Disney provided hotel occupancy data, from which it is possible to calculate total hotel revenue of $2.7 billion, nearly all in Florida. For the rest, I estimated that Florida makes up two thirds of other domestic theme park and resort revenue. Adding the two numbers together ($2.7 billion plus 67 % of the difference between $13.6 billion and $2.7 billion) gives an estimate of total Florida theme park and resort revenue of about $10 billion.
Next was to estimate the variability of segment costs. Here is a summary of percentage changes in revenue and cost (exclusive of depreciation, which would be relatively fixed) between 2009 and 2015. Data, again, is from Disney 10Ks.
| | | | | | |
| --- | --- | --- | --- | --- | --- |
| | 2014-2015 | 2013-2014 | 2012-2013 | 2010-2011 | 2009-2010 |
| Revenue Change | 7% | 7% | 9% | 10% | 1% |
| | | | | | |
| Expense Changes | | | | | |
| Operating Costs | 7% | 7% | 8% | 9% | 2% |
| SG&A | 2% | 5% | 6% | 12% | 3% |
You can see that operating costs have moved closely with revenue, while SG&A correlates to revenue but doesn't increase at the same rate. This makes sense. SG&A would likely remain fixed through short upturns and downturns, while operating costs, which include things like resort employee expense, utilities and so on, have a greater variation with attendance.
In the event of a downturn, I estimate, based on the above actual results from 2009-2015, that SG&A would be about 90% fixed, while operating costs would be 60% fixed. Intuitively, it takes a certain amount of labor and materials to operate parks whether attendance is up or down (a fixed cost element), but on the other hand results have clearly shown that expenses move with revenue.
Using these assumptions, I created three scenarios for Florida results: a 10% decline, a 20% decline, and a 30% revenue decline. Here are the results:
Scenarios for Zika- Impacted Florida Results

Percent Decline

0%

10%

20%

30%

Total Revenue

10,021

9,019

8,017

7,015

Less Expenses

Operating Costs

(6,033)

(5,671)

(5,309)

(4,947)

SG&A

(1,168)

(1,145)

(1,121)

(1,098)

Depreciation

(941)

(941)

(941)

(941)

Operating Profit

1,879

1,263

646

29
So there's the bottom line. Even in the event of a catastrophic revenue decline of 30% because of Zika, the Disney Florida theme parks and resorts would approximately break even. The impact on total corporate revenue would be about $3 billion out of $52 billion, or 6%. The impact on corporate operating profit would be about $1.8 billion out of $14.7 billion, or 12%. These are significant numbers, but not enormous, and in any case that's for a really dire scenario of a 30% Florida revenue decline.
Zika could cause a Florida theme park attendance decline for a period of at most a couple of years, after which time we are likely to have a Zika vaccine or other Zika treatments. It would be a classic "buying opportunity"- a decline in earnings performance due solely to temporary factors.
Recommendations
If you are a long term investor, then I wouldn't be concerned about Zika and Disney. Any impact will last for only a few quarters. On the other hand, if your time horizon is shorter, then there is a strong chance that there could be some overreaction and rotation out of Disney due to uncertainty about the time and magnitude of Zika related attendance declines. I would imagine that the overreaction might come later in 2016 or early 2017, because the Zika virus is likely to spread rapidly through Florida as it has through South and Central America. Of course, there will be other catalysts affecting Disney, many of them positive, during this same period. Those catalysts include items such as earnings, movie openings and other normal operating events.
My other recommendation is that if you are a parent, or if you are considering having children soon, be careful when going to regions where the Zika virus is prevalent. (The Zika zone doesn't include Orlando yet, but it will be soon.) If you live in a Zika zone then use mosquito repellant and window screens, and drain containers of standing water. The Zika-bearing mosquito, Aedes aegypti, breeds in standing water, and lives its brief life in a one-block range. (This is one reason why the actual Zika risk at Disney resort properties is likely to be low. You can be completely certain that Disney will take all steps necessary to prevent Zika mosquitoes from breeding in resort properties.)
Finally, this article is free. I wrote it to understand the investment potential of Disney for my own research, and to share my thoughts with you. If you would like to read more articles like this, please take a few seconds and click my name above at the top of the page.
Disclosure: I/we have no positions in any stocks mentioned, and no plans to initiate any positions within the next 72 hours.
I wrote this article myself, and it expresses my own opinions. I am not receiving compensation for it (other than from Seeking Alpha). I have no business relationship with any company whose stock is mentioned in this article.