Yesterday was not a good day for shareholders of Ford Motor (NYSE:F). The U.S. auto company, already under pressure to show investors that it can maintain its 2016 guidance, said on Tuesday that its auto sales in the U.S. crumbled 2.8 percent.
If you recall, Ford Motor reported 2nd quarter earnings last week that missed analysts' consensus adjusted profit estimates by a wide margin. But that was not all the bad news: Ford Motor said that there were challenges to its guidance, which didn't go down well with shareholders either. As a result, investors ran for the hills, driving Ford's shares 8 percent lower in the process. I discussed Ford Motor's results here, 'Ford Motor: What To Do After Yesterday's Massacre'.
It was indeed a tough week for investors..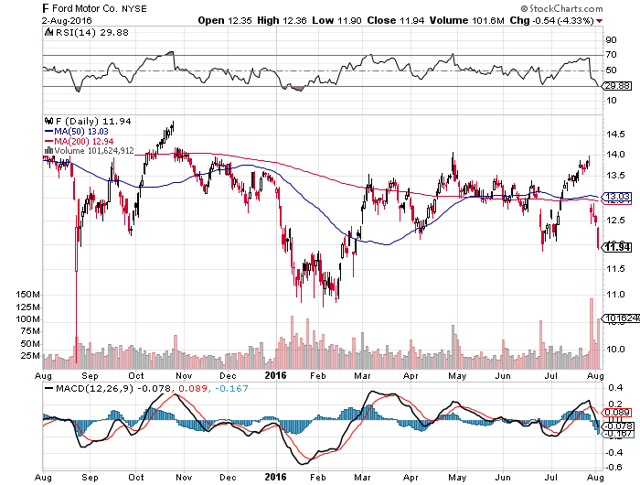 Source: StockCharts.com
As is often the case of emotionally-fueled sell-offs, investors need to remain calm...there is nothing worse than selling into weakness at a low price, only to see the valuation bounce back when the dust settles.
Ford Motor's U.S. sales for the month of July weren't great, that's true. Total vehicle sales slumped 2.8 percent from 222,731 in July 2015 to 216,479 vehicles in July 2016.
Ford's car sales cratered 9.3 percent to 59,854 in July and the company also sold fewer SUVs (they were down 5.6 percent Y/Y), but Ford's trucks were a rock of stability again: They increased 4.8 percent Y/Y to 87,104 vehicles sold compared to 83,095 vehicles sold a year ago.
Year-to-date, Ford Motor sold 1,569,527 vehicles, or 3.5 percent more than in 2015.
It Is Not All Bad
Ford Motor's sales have declined 2.8 percent in July, that's not good news, and uncertainty with respect to Ford Motor's guidance is growing. But not all is bad, and that's the important takeaway here: The decline in U.S. sales comes a month after Ford's June sales surged 6.4 percent, again on strong demand for the company's trucks (Ford Motor sold 24.2 percent more trucks in June 2016 than it did in the same month a year ago).
In any case, it is tougher today to create sales growth than two years ago, that much is certain. Ford Motor's shares cratered more than 4 percent on Tuesday after the company released U.S. sales, and I expect Ford Motor's shares to remain volatile over the short haul. The most important thing at this point IMO: Stay calm.
Your Takeaway
The decline in July sales is sort of a blow because it comes only a week after the company rattled investors with a shaky guidance and lower-than-expected earnings. I am afraid that Ford Motor's shares are overly vulnerable to economic news that would point to a downturn in the U.S. economy, though I continue to see Ford Motor as an income vehicle for the long haul. Truck sales remained strong in July and cushioned the blow for the auto company. Ford Motor throws off a dividend of 5 percent. Buy for Income.
If you like to read more of my articles, and like to be kept up to date with the companies I cover, I kindly ask you that you scroll to the top of this page and click 'follow'. I am largely investing in dividend paying stocks, but also venture out occasionally and cover special situations that offer appealing reward-to-risk ratios and have potential for significant capital appreciation. Above all, my immediate investment goal is to achieve financial independence.
Disclosure: I am/we are long F.
I wrote this article myself, and it expresses my own opinions. I am not receiving compensation for it (other than from Seeking Alpha). I have no business relationship with any company whose stock is mentioned in this article.