We had our most recent "scary episode" in May, when auto sales declined by 6% year over year. Timing was partially responsible for the drop, as May lacked two less selling days and one less weekend. However, there was no such discrepancy in July; both Julys had 26 selling days; yet Ford's (NYSE:F) sales still declined. On Tuesday morning, the company revealed that vehicle sales fell by 5% year over year from 222,731 to 216,479.
On the surface, the market didn't take this new development very well. The stock slipped by 4% after the announcement, dropping from $12.47 to $11.94. However, if we look at how volatile Ford has been in the past, I don't think a 4% drop is that big of a deal. In the chart below, we can see that the stock is still within the range of where it traded in 2016.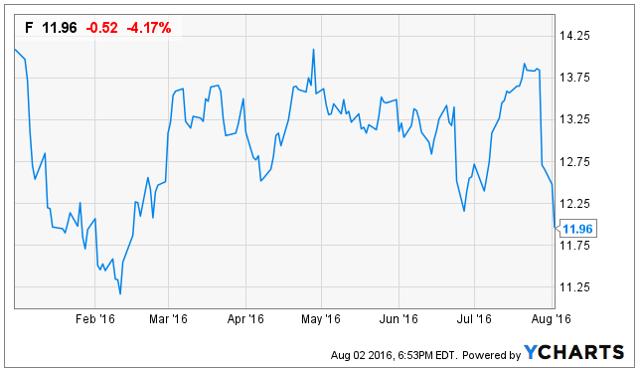 Furthermore, the S&P 500 (NYSEARCA:SPY) was also down by 0.64%, and cyclical stocks tend to take the brunt of the force during a bear market.
Did investors make a mistake by not punishing Ford further? Now that there are no more excuses for July, I think everyone wants to know whether this will be the beginning of the end so to speak. Vehicle sales have peaked and the stock price is clearly implying an imminent downturn.
First, we can approach this from a historical perspective. It's exhilarating to "call the top," and it's certainly fashionable to do so right now considering that the S&P 500 is at all-time highs. However, Ford investors should realize that a slight drop in sales is far from atypical. The table below shows the year-over-year change in vehicle sales in 2015.
| | | | | | | | | | | | |
| --- | --- | --- | --- | --- | --- | --- | --- | --- | --- | --- | --- |
| JAN | FEB | MAR | APR | MAY | JUN | JUL | AUG | SEP | OCT | NOV | DEC |
| 15.0% | -2.0% | -3.0% | 5.0% | -1.0% | 2.0% | 5.0% | 5.0% | 23.0% | 13.0% | 0.4% | 8.0% |
As you can see, we've experienced multiple hiccups last year, but total sales in 2015 still increased by 5% overall. So it would seem that there is no need to worry yet.
We can also approach the problem by looking at GDP growth rates. Previously, I talked about how we shouldn't use GDP growth rates to forecast S&P 500 returns (read S&P 500's Newest "Red Flag"). However, GDP growth does seem to have a fairly strong relationship with vehicle sales.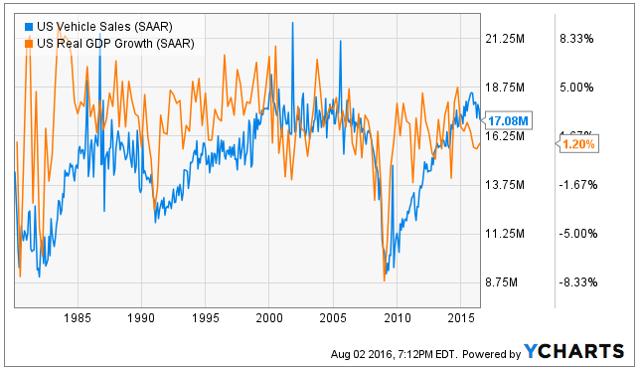 When GDP growth was positive, vehicle sales grew or stayed flat, and when GDP growth was negative, vehicle sales fell. Of course, you can probably tell by the chart above that it's not a perfect relationship. Recently, we received news that GDP is growing at the slowest pace since 2011, but growth was still positive at 1.2% in Q2; yet vehicle sales have already fallen by 3% in July. How should we view these conflicting pieces of information?
Taking a trip back to 1995, we can see that we experienced declining but positive GDP growth along with fluctuating vehicle sales multiple times.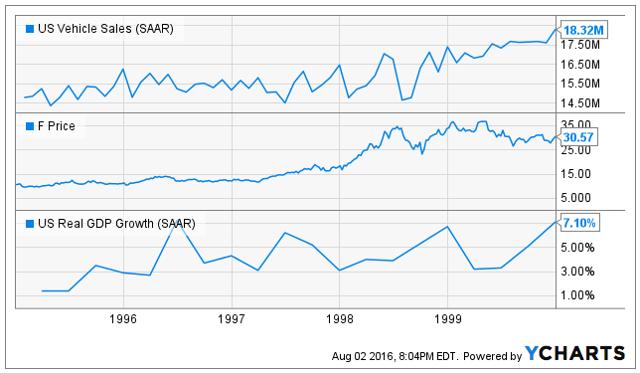 Applying this to the current situation, I believe that is far too early to say that the auto market will experience a dramatic downturn, even if GDP growth is slowing. As I mentioned in my previous article, we also need to look at some fundamental economic indicators in addition to GDP figures, and currently, most of them are showing strength rather than weakness (e.g. inflation, consumer spending, unemployment). As such, I do not think that we will descend to negative GDP growth any time soon, meaning that vehicle sales are not in imminent danger of collapsing.
Conclusion
Reflecting my sentiment stated in my other article (read Hold On To Ford), I believe that Ford shareholders should sit and wait. The drop in sales in July is only negative in that the company didn't show growth, but it does not indicate impending disaster. There were multiple negative growth months in 2015, so investors should not be nervous. In addition, a slowing GDP growth rate is not a strong piece of evidence for the bear argument, as GDP growth can slow (but remain positive) without wreaking havoc in the auto market.
Click the "Follow" button beside my name on the top of the page to be updated with my latest insights. To learn more about the V20 Portfolio, whose goal is to compound capital at 20% over the long term, I encourage you to read the introduction to my investment process. Premium subscribers get full access to the V20 Portfolio.
Disclosure: I/we have no positions in any stocks mentioned, and no plans to initiate any positions within the next 72 hours.
I wrote this article myself, and it expresses my own opinions. I am not receiving compensation for it (other than from Seeking Alpha). I have no business relationship with any company whose stock is mentioned in this article.