As someone who works for an active fund manager, I have strong views and biases when it comes to the "Active vs Passive" debate. The media along with many retail investors are touting the merits of passive investing and shunning active management. They define passive investing as buying low-cost ETFs that track the domestic indices and some that track foreign indices. This understanding of passive investing and disregard toward active management is widespread, but I believe it is fundamentally flawed. Active security selection and active allocation serve a critical role in the economy by keeping markets (relatively) efficient. The strong preference for passive security selection has caused a dislocation in the market which will ultimately have a negative impact on portfolios that are heavily invested in index funds.
The flaws of passive investing
The main reason passive investing has gained in popularity over recent years is in large part due to the exorbitant fees charged by actively managed funds. Advocates of passive investing argue that active management is a zero sum game (this is true), with the average manager performance equal to the market performance minus fees. Given that active fund fees are so high, it makes sense to instead buy the market and forgo the costs associated with analyzing and selecting stocks. In theory one would have the same gross performance as the average active manager but with fewer costs, therefore higher net performance.
Some retail investors think they are passively investing but I contend that foregoing stock selection alone does not make an investor passive. By allocating all or significant amounts of money to certain index ETFs you have engaged in active allocation. You have chosen to invest your money in a specific segment of the market over another segment. As an example, if you are in the US and have invested the majority (maybe all) of your money in the SPDR S&P 500 ETF (NYSEARCA:SPY), you have created an overweight exposure to large capitalization stocks in the United States, effectively betting that the US is undervalued relative to the rest of the world.
It is possible for your holdings in the S&P 500 to underperform the market as smaller capitalization stocks become larger or other economies grow faster than the US. In our current economy much of our consumption is globally diversified and consequently our investments should be too. As of 2012, the US stock market represented 42% of the G-20 economies' stock market capitalization. The S&P 500 represents around a third of the combined G-20 stock market. By having a majority exposure to the US you are not passively allocating across the equity market. There is significant potential for underperformance.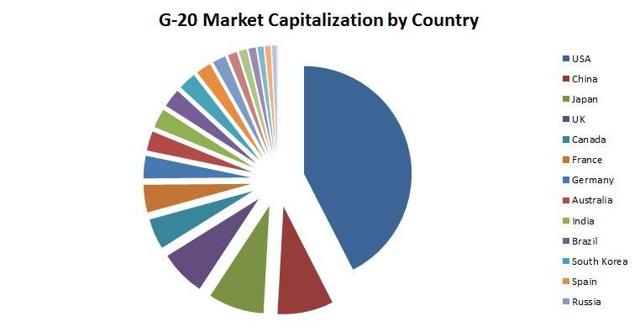 Data Sourced From Quandl
The passive trend has caused a valuation gap
The proportion of money that has been allocated to index strategies has increased significantly over recent years and it continues to rise. Some possible factors are that robo-advisors are becoming more popular with retail investors and they almost exclusively buy index ETFs. BlackRock and Vanguard (the biggest providers of index funds) have also grown substantially and continue to attract direct investor flows. The following chart from a Bloomberg article shows the cumulative flows to passive funds over the past 7 years compared to flows into active funds.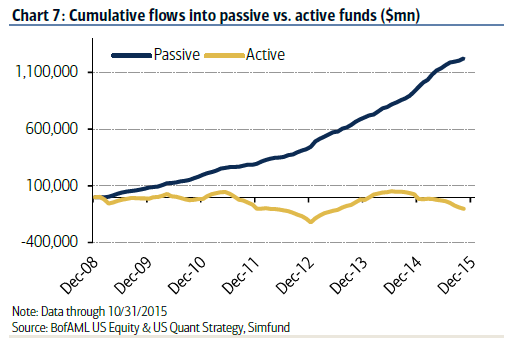 The valuations of stocks in indices have grown with the popularity of index mutual funds and index ETFs. With the new inflows, passive funds indiscriminately buy the shares in the underlying index. Demand for shares increases and prices go up. This trend continues as more money flows into passive funds. By design, there is no thought given to how much the company is actually worth.
That should really strike a nerve with most people. You wouldn't go into a car dealership and say: "Give me the most popular car; I don't care what it costs!"
An article on CNBC cites calculations performed by S&P Capital IQ that compared the median price-to-book ratio of companies in the Russell 2000 against peer companies that are not in the index. As of December 31, there was a 50% premium for companies in the Russell 2000. This is up from 12% in 2006.
The role of active management
Passive investing works best in a market that is efficient. Ironically, increasing passive investment makes markets less efficient as there are fewer investors to converge the share price of a company to its intrinsic value. Given that a share in a company is a claim on the assets above and beyond what it owes to its creditors, it is important that the price reflects value. It is clear then that active management is critical for capital markets to function correctly.
Arguably, we have a responsibility to use our capital allocation as a means of rewarding companies that we deem valuable to society as well as profitable -- the two are also often linked. One thing I find surprising is the simultaneous growth in demand for ESG (Environmental-Social-Governance) aware funds, and the growth in passive investments. ESG investing by definition is active management. If a company does something that is contrary to the ESG philosophy, it must be sold out of the fund. Passive investing on the other hand should not care about ESG issues. If there is a passive fund which markets itself as ESG, then it likely tracks some ESG index. This would allow the fund to have passive security selection, but you are not passively allocated across the market.
I agree with much of the rhetoric regarding fees charged by active funds and the disappointing net returns. However, even Jack Bogle, founder of the Vanguard Group and the biggest advocate of passive investing, admitted that some active managers can avoid pitfalls that affect performance. In a presentation given at Grants conference in 2015, he outlined the characteristics shared by these fund managers:
[They are] Managers, not marketers.
[They have] Reasonable expense ratios.
[They have] Low portfolio turnover.
[They have] Limitations on size.
[They have] Interim returns that may vary sharply from the market's return.
Investment professionals own and operate the management company.
Further to the point on expense ratio, I would argue that performance-based fees should also be a factor in determining a fund manager. If I were given a choice between an index fund with a base fee of 0.05% or an active manager with a base fee of 0.05% and a performance-linked fee, I would choose the active manager every time. Over the long term I can expect the same net performance because the base fee is the same. In the event that I have chosen a good manager I will be rewarded.
The industry already appears to be moving towards performance-based fees. The media is focusing more attention on manager fees and there are now funds which only charge performance fees. Once this becomes a commonplace practice, passive funds will likely diminish in size.
Conclusion
I think it is fair to say that few investors are truly passive. Some may bypass security selection through overvalued index funds, but take active views on the performance of markets by overweighting them. I favor a global manager who: selects securities that appear undervalued; has the characteristics described by Bogle; and charges fees based on performance. I believe this gives me an edge over passive investors.
Disclosure: I/we have no positions in any stocks mentioned, and no plans to initiate any positions within the next 72 hours. I wrote this article myself, and it expresses my own opinions. I am not receiving compensation for it (other than from Seeking Alpha). I have no business relationship with any company whose stock is mentioned in this article.
Additional disclosure: The opinions, thoughts, intentions and strategies expressed here represent my own and not those of my current, future or past employers.