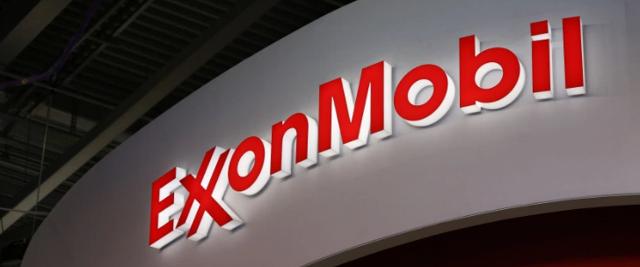 The oil and gas space has been one that has seen a lot of volatility over the past two years. Ever since oil and most of the rest of the commodities space fell off a cliff the oil majors have been struggling. That includes best-of-breed mega oil play Exxon Mobil (NYSE:XOM) but despite the huge fundamental challenges the sector is facing, valuations have soared in the past few months. The stocks of the major oil companies have soared back near recent highs despite the fact that the fundamentals of the sector are still absolutely horrendous. That includes XOM as shares recently hit an unbelievable $95+ before being sent back down to earth by Q2 earnings. With XOM having pulled back so quickly, what are we to make of the current state of its valuation?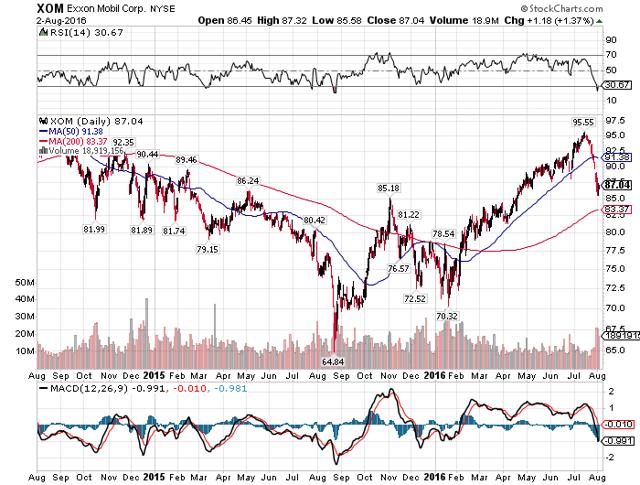 No one was surprised that XOM's Q2 was ugly but I think what did surprise investors was just how ugly it was. Revenue continues to fall off a cliff and earnings are following suit, albeit at a much more alarming rate. But if we step back and look at XOM's condition, are things as bad as they seem? My conclusion at the end of 2015 was that XOM was the best O&G play around but a lot has happened since then.
The Upstream business generated a small profit for XOM in Q2, something Chevron cannot claim. Consolidated earnings were just $294M and the US business posted a loss of $514M during the quarter. But the fact that despite many consecutive quarters of headwinds, XOM is still able to breakeven with its Upstream business is a terrific positive and while it may not last long at this point - earnings in the sector are declining rather rapidly - it is helping keep XOM on a more secure footing for longer. There is nothing XOM can do about low pricing and it seems low pricing is going to be around for a while. But if cost cuts can keep XOM at or near the black in its Upstream business, that sets it up well in a relative sense.
The Downstream business is a much rosier picture as the US portion of the business was responsible for roughly half of the company's segment profits instead of being a gigantic anchor like it was in the Upstream segment. Total earnings were $825M but weaker refining margins cut earnings by $850M during the quarter. This is the problem that XOM and others are facing in this horrible environment for oil companies; the glut of supply and lack of materially growing demand has destroyed their ability to extract profits from their revenue base. And while XOM is doing a better job than most, it is susceptible all the same. But unlike at the end of last year when I said XOM was a decent buy at $82, the situation has worsened substantially but the stock is even higher now.
The Chemicals business was XOM's saving grace during Q2 as it earned $1.2B, money that was sorely needed. This business helps insulate XOM somewhat from the drudgery of the O&G business and it needs every penny Chemicals can provide in order to keep its capital returns flowing.
Speaking of capital returns, this has obviously been a source of angst for investors in the oil majors for some time now, and rightfully so. Chevron's dividend situation is hopeless; it is borrowing heavily to pay for it and has been for some time. XOM is in a decidedly better position but now, even the mightiest of the majors is struggling. XOM's 1H2016 cash flow from operations and asset sales was $10.5B, roughly equivalent to the amount it spent on capex. That means there is quite literally nothing left over to pay the $3.1B it owes shareholders every quarter in dividend payments. That's not a good situation and it means that XOM is now in a similar situation as CVX; it took longer for XOM to get here but it is certainly not in good shape anymore.
So what has XOM done? It has started borrowing, of course.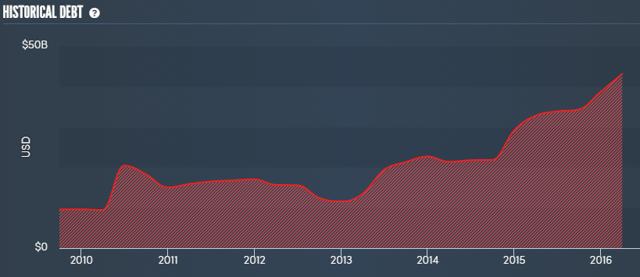 Source: Simply Wall St.
This chart looks almost identical for Chevron as both companies have had to take on tens of billions of dollars in new debt in the past couple of years to meet their obligations. In both cases, the companies are mostly able to run the business with their cash flow but paying the dividend is impossible and that is certainly where we find XOM. I suspect that in a couple of years this chart will have the same sort of trajectory it has for the past two years and that XOM's total debt level will be substantially higher than it is right now. There is no other way for XOM to continue to pay its dividend; it simply cannot afford it. And with the outlook for oil prices so weak, there is no reason to think that is going to change anytime soon. The one thing I know will not happen - despite the overwhelming evidence that it should - is a dividend cut. That means XOM will have no choice but to keep borrowing until it can't.
One place where CVX has an advantage over XOM is in the area of yield. CVX is sporting a yield that is about 100bps higher than XOM's, an enormous difference to be sure. In recent quarters, one could have made the argument that XOM was safer and thus, required a lower yield as compensation for risk. And while XOM is still safer than CVX - the former hasn't deteriorated nearly as quickly - XOM is by no means safe. Yes, it can borrow for a very long time to pay its dividend but is that what you want as a shareholder? Dividends are supposed to be distributions of profits, not the product of borrowing from someone else. Instead, you can go outside of the O&G space and find a company that is actually distributing profits; imagine that.
XOM's cash flow is very concerning at this point and while XOM is still the best O&G player, that isn't saying much. The entire sector is rubbish at this point because everyone's financial condition is deteriorating rapidly and the outlook for recovery is bleak indeed. I can no longer recommend XOM here as the stock is way too expensive for the risk one is taking by owning it. The ~$8 sell-off we've seen is beginning to work off some of the overvalued condition in shares but it has a long way to go. If we see the stock punch through the 200DMA and head back into the $70s, XOM could be interesting from a value perspective. But for now, there is far too much risk to the fundamentals and even the sacred dividend payment for it to be worth going near this thing at $87.
Disclosure: I/we have no positions in any stocks mentioned, and no plans to initiate any positions within the next 72 hours.
I wrote this article myself, and it expresses my own opinions. I am not receiving compensation for it (other than from Seeking Alpha). I have no business relationship with any company whose stock is mentioned in this article.