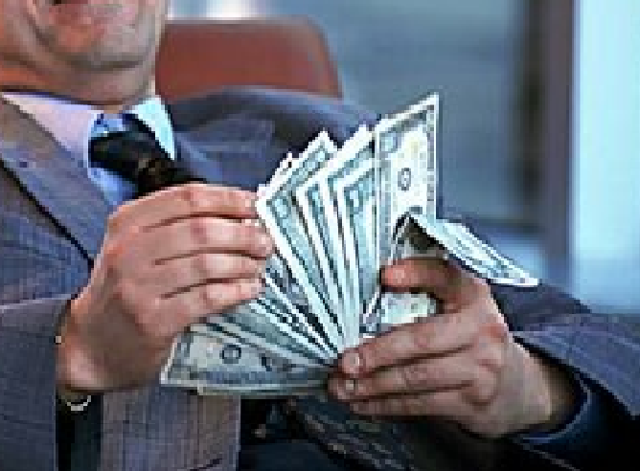 When 2016 began, Acacia Research (NASDAQ:ACTG) made it painfully clear its cash was indispensable. It completely eliminated the dividend to its shareholders, a distribution totaling only approximately $25 million. The company ended 2015 with $146 million in cash and cash equivalents. By the end of the 2016 first quarter, the cash and cash equivalents balance totaled $156.85 million or $3.14 per share. When Acacia reported 2016 second-quarter earnings on July 28th, the cash balance topped $186 million, or approximately $3.72 per share. Based solely on indispensable cash, things appear rosier than they are.
Three dollars and seventy-two cents just happens to resemble the buyout offer Acacia rejected in March. Based on the year-end balance sheet, ARC Acquisition (the bidder) had valued Acacia's patent portfolio at far less than $10 million. Its value on the books was $163 million.
Now, a few months later, Acacia has amassed $3.72 per share in cash. Accounts receivable only totals $4 million. The patent portfolio, previously valued at $163 million at year-end, has been devalued to $101 million.
Value
12/31/15

Value Per Share 12/31/15

Value
6/30/16

Value Per Share 6/30/16

Cash & Equiv.

$146M

$2.95

$186M

$3.72

Accounts Receivable

$33.5M

$0.67

$4.3M

$0.09

Patent Portfolios

$163M

$3.26

$101M

$2.02

Shares Outstanding

"49.5M

$6.85

50M

$5.83
Source: Author-created from company data
At year-end 2015, the company's total assets were valued at $348 million. On June 30th, 2016, total assets were valued at $296 million. There may be more cash but there seems to be a problem with overall value.
In the second quarter, Acacia elected to take another impairment charge of $40.2 million for the "excess of the asset's carrying value over its estimated fair value". This charge centered on the ADAPTIX portfolio - "to wind down that program and resolve the cases against the remaining defendants". In January 2012, Acacia acquired ADAPTIX for approximately $150 million. ADAPTIX was a technology start-up founded by a University of Washington professor. It originally raised about $40 million in venture capital. ADAPTIX's patents were filed as early as 2000. The portfolio numbered 230 issued and pending patents in 13 countries. Heading into the December 2015 case, Acacia believed the ADAPTIX portfolio was "one of the most significant intellectual property portfolios focused on 4G technologies". In the first fourteen months after acquisition, Acacia had "earned back" roughly two-thirds of the initial investment from the first three licensees. At one point, the company had projected the investment would be returned three-fold.
This is the second impairment charge in the past twelve months. In the 2015 fourth quarter, Acacia booked $74.73 million in impairment charges. In nine months, Acacia has written off more value ($114.9 million) than the current portfolios are worth ($101 million). Compared to the value at beginning 2015, the current management team has determined it will no longer allocate resources to defending or pursuing infringement on what equates to 54% of the amortized asset.
The difference between the value of the current patent portfolios and the value at 2015 year-end is $61.68 million. Normal amortization accounts for $21.52 million. As already mentioned above, the impairment charge accounts for $40.17 million.
| | | |
| --- | --- | --- |
| (amounts in thousands) | 2016 | 2015 |
| Year-begin Balance | $162,642 | $286,636 |
| Amortization | $21,519 | $53,067 |
| Impairment | $40,165 | $74,731 |
| Acquisition | | $3,804 |
| Current Balance | $100,958 | $162,642 |
The entry obviously missing in 2016 is an investment for patent portfolios.
Acacia has explained its about-face on strategy. The company "underestimated how hard it would be" to generate the $50 million to $100 million from marquee portfolios. It stated it would rather pursue the $2 million to $3 million opportunities. That's why it needed the cash previously earmarked for dividends. It intended to "invest its cash resources in the development of new licensing and enforcement programs".
In the company's prepared remarks, it stated the pursuit was active.
"We are actively pursuing compelling patent portfolios in the United States and increasingly in Europe."
So, six months into 2016, it is pertinent to see how that effort is proceeding. In the 2016 first quarter, Acacia did incur $1 million in patent-related investments. But, the last portfolio Acacia actually acquired was in the fourth quarter of 2015.
It certainly doesn't appear this once-old-now-new strategy is tracking full-steam. Perhaps there is a build in search-and-locate type expenses before acquisition? The research, consulting and other expenses for business development in the first six months of 2016 were $1.86 million compared to $1.73 million in 2015.
A reasonable explanation could be the company is focused on monetizing the portfolios it already possesses. Nineteen (19) new agreements have been executed compared to 43 in the first six months of 2015. There are 21 licensing and enforcement programs generating revenue as compared to 25 in the first six months of 2015. On both counts, the numbers fall short.
Yet, somehow, cash is accumulating. Revenue in the first six months of 2016 is $8.5 million less than 2015. Decreasing expenses by $16.6 million more than offset the decrease in revenue. But, a $5.8 million tax provision all nearly consumed the remainder of those savings. Excluding non-cash stock compensation, non-cash amortization and the non-cash impairment, non-GAAP net income in 2016 trails 2015 by $1.5 million.
The cash accumulation is certainly not earmarked for return to shareholders. As mentioned, Acacia eliminated its dividend. In the past, it has refused to use its cash to repurchase outstanding shares.
"There are no plans for a share buyback or anything like that right now."
Many shareholders are okay with the refusal.
As an alternative, insiders have been willing to purchase shares to demonstrate they have "skin in the game". Through June 30th, there have been 47 direct and indirect insider purchases. The purchases totaled 912.7 thousand shares at an average price of $4.40 for total expenditures of $4 million.
More than half of the shares, 505,198, were purchased by director, Louis Graziadio. Mr. Graziadio's shares were purchased both directly and indirectly. Just under 287,000 shares were direct purchases for Mr. Graziadio. The remaining, just over 218,000, were purchased indirectly for trusts or minor children. Director Frank Walsh purchased 250,000 shares. Interim CEO, Marvin Key, appears to have purchased 155,000 shares even though his SEC forms total 35,000 shares short. Director Fred deBoom purchased 2,500 shares.
It's true - had the same number of shares been purchased by the company, the difference in the ending cash balance would have been minimal. But, the shareholder value would have increased.
Value

6/30/16

Value Per Share

6/30/16

Had There Been Share Repurchases

Had There Been Share Repurchases

Cash & Equiv.

$186M

$3.72

$182M

$3.71

Accounts Receivable

$4.3M

$0.09

$4.3M

$0.09

Patent Portfolios

$101M

$2.02

$101M

$2.06

Shares Outstanding

50M

$5.83

49.08M

$5.86
From an income perspective for the first half of 2016, on a GAAP basis, the diluted loss would have been two cents greater. On the other hand, the lower share count would have resulted in an extra penny of non-GAAP diluted earnings per share.
The $29 million difference in the accounts receivable balance from year-end 2015 to the 2016 second quarter is the obvious contributor to the cash asset. The consolidated cash flow statement reveals an area intense with activity - investing activities. The activity just wasn't patent-related.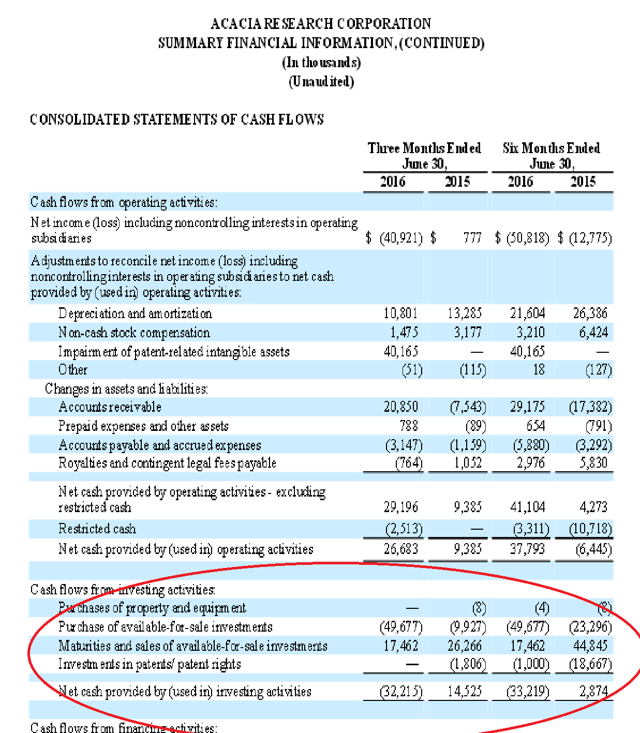 The deficit is obvious. In fact, it was the first subject addressed by analysts on the earnings call. Mr. Key attempted to offer assurance.
"We continue to have a very rigorous vetting process...

"…in addition to the traditional in-house efforts that we've always employed, we're much more engaged with law firms as a source of referrals. We're leveraging relationships with private equity groups..."

"While we're not happy with the intake, we're encouraged by the pipeline and are hopeful that there'll be some news in the not-too-distant future."
It's only been seven months. Yes, that is sarcasm.
Mr. Key's demeanor was fairly open on the subject of the company's failed mission of acquiring portfolios. But, he, yet again, brushed against rudeness on the subject of its cash and shareholder friendliness. When asked about the potential of buybacks or dividends, he was brash and talked in a circle.
"Our position on our cash balance and dividend or buyback hasn't changed. We've addressed that question repeatedly on prior calls. And, our position is as it was. The board is always reviewing it. The company will buy back stock if the Board believes it to be the appropriate course. But no, we haven't changed that stance."
So, Mr. Key is frustrated the question has been asked "repeatedly on prior calls". He points out the board is "always reviewing it". Hmm. That's probably why the question gets asked yet again on each call. It's not as if the cash from operations is being deployed to generate future revenue. No, instead, it's being invested in "available-for-sale investments".
As well, Acacia's transparency has been called into question repeatedly in 2016. Press releases have been all but discontinued. The curtain is drawn.
"We have internal targets, certainly, but it's not anything that we want to acknowledge publicly."
Acacia's share price has more than doubled from its low earlier in the year. But, it's still nowhere near the range it traded a year ago. The company has cut expenses and accumulated more cash. But, there was still an air of powerlessness in the earnings call.
"I don't think that we've (the industry) necessarily turned the corner at all..."

"...it's certainly not a healthy environment..."
Occasionally, management offered constrained encouragement.
"...things seem a little less bad than they used to".
The primary takeaway from the call - keep hope alive.
Disclosure: I am/we are long ACTG.
I wrote this article myself, and it expresses my own opinions. I am not receiving compensation for it (other than from Seeking Alpha). I have no business relationship with any company whose stock is mentioned in this article.
Additional disclosure: I belong to an investment club that owns shares in ACTG