"Winning takes talent, to repeat takes character." - John Wooden

Note: To get these Biotech Forum Daily Digests as soon as they are published, just click on my profile and hit the big orange "Follow" button and choose the real-time alerts option.

Biotech rose more than one percent in trading on Monday. It gave back those gains and more in the early going Tuesday. However, rumors that large cap concern Biogen (NASDAQ:BIIB) could be bought out triggered a huge reversal in the biotech sector and it managed to post slight gains even in a down day for the overall market.
Biogen ended up more than nine percent on the day with just over a $65 billion market capitalization. The company's CEO recently announced he is on the way out. The two speculated suitors are Allergan (NYSE:AGN) and Merck (NYSE:MRK). I don't see the former bidding due to just recently being burned by the Treasury Department which derailed its proposed tie up with Pfizer (NYSE:PFE) over concerns around "tax inversion".
Whether Biogen gets bought out or not, it has been a good recent run for the biotech giant. In July, it beat both top and bottom expectations with its quarterly numbers. It also recently announced some positive developments within its pipeline as well. If these rumors turn out to be true, it would represent a huge boost for M&A activity and the sector.

Small cap concern Advaxis (NASDAQ:ADXS) soared 30% in trading on Tuesday after announcing a pre-clinical collaboration deal with biotech giant Amgen (NASDAQ:AMGN). The agreement involves preclinical cancer immunotherapy candidate ADXS-NEO, which is intended to activate an individual patient's immune system to respond to unique mutations, or neoepitopes. Clinical testing of the candidate is slated to start next year.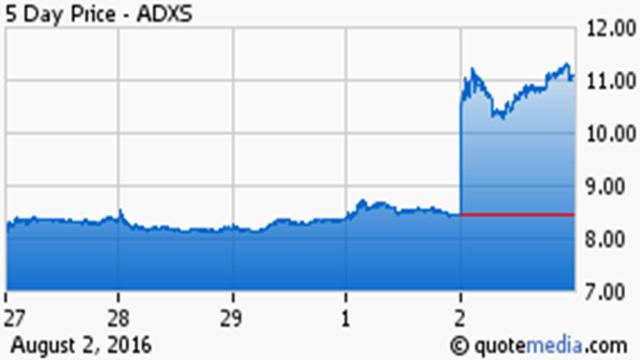 The partnership includes an upfront of $40 million alongside a $25 million investment. The deal also includes development, regulatory and sales milestones of up to $475 million with a high-single digit to mid-double digit royalty based on worldwide sales. Advaxis was profiled on July 27th in a Biotech Forum Spotlight feature.
Two rare "Tier 2" biotech stocks reported earnings after the bell. Tier 2 biotech equities are small cap companies that have actual revenues and earnings. They are few and far between in this sector that is bifurcated by the giants like Celgene (NASDAQ:CELG) and myriad various stage developmental concerns that are most of the firms in this industry.
Supernus Pharmaceuticals (NASDAQ:SUPN) beat both the bottom and top line consensus as the firm beat by a nickel a share on profit on back of an over 43% increase in revenues on a year-over-year basis. Sucampo Pharmaceuticals (NASDAQ:SCMP) also slightly beat on the bottom line with a 48% increase in revenues which was above the consensus. Nice to see the better than expected earnings we largely have seen from the giants of the space over the past week or two also happening in the smaller concerns.
Giant PBM Express Scripts (NASDAQ:ESRX) was in the news as it unveiled a new national formulary excluding dozens of drugs. Some highlights. Novo Nordisk's (NYSE:NVO) blockbuster GLP-1 diabetes drug Victoza and two of its top-selling insulins remain barred. Interestingly, Merck's hepatitis C entrant Zepatier earlier this year, didn't make the cut for 2017. This is good news for market leader Gilead Sciences (NASDAQ:GILD), which could use it after disappointing sales numbers in its recent quarterly report.

The main object of analysts' affection on Tuesday was small biopharma concern Cempra (NASDAQ:CEMP). Six analyst firms including JP Morgan and Morgan Stanley reiterated Buy ratings on the firm. Price targets proffered ranged from $33 to $48 a share. The stock rallied nicely to just above $20 a share on analyst commentary.
The company reported quarterly numbers on August 1st. More importantly, in early July the FDA accepted its New Drug Applications (NDAs) seeking approval of intravenous and oral capsule formulations of Solithera (solithromycin) for the treatment of community-acquired bacterial pneumonia. Solithromycin is part of the next generation of antibiotics being developed to combat drug resistant bacteria.
Yesterday, Lexicon Pharmaceuticals (NASDAQ:LXRX) saw its first analyst activity in over three months as Citigroup initiated as a Buy and with a $21 price target. Citi's analyst believes that the "timely approval and launch" of the company's lead drug telotristat etiprate, an add-on to standard of care to treat severe diarrhea in carcinoid syndrome patients should provide near-term support for the stock." I concur and own some shares in Lexicon.
Keryx Biopharma (NASDAQ:KERX) has become a battleground stock after manufacturing problems with its key product forced it to remove guidance for 2016 last week. Laderburg and JMP Securities see an opportunity on the pullback and reiterated Buy ratings yesterday. At the same time, Cowen & Co. and Brean Capital remain pessimistic on the biotech's current prospects and reissued Hold ratings.
Note: New analyst ratings are a great place to start due diligence, but nothing substitutes for deeper individual research in this very volatile sector of the market. Many of the small-cap names highlighted in the "Analyst Insight" will eventually appear in the "Spotlight" section, where we do deeper dives on this type of promising but speculative small-cap concern.

Today's spotlight feature is Ligand Pharmaceuticals (NASDAQ:LGND), another one of those rare "Tier 2" stocks that has had a huge run over the past five years and is rapidly approaching mid-cap status.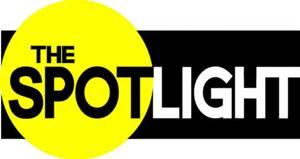 Company Overview:
Ligand Pharmaceuticals is a San Diego based biopharmaceutical company that focuses on developing and acquiring technologies that help pharmaceutical companies discover and develop medicines worldwide. The company was founded in 1987 and has a current market capitalization of $2.75 billion and has a stock price in the low $130s which is close to the shares 52-week highs.
Product Portfolio & Pipeline:
The company has a diversified product portfolio including:
Promacta, an oral medicine that increases the number of platelets in the blood.
Kyprolis that is used for the treatment of multiple myeloma.
Bazedoxifene, which is used for the treatment of postmenopausal osteoporosis.
Nexterone, a Captisol-enabled formulation of amiodarone.
Noxafil-IV, a Captisol-enabled formulation of posaconazole for IV use.
Exemptia for autoimmune diseases.
Vivitra for breast cancer.
The company has a wide variety of compounds in development in partner programs. These include drugs targeting the treatment of seizure, coma, cancer, diabetes, cardiovascular disease, muscle wasting, liver disease, kidney disease, and others. Its internal development program is comprised of products for the treatment of Type 2 diabetes mellitus, blood disorders, anti-coagulant, pain, depression, allergy, sun damage, restless leg/Parkinson's, cognitive disorders, oncology, and inflammation. Ligand definitely has the "shots on goal" I look for within a pipeline at any small or mid-cap concern in the sector.
Recent Results:
In early May, the company reported 97 cents a share of earnings which was 30 cents over the consensus. Revenues primarily due to higher royalties from Promacta® and Kyprolis® increase by more than 100% year-over-year to just under $30 million on the quarter. The company's next earnings report will be out shortly.
For 2016, the company expects total revenues to be between $115 million and $119 million which will equate to adjusted EPS of between $3.41 and $3.46 a share. For 2017, Ligand expects revenues to come in at approximately $160 million and for EPS to be just north of $5 a share.
Analyst Commentary & Balance Sheet:
For a decent sized company, Ligand does not get much in the way of analyst coverage. Roth Capital reiterated a Buy rating and $147 a share price target on LGND in early July. It was the first analyst activity in some four months. The median price target on Ligand from analysts that do cover the shares is also $147. The company had over $100 million in cash and marketable securities on its balance sheet at the end of the last quarter and is solidly profitable. Funding and the balance sheet seem solid.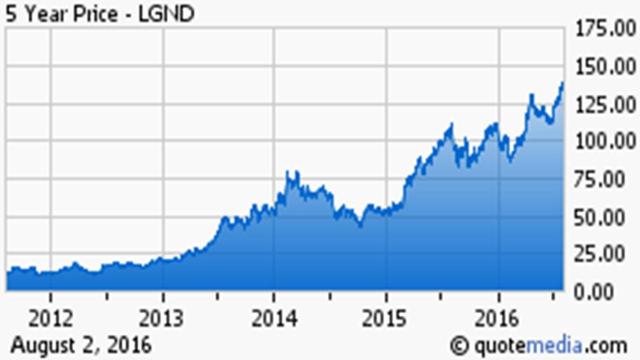 Outlook:
It is hard to argue with Ligand's growth story or the appreciation of the stock over the past five years. However, the shares are now priced at over 20 times this year's revenues and more than 15 times 2017's projected sales. This is a bit too rich for my blood at the present time. However, if we get another hiccup in the biotech sector and the stock comes down to the $100s I would be a buyer of this long-term growth story.

Thank You & Happy Hunting
Bret Jensen
Founder, Biotech Forum
Disclosure: I am/we are long ADXS, AGN, AMGN, BIIB, CELG, CEMP, GILD, LXRX, SUPN.
I wrote this article myself, and it expresses my own opinions. I am not receiving compensation for it (other than from Seeking Alpha). I have no business relationship with any company whose stock is mentioned in this article.