MY CURRENT RATING: BUY
In my last article on AerCap Holdings (NYSE:AER) on May 13 of this year, I made the argument that the company is significantly undervalued and investors were simply not recognizing the inherent value in AerCap Holdings. Since that time, the share price has largely stayed where it is: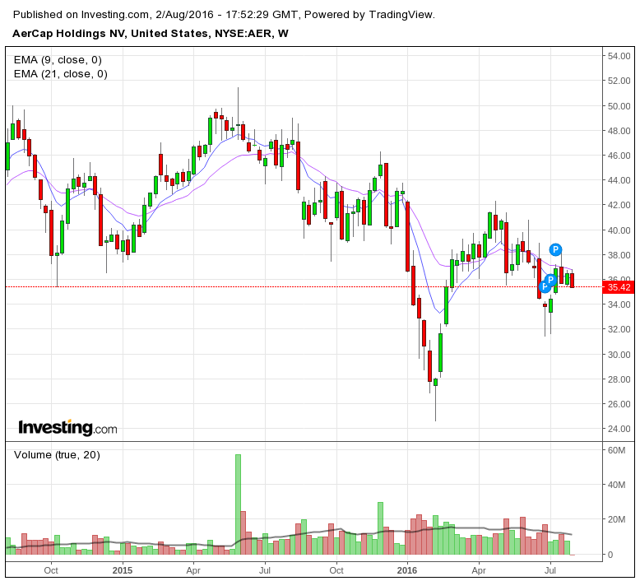 The recent events as a result of Brexit has spooked the airline industry, with Michael O'Leary of Ryanair Holdings (RYAAY) stating that the company intends to diversify from its London bases long-term. British low-cost carrier Easyjet (OTCQX:EJTTF) also intends to follow suit and could well relocate its European headquarters.
As a result of this, speculation has mounted as to whether this will adversely affect the business of AerCap Holdings. In reality, the UK market accounts for just about 5 percent of the company's overall business. Moreover, as the company itself puts it, the business model of AerCap Holdings or indeed any airline leasing company is to move airplanes around in times of crisis.
For instance, speculation has grown that Easyjet will relocate a significant portion of its operations to other markets in Europe in light of Britain's vote to leave the European Union. With Easyjet being a significant customer of AerCap Holdings, this means that the company is in a good position to potentially supply additional aircraft for such operations.
Moreover, AerCap Holdings continues to do well in diversifying itself across European and global markets, having leased, purchased and sold 68 aircraft for Q2 2016. For instance, Ireland has been a significant base for airline leasing companies and AerCap Holdings continues to expand in this country having supplied several A350 aircraft to national carrier Aer Lingus. The company has also delivered the model to Cathay Pacific Airways (OTCPK:CPCAF), Vietnam Airlines and Ethiopian Airlines, illustrating the firm's ability to supply emerging markets. Additionally, the company continues to remain diversified in its product line, with 15 of 35 sale transactions in this quarter having been for Boeing Aircraft, and the 20 remaining for Airbus.
In this regard, I still maintain that the latest price of the company is strongly reflecting emotion rather than true value. Brexit has caused investors to panic unnecessarily, and I continue to take a bullish view on this stock.