The picture below displays twelve machinery companies since 2011. Two companies had a great stock performance. Seven companies went sideways. Only two companies had a strong stock performance.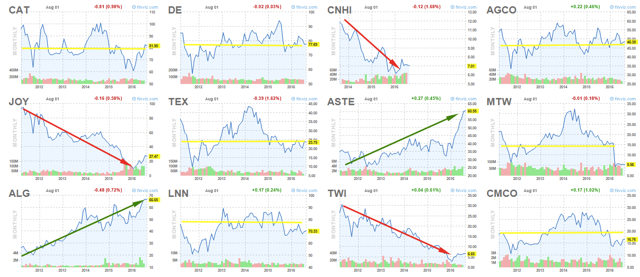 The graph below gives the answer to the question why the stock performances where so bad and tell us what is about to happen.
The graph below shows ISM machinery sentiment (grey bars). The black line is the 3 months average of the machinery industry sentiment. The blue line displays industrial machinery new orders.
The ISM Machinery index is the most important leading indicator for this industry. Sentiment has had three major periods of contraction since 2011. The years until 2012 have actually been amazing years for the machinery industry because commodity prices increased along with the economy.
When it comes to the next few months, it looks like Machinery is cooling down again. The average went negative this month. Only one month was needed to erase the gains of the two previous months.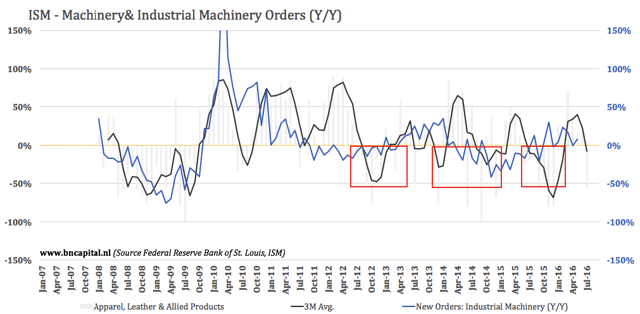 The graph below shows that job growth has completely ignored the upturn at the beginning of 2015. The latest job report revealed that the economy has added a few jobs after almost two strong quarters of sentiment growth. Now that sentiment is down again, it looks almost impossible to get more job growth in July.
Note that the job market broke after the third quarter of 2014. The quarter where growth slowing started.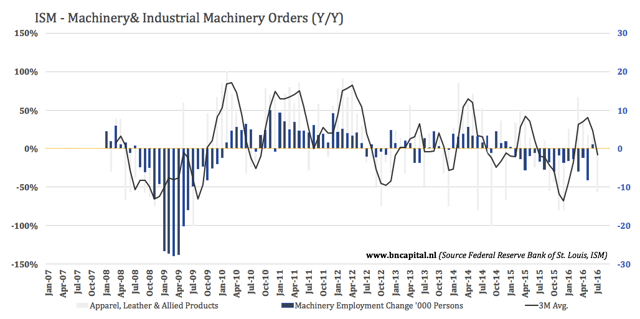 Machinery stocks have gone nowhere and are likely to go nowhere in the near term future. The graph below shows you how you can use these stocks.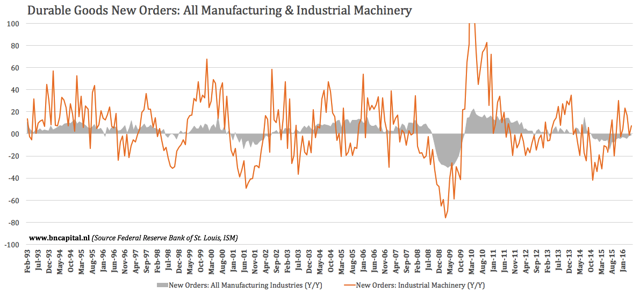 In times of strong manufacturing orders, we see much higher machinery orders. The reason is quite simple since heavy machinery is only going to be bought during strong growth periods or when growth is likely to return. On the other hand, new machinery purchased are being delayed/canceled once growth is down. Hence the periods of explosive growth and disastrous declines.
I use stocks like Caterpillar CAT, Manitowoc MTW, Terex TEX and JOY to trade short term economical changes. However, the bad news is that machinery stocks are likely to perform bad during the next few months but not bad enough to short one of the stocks I mentioned above. Therefore, stay away and look for growth in other industries.
Many thanks for reading my article. As always, feel free to leave a comment if you have questions or remarks.
Disclosure: I/we have no positions in any stocks mentioned, and no plans to initiate any positions within the next 72 hours.
I wrote this article myself, and it expresses my own opinions. I am not receiving compensation for it (other than from Seeking Alpha). I have no business relationship with any company whose stock is mentioned in this article.