After a very quiet July, August has opened with a good deal more excitement for global markets. Stocks sold off around the globe on Tuesday, led by disappointment with the Japanese central bank and new downward pressure on European banking shares.
US stocks appeared set for sizable losses, however, biotech (NYSEARCA:XBI) rallied the market toward the close. Industry heavyweight Biogen (NASDAQ:BIIB) spiked 10% higher on M&A chatter. While that enthusiasm helped the market close well off the lows, the uneasy feeling lingers into Wednesday.
Japanese shares dumped again last night, dropping another 2%. The BOJ now faces a situation where just about any proposed stimulus plan no longer satisfies the market - nothing is big enough. It is easy to look at the current trajectory and see things ended badly on that front.
European banks are soft again this morning - Deutsche Bank's ADR (NYSE:DB) is trading at what will mark new 52-week lows if the pre-market action holds into US market hours.
Oil (NYSEARCA:USO) continues to linger under $40. In an odd twist of affairs, the energy sector (NYSEARCA:XLE) was generally the strongest yesterday. If those stocks had sold off with the rest of market, we would have been looking at triple-digit losses on the Dow and probably a 25 point decline in the S&P 500.
Let me reiterate, energy earnings are simply terrible this quarter. Take a look at Josh Arnold's breakdown of Chevron's (NYSE:CVX) latest quarter for example. As he notes, they are rapidly destroying shareholder value, and it is hard to see how the company can continue to justify paying such a large dividend as its losses mount and its debt load explodes higher. This is a company facing rapidly-mounting distress whose stock is trading as though all were well: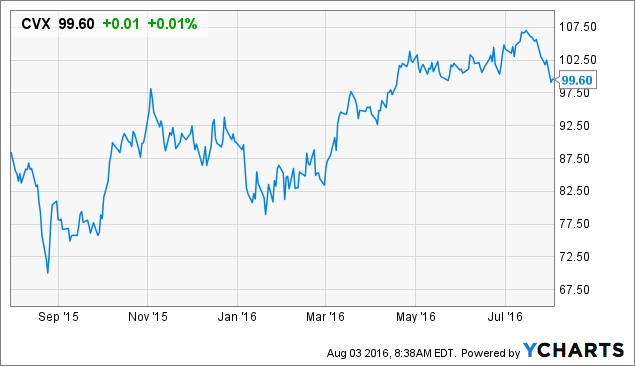 It's simply inexplicable with oil down 25% and Chevron announcing a real stinker of a quarter that the stock stays this close to 52-week highs.
The energy sector is arguably one of the biggest yield traps out there. The energy stocks don't at first glance appear to be absurdly out of whack with normal valuations, as does, for example, Realty Income (NYSE:O).
However, the amount of value destroyed between 2013 and today has been dramatic in the energy sector; debtloads have surged by tens of billions of dollars across the sector, and yet stock prices have hardly budged even with oil low and rapidly falling again. Now that margins collapsed in the refining sector, the last thing that supported these companies' earnings is gone.
If you own Chevron, it's worth asking yourself what you'd pay for it if they cut the dividend in half. If you own it just for yield, please consider what you'd do in the increasingly likely event the yield can't be sustained. Those who don't plan in advance may well face another Kinder Morgan (NYSE:KMI) type situation.
Bitcoin Thieves Strike Again
The growing pains continue for the digital currency Bitcoin (COIN). A major exchange, Bitfinex, was hacked, with the intruders grabbing almost 120,000 bitcoins. Valued at around $65 million, this amounts to the second-biggest breach of a bitcoin exchange since the digital currency began its rise toward prominence.
While significantly smaller than the Mt. Gox security breach that resulted in nearly half a billion dollars in losses, it is a startling reminder of the dangers of digital currency. The price of a single bitcoin plunged from around $600 to under $500 before making back about half the losses at this hour: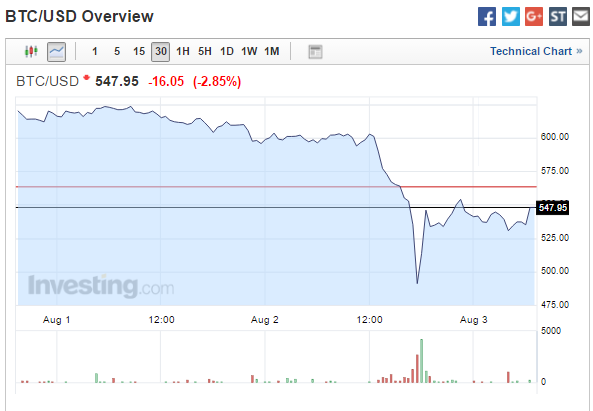 I continue to be skeptical of bitcoin as either an investment or a form of money. Traditionally, money has several features.
Money is divisible - Bitcoin passes that one. It is easy to transfer. As useful as crude oil is, it would be virtually impossible for lay people to transfer and use for everyday transactions. Thus it can't be money. Bitcoin isn't so easy to transfer, particularly for lay users, though this could potentially change in the future.
Money doesn't spoil or erode with time. Fiat money suffers from inflation, though when kept at sub-5% or so, the corrosion of value in money is too slow for most users of it to mind. Milk, wheat, etc. go bad so quickly that they can't act as a store of value.
Bitcoin, in theory, should pass this test. Due to the arbitrary limit on the total number of bitcoins that will be created, in fact, the bitcoin economy should be a deflationary environment. One of the top economic concerns about bitcoin was if they would be hoarded; no will want to spend them if it assumed they will rise in value over time. If money is hoarded, velocity plummets and people move to a different mechanism for making trades. However, if there's a good chance of having your bitcoins stolen if you hold them long enough, it essentially functions as a massive inflationary tax on the system.
Finally, money should facilitate trade. Bitcoin, with all the ancillary technology to make it more user-friendly, should be able to achieve this end. However, if bitcoins cannot be easily transferred without risking theft, bitcoin's role in promoting trade will break down.
It's hard to imagine serious businesses run by non-techies getting on board with an alternative currency that can be stolen so easily. The rule of not looking stupid in front of the board comes into play. If you lose purchasing power because the US inflation rate picks up, people shrug and say that's life. If you lose shareholder money because your bitcoin wallet got hacked, people will demand your head on a platter for taking such an esoteric risk.
Bitcoin has unique features - particularly its built-in deflationary mechanism, that makes it interesting. Hoard a few coins and maybe you'll make a fortune if prices go to the stratosphere. I can say a case for making bitcoin a very small static allocation of your overall net worth.
But I doubt it will become much more than a novelty alternative asset, like wine or art. As for blockchain technology turning the traditional banking system into a relic of past times, I don't think we're anywhere near that tipping point just yet.
Disclosure: I/we have no positions in any stocks mentioned, and no plans to initiate any positions within the next 72 hours.
I wrote this article myself, and it expresses my own opinions. I am not receiving compensation for it (other than from Seeking Alpha). I have no business relationship with any company whose stock is mentioned in this article.