MY CURRENT RATING: HOLD
I have debated for some time now as to whether Starbucks (NASDAQ:SBUX) is overvalued or not. The company saw quite significant gains in 2014/2015, but has pretty much been teetering around the $54-58 mark for some time.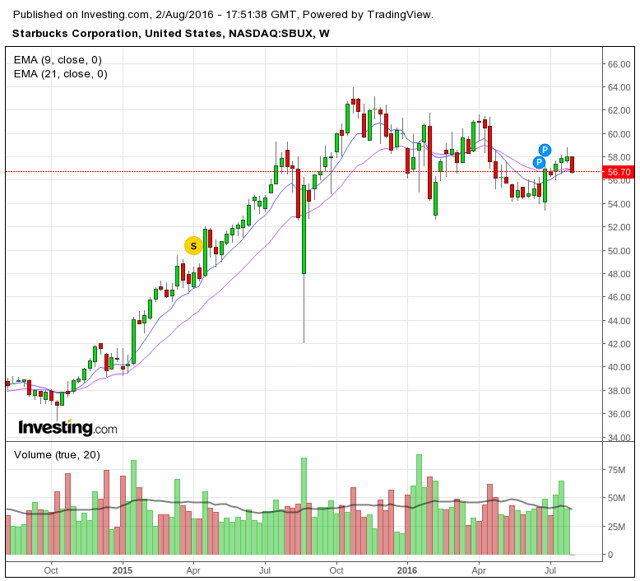 Moreover, there have been concerns that recent reports of lower sales could potentially be a detriment to the company. However, I do not see a short-term slump in sales as a long-term concern given that, 1) earnings per share actually increased in spite of lower sales, 2) the company has in fact been expanding to tap growth in emerging market regions.
So, the key question remains. Why has Starbucks' sales been faltering, and is this a significant concern as far as long-term performance goes? In Europe, social tensions as a result of terrorism threats has been responsible for a significant decline in customers. Moreover, a stronger US dollar has made prices in other currencies more costly, and this would explain the drop in revenue in that region. However, sales figures by themselves don't tell the whole story. According to an article by the Wall Street Journal, Starbucks is now changing its strategy slightly in that it is targeting higher-value customers rather than trying to increase sales on a holistic basis.
For instance, the company's loyalty program has been modified, which rewards the customer for the amount they spend rather than the amount of times they make a purchase at a Starbucks store. While this approach has been criticized by some customers, it has overall been rated as a success with over 500,000 customers signing up for the program. This has been a pragmatic approach by Starbucks in that it is encouraging greater spending per visit while rewarding customers who make the most purchases. Moreover, it was found that customers who have the Starbucks mobile app typically spend three times more than the average customer, indicating that Starbucks is rewarding its most loyal customers through this scheme.
For this reason, while there may be a short-term consumer backlash against this reward scheme which could have resulted in lower sales, I do not see this as a long-term concern as the company will ultimately be in a position to focus efforts on its most profitable customers. As mentioned, earnings overall have continued to increase despite sales coming in below expectations. Moreover, I had previously commended Starbucks for increasing free cash flow, and we see that free cash flow per share has continued to increase in spite of lower sales this quarter: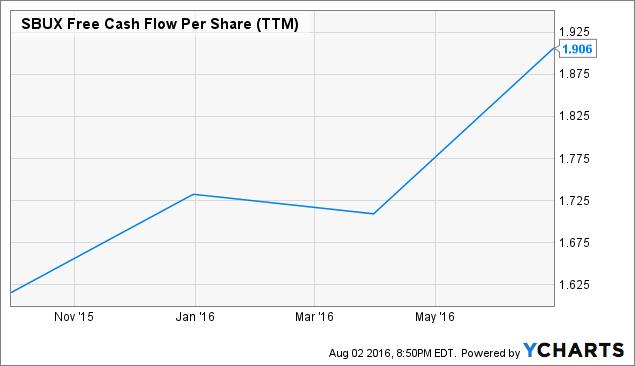 Ultimately, while I would not be a buyer of the stock at the current price, I take the view that lower sales are simply a short-term setback, and for this reason I do not foresee a significant dip in price looking forward. Should sales rebound in the next quarter with earnings and free cash flow continuing to follow suit, then there could be a case for price going higher.
Disclosure: I/we have no positions in any stocks mentioned, and no plans to initiate any positions within the next 72 hours.
I wrote this article myself, and it expresses my own opinions. I am not receiving compensation for it (other than from Seeking Alpha). I have no business relationship with any company whose stock is mentioned in this article.