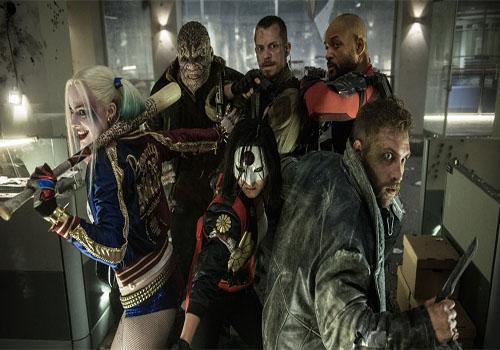 Stop me if you've heard this headline before…
"DC based film gets bashed by critics but handedly tops the box office"
Don't be surprised if come Monday that's the Cliff Notes version of the watercooler buzz.
On Tuesday the review embargo lifted on Warner Bros.' (NYSE:TWX) Suicide Squad, the next film in the DC Extended Universe, and it wasn't good news. Just look at some of the scathing reviews.
"Suicide Squad is bad. Not fun bad. Not redeemable bad. Not the kind of bad that is the unfortunate result of artists honorably striving for something ambitious and falling short. Suicide Squad is just bad." - Vanity Fair.

"Who stole the soul of Suicide Squad?" - Rolling Stone

"Just when you think the summer movie season can't get any worse, along come the "Worst. Heroes. Ever." - IndieWire
And those are just a handful of them.
So that begs the question. What's next? Will we see a Batman V. Superman: Dawn of Justice replay? The answer is likely yes.
Here's what we know going into the weekend. Squad reportedly costs $250 million to produce (though some have it closer to $175 million) and it is estimated to top the $130 million mark over its first three days. If it does it will take the record for the highest grossing film released in the month of August.
And of course with that comes the expected crowing from Warner Bros. about the movie's big weekend as well as the question of if Suicide Squad was really a success despite its totals. Again, this is not a new topic, but after Batman V. Superman alienated its fanbase, it was hoped that Suicide Squad would quiet the mob.
It doesn't look like that will be the case.
So let's assume, all things being equal, the negative reviews don't scare off audiences and projections stay on point…what does that mean for investors' long-term faith in the studio? Honestly while Suicide Squad seemed like a do-or-die watershed moment back in March; that may no longer be (entirely) true.
Let's re-visit Batman V. Superman for a second. Like Suicide Squad, the film cost a ton to produce (around $250 million), but the movie made $166 million in its opening weekend (helped by a spring release date). In total the movie made $330 million domestically and another $537 million internationally. Combined that's a global haul of $868 million.
I'd say compare that to Disney's (NYSE:DIS) Captain America: Civil War, but they aren't close. Civil War easily crossed the billion dollar mark and also won over critics. It's the complete opposite of everything DC's experienced with its connected films.
So why wouldn't this be another nail DC's proverbial tomb? It's because of what's still to come.
Warner and DC's re-shoots on Suicide Squad to supposedly make it less dark and add a Flash cameo were the equivalent of cosmetic surgery. The studio did what it could without having time for a full overhaul. Next year's Wonder Woman and Justice League films were able to take those Dawn of Justice learnings and fully implement them into its DNA.
The San Diego Comic-Con footage of the pair was seen as success and were more in line with what's made Marvel Cinematic Universe such a cash cow. Those gains shouldn't be erased by Suicide Squad.
For one Gal Gadot's turn as Wonder Woman was seen by many as Batman V. Superman's lone redeeming quality and people have been clamoring for a Justice League film for a decade (it's like a DC Comics buffet, there literally has to be something that will appeal to any fan).
Together that makes for a potent 2017 slate. We just have to remember DC got a late start on this shared universe and unfortunately for them that means it has to launch in the wake of a GIANT Marvel-shaped shadow.
Now looking at this strictly from a Warner Bros. end the situation isn't as forgiving. From a pure studio standpoint, 2016 has under-whelmed, but add in the success of films distributed by the company's New Line division and things aren't nearly as bad.
Central Intelligence, The Conjuring 2, Me Before You and Lights Out were unquestioned hits and almost all (Me Before You) will likely go the franchise route. Yet the studio's Batman V. Superman, Barbershop: The Next Cut, How To Be Single, The Nice Guys and The Legend of Tarzan couldn't catch up.
I have to give Tarzan credit though because by and large it was well-received. The issue was it had a DC Comics sized budget which immediately put it behind the eight ball.
Next year though the situation flips and Warner's films are again expected to be in control. Aside from the DC movies, the studio has two Lego films, the King Kong prequel Skull Island and a smattering of projects that could surprise. Still it also has King Arthur: Legend of the Sword, which will likely run into the same problem as Tarzan.
The bottom line is Warner Bros. is balanced enough to stay stable (enough) but after years of poorly received slates 2016 was supposed to be the year for them to right the ship. Suicide Squad isn't going to sink them, but it also isn't going to patch as many holes as once hoped for them or its DC division.
Image Credit: WB
Disclosure: I/we have no positions in any stocks mentioned, and no plans to initiate any positions within the next 72 hours.
I wrote this article myself, and it expresses my own opinions. I am not receiving compensation for it (other than from Seeking Alpha). I have no business relationship with any company whose stock is mentioned in this article.