The New Oil Bear Market Will Be Short Lived - Oil Markets Daily
At HFI Research, we do our best to provide readers with the most updated energy news whether it's bullish or bearish. Our premium subscribers know that we are mostly in the bull camp as we believe that current oil (NYSEARCA:USO) prices are too low for the industry to survive on. However, we are keenly aware of the bear thesis and pay very close attention to short-term trends that could delay the recovery in oil prices.
Since the start of June, oil prices have declined from $50 to just under $40. There are many reasons for the decline, but we attribute the main points to two factors:
Gasoline Glut Positioning
Concerns over the gasoline glut had traders pile on bearish bets while trimming bullish ones. John Kemp wrote a wonderful piece a week ago about the resilience of the recent decline and how the recent increase in short positions is one of the largest we've seen in this downturn.
In a piece published by Bloomberg today, it highlights that the options market thinks the recent decline in oil prices will be temporary.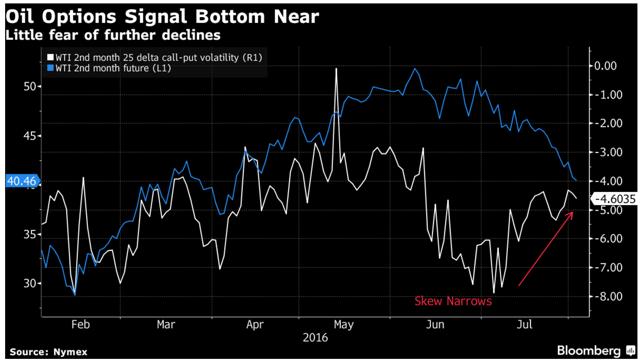 Investors this week are paying the smallest premium since April to hedge against a further drop in oil prices.
This usually means that investors are less concerned about the downside now, and this coincides with our take that the recent weakness should be coming to an end.
Andy Hall, one of the great oil traders, wrote in a letter to investors that, "The market is being driven by its own momentum and currently that is down." "But extreme positioning coupled with improving fundamentals should ultimately - and at potentially any time - result in a strong reversal."
In a research report published by BCA Research today, BCA also highlighted that investors should take advantage of the recent decline in oil prices. They believe that the rally was a bit overextended, but the recent fall is also overextended. They expect the oil markets to enter deficit territory by the end of Q3 and should start to see accelerated inventory draws. BCA blames the recent weakness to a refined product glut, something that the refineries will have to swallow.
Despite some believing that oil demand is slowing, we think it's more of a case of refinery overcapacity rather than overproduction. As we also said in our weekly oil inventory reports, crude imports have been high partly due to floating storage being dumped back into onshore storage. Despite global inventory figures remaining the same, investors are somehow perceiving an increase in crude stock as a situation of oversupply rather than a shift in the way oil inventory is counted.
Overall, we remain bullish on oil prices and believe that investors should take advantage of the recent weakness and buy favorable E&P names at an attractive price.
Thank you for reading our Oil Markets Daily. If you want to read more of our articles, please be sure to hit the "Follow" button above. For investors interested in what E&P names we are buying, please check out the HFI Research premium service. We also write a weekly HFI portfolio update for premium subscribers. You can read a sample weekly update here and view our delayed one-month portfolio update here. We hope you can join the HFI community.
Disclosure: I/we have no positions in any stocks mentioned, and no plans to initiate any positions within the next 72 hours.
I wrote this article myself, and it expresses my own opinions. I am not receiving compensation for it (other than from Seeking Alpha). I have no business relationship with any company whose stock is mentioned in this article.