Just a few weeks ago, I wrote the July update for the Half-Million Dollar Income Portfolio. I took a long break from writing articles on the portfolio due to real-life time constraints; however, this article is the fourth month in a row I am writing an article updating my Seeking Alpha followers on the conditions of the portfolio. Currently, I expect minimal new cash to be added to the portfolio over the coming years, as my son uses his work income to cover his college expenses. However, I also expect that I will be able to convince my son not to withdraw money from the portfolio to spend at college.
It is important to keep in mind that the Half-Million Dollar Income Portfolio is in a custodial account. That means that in a few months, once my son turns 18, access to the portfolio will be transferred to him. That means, should my son choose to withdraw all the money from the portfolio and spend it vacationing somewhere, that is his choice. However, I have recommended my son keep his dividend income in the portfolio, and hope that he will do so. The long-term potential of compound interest means that $1 growing at 10% year over year for the next 50 years will be worth $100. Each dollar my son removes from the portfolio today will significantly hurt the portfolio's future value.
Portfolio Overview
Now that we have discussed some potential risks to the portfolio, it is now time to provide an overview of the portfolio. These rules are the same as in previous articles and are meant to provide an overview of the goals of the portfolio. As a result, regular readers can feel free to skip this section of this article.
The portfolio has two goals. The first is to provide my son with an introduction to the stock market. The stock market is an incredibly difficult thing to analyze, and tends to widely fluctuate. More so, new investors by themselves have a tendency to chase "shiny objects," resulting in expensive lessons. By introducing him to the stock market early, I hope to provide him with an overview of the stock market. At the same time, I hope to introduce him to a buying and holding strategy of investing, where he finds companies he likes and invests in them for the long run.
The second goal of the portfolio is to provide my son with $200,000 in annual inflation adjusted income by the standard retirement age of 65. That retirement age is currently 47 years away, which means assuming a 2% annual inflation rate, the portfolio will need to provide $538,000 in annual income. Hence the title the "Half Million Dollar Income Portfolio." One important thing to keep in mind is that the portfolio is now more than a year old, and the $200,000 in income was $200,000 in income as defined by the portfolio's start. Due to inflation, that number is now slightly higher.
Current Portfolio
Now that we have discussed the portfolio overview, it is now time to discuss the current portfolio. As in previous articles, I will neglect to incorporate the position values into the article. While many readers have asked me to do so, the purpose of the portfolio is dividend income, and I feel incorporating the position values will distract from the portfolio.
My son is just about to finish up his summer job and has been sending the income from this summer job into the portfolio. This income can be used to open up new positions which will increase the portfolio's dividend income going into college.
| | | | |
| --- | --- | --- | --- |
| Stock Name (Ticker) | Number of Shares | Dividends per Share | Yearly Overall Dividends |
| UnitedHealth Group (NYSE: UNH) | 12 | $2.48 | $29.75 |
| Pimco Strategic Income Fund (NYSE: RCS) | 95 | $0.96 | $91.20 |
| Taiwanese Semiconductor (NYSE: TSM) | 31 | $0.93 | $28.83 |
| Healthcare Property Investors (NYSE: HCP) | 16 | $2.28 | $36.48 |
| Realty Income (NYSE: O) | 20 | $2.40 | $48.00 |
| Gilead Sciences (NASDAQ: GILD) | 20 | $1.88 | $37.60 |
| Johnson & Johnson (NYSE: JNJ) | 10 | $3.20 | $32.00 |
| Kinder Morgan (NYSE: KMI) | 100 | $0.48 | $48.00 |
| Noble Corporation (NYSE: NE) | 100 | $0.08 | $8.00 |
| Ensco (NYSE: ESV) | 100 | $0.04 | $4.00 |
| Paragon Offshore (OTCQX: OTCPK:PGNPQ) | 5 | $0.00 | $0.00 |
| Amgen (NASDAQ: AMGN) | 10 | $4.00 | $40.00 |
| Apple (NASDAQ: AAPL) | 21 | $2.28 | $47.88 |
Total Dividend Income: $451.75
Portfolio Discussion
This month represents the first month in a while that no positions from the portfolio have been sold. In previous articles, the portfolio has seen its positions in riskier assets and its positions in overpriced blue chips in Johnson and Johnson and Realty Income decrease. Instead new positions were opened up in high potential stocks such as Amgen and Apple that are currently trading at depressed valuations despite their high potential.
However, using the addition of cash that my son has added to the portfolio from his summer job, the position in two offshore drillers were significantly changed when the position in Noble Corporation was increased by a multiple of five and a new 100 share position in Ensco was initiated. Together, these positions give the portfolio a significant stake in high potential offshore drillers.
Offshore drillers, in particular Noble Corporation and Ensco have had a more difficult time than most. The companies have both seen their share price drop by more than 80% and Ensco has even been forced to do a capital raise. However, despite this, with oil prices at $40 per barrel, more than 50% above its January 2016 highs, these companies are near their 52-week lows.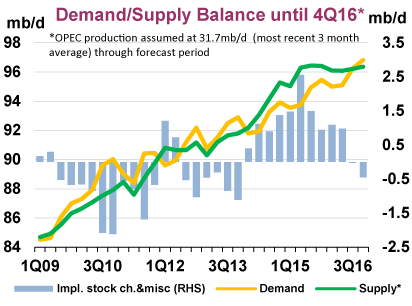 Oil Supply and Demand Balance - IEA
As you can see from the above graph the oil supply and demand balance is expected to go back into balance in 3Q 2016. The oil bottom was widely viewed as having been set in 1Q 2016 and the demand and supply balance went out of balance in 3Q 2013. That means it took 9 quarters for prices to set their bottom from when demand and supply went out of balance.
As a result, if supply and demand go back into balance in 3Q 2016, that means we can expect oil prices to recover by 1Q 2019. A recovery in the oil supply and demand balance should result in a recovery in the prices of offshore drilling rigs. Such a recovery should help the price of offshore drilling rigs rapidly recover.
The offshore drilling has had a difficult time recently. However, it remains essential especially as companies search for new regions to explore for oil. Major fields like the Ghawar Field in Saudi Arabia which currently accounts for 5% of the world's oil production are running out and this production will need to be made up from somewhere. Oceans account for 70% of the world's surface area and have significant untapped oil resources. Offshore drilling rigs are the way to access these resources.
As a result, after discussing with my son, I think that the offshore drilling industry has huge capital potential in the coming years. Should oil prices recover, these companies both have the potential to become close to ten baggers. This should help the portfolio's future value while risking an amount of capital that is fairly negligible compared to the overall portfolio's value.
Conclusion
As my son moves to college, I expect that the growth of the Half-Million Dollar Income Portfolio will slow down as my son stops adding money to the portfolio and instead defers it to covering his college costs. However, the portfolio currently has a number of strong potential positions and is generating a very respectable amount of dividend income. Even if my son stops adding money to the portfolio this dividend income will help the portfolio grow.
My son entered some new cash in the portfolio allowing it to open some new positions in offshore drillers. The offshore drilling industry has a huge amount of potential ahead of it as major oil fields such as the Ghawar Field in Saudi Arabia which produces 5% of the world's production run out. Oceans represent 70% of the world's surface and have a significant amount of oil hidden in them. Offshore drillers have a significant amount of potential and as we determined above we can expect oil prices to recovery by 1Q 2019.
As a result, I expect these offshore drillers will bring strong returns along with the remainder of the portfolio.
Disclosure: I am/we are long AAPL, AMGN, ESV, GILD, HCP, KMI, JNJ, NE, O, PGNPQ, RCS, TSM, UNH.
I wrote this article myself, and it expresses my own opinions. I am not receiving compensation for it (other than from Seeking Alpha). I have no business relationship with any company whose stock is mentioned in this article.
Editor's Note: This article covers one or more stocks trading at less than $1 per share and/or with less than a $100 million market cap. Please be aware of the risks associated with these stocks.