Portoal (NASDAQ:PTLA) is a clinical stage biopharmaceutical company that specializes in developing medications related to blood clots and blood thinners. One of its lead products is andexanet alpha, a reversal agent for the new blood thinners in the market including Xarelto and Eliquis. For decades, the medical industry has been battling with warfarin as the main blood thinner in the market for blood clots in various forms, stroke prevention and for artificial heart valves. The world wide market for blood thinner sales will reach north of 15 billion in 2018 doubling its sales from 2012! Warfarin has largely been replaced with newer Novel Oral Anticoagulants (NOACs) because it comes with a lot of baggage. It needs to be regularly monitored with frequent blood tests, it interacts with other medications and with certain dietary products. The new generation drugs wipe out all these problems with one caveat! They are not reversible unlike warfarin. This scares both doctors and patients, preventing the latter population from taking those drugs.
UNTIL NOW!
The birth of andexanet alpha will wipe out warfarin from the market consequently raising the number of users of NOACs exponentially, thus fuelling its own demand in the process. In the next few years, every single new patient with atrial fibrillation, blood clots and possibly valve replacements will go on NOAC agents. No doctor will be prescribing warfarin anymore. Patients on warfarin will also be offered to go on NOAC agents to avoid the hassles that come with being on this drug.
Currently we are already seeing lots of patients who come in with bleeds from taking NOACs, and patients who need emergent surgeries/procedures that are postponed because they are on NOACs. Some of those incidents unfortunately lead to fatal consequences. Although uncommon (less than 1%), there is still a risk of intracranial bleed with these medications. If you have hundreds of thousands of patients on them, that 1% becomes very significant. Furthermore, the annual risk of major bleeding has been consistently around 2-3.5% on NOACs.
The FDA's decision
Safety, efficacy and manufacturing! Those are the three pillars that base the FDA's decision on every drug. The FDA granted a priority review for this drug for a reason. Everyday, this drug is not on the market, lives are potentially lost because of fatal bleeds from NOACs that were not reversed.
Safety
The trials for andexanet alpha were published in the New England Journal of Medicine, the leading medical journal world wide with the highest impact factor. The medications that were studied were the NOAC market leaders including Eliquis (ANNEXA-A) and Xarelto (ANNEXA-R). Safety data were assessed up to and after a month of administration of the medication via an independent safety committee. The concerns with reversal agents would be related to actually causing the opposite effect (a blood clot) when reversing the blood thinners, and the development of antibodies towards the medication itself rendering it ineffective, or to the clotting factors in the body exacerbating the bleeding risk. Other major safety concerns that pertain to all drugs are allergic reactions and serious idiosyncratic reactions from the medication tested.
All adverse events were mild including flushing and constipation. One patient developed hives (for which he had a history of), which resolved after discontinuation of the drug and receiving some anti-histamines. There were no thrombotic events and there were no other serious adverse events! Neutralizing antibodies were not detected, but nonneutralizing antibodies were detected in 17% compared to 2% in the placebo group. Titers of these antibodies were generally low indicating little immunogenicity from the medication exposure. This is not enough to pose as a safety concern especially given what the drug is supposed to be doing!
Efficacy
NOACs work by inhibiting factor Xa, a protein that is involved in the physiological clotting cascade in humans. Measuring anti-factor Xa activity would be the logical way to assess whether andexanet alpha reverses the effect of NOACs. Anti-Factor Xa activity was rapidly reduced in 2-5 minutes of administration of andexanet alpha compared to placebo (P<0.001) in both Xarelto and Eliquis groups. Because of the short half life of the medication it was administered as a bolus plus a two hour infusion.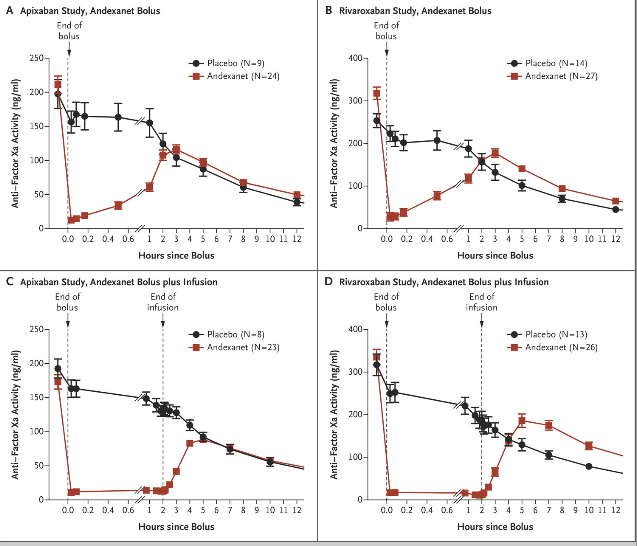 All the participants who were treated with andexanet had at least 80% reversal of anti-factor Xa activity, with the exception of one participant who did not receive the full dose. None of the participants who received placebo had an 80% or greater reversal of anti-factor Xa activity (p<0.001).
Manufacturing
In 2014 Portola announced that it executed a supply agreement with Lonza for the commercial manufacturing of andexanet alpha. The initial production however will be through CMC biologics for the first 18 months. Both have well known and well established cGMP facilities that are cleared by the FDA. There should be no concerns about the manufacturing of the drug post approval.
Drawing Parallels
Praxbind hit the spotlight in 2015 when it was approved by the FDA for the reversal of the blood thinner Pradaxa. Pradaxa was one of the new generation anticoagulant medications that had a fixed dose and was less cumbersome than warfarin. Its problem also was reversibility. The FDA designated a 6 month priority review for the medication in April 2015 with a PDUFA date of October 19th 2015! The FDA approved the drug on October 16th 2015, 3 days prior to the PDUFA date.
Three clinical studies were conducted on healthy volunteers prior to the FDA approval in which 224 healthy volunteers were treated with praxbind. The reversibility effect of the drug was very much comparable to andexanet alpha. Like in the case of Praxbind, the FDA requested that Portola conduct a Phase3b/4 single arm study to evaluate andexanet alpha in bleeding patients.
Praxbind's open label study had some interesting findings whilst being reviewed by the FDA. Safety data on 123 patients were collected by April 1st 2015, 66 bleeders and 57 patients requiring emergency surgery. Those patient's were obviously very sick! 26 patients died. Fifty three (43%) patients incurred a serious adverse event, 5 of which were thrombotic in nature. So even though there were occasional episodes of thrombosis the FDA still approved the medication. This just tells you how serious bleeding is from those drugs.
Whatever, comes up in the phase 3b/4 trial, it has to be seriously alarming for the FDA to even think of not approving andexanet alpha. The patients enrolled will be pretty sick, so drastic consequences are to be expected. This tells me that such a study is more related to information and data collection than to sway the FDA's decision on approval.
Trading PTLA
PTLA is still an impressive long term play considering it pipeline, and is also ripe for a buy out if this drug hits the market. The earnings news on August 9th may be a positive/negative catalyst for the stock. Otherwise, the closer we get to the August 17th deadline with no news, the more confident I am that the drug will be approved. For short term trades, one option would be to carry the stock up until a week prior to the approval date. If no news comes out from the company or the FDA, then converting that stock to purchase the $30 call option September expiration date is a very lucrative way to increase your returns. There seems to be a decent enough open interest for that particular strike price/expiration date. If negative catalysts do come up then the stock should still reap some profits long term as approval for this drug is inevitable. I see at least a 30% jump from today's stock price (27) once approval is granted. Since it is difficult to quantify the market for andexanet alpha, its value will definitely shine more in the long term.
So is PTLA a slam dunk this month?
Ladies and gentleman, I do not think the ring can get any closer to your fingertips!
Disclosure: I am/we are long PTLA.
I wrote this article myself, and it expresses my own opinions. I am not receiving compensation for it (other than from Seeking Alpha). I have no business relationship with any company whose stock is mentioned in this article.